CorelDraw is one of the top-notch Graphic Designing Software available in the market. This software effortlessly fulfils the demand of creative graphic designers.
In this blog we will notice how CorelDraw is an Important Graphic Software.
CorelDraw is a Vector-based or Path-based Graphics Software developed to work on two-dimensional images like logos, posters etc and it is marketed by Corel Corporation.
First version of CorelDraw was launched in 1989 for Windows Application only.
CorelDraw Graphics Suite 2021 is the latest version launched in the month of March and it is accessible for Windows and Mac Computers.
The tools and commands of this multifaceted software are useful for illustrations, logo design and page layout for advertising, publishing and marketing sector. It has been developed to make graphic artist tasks easier, simpler and faster.
Now let's observe how CorelDraw is a Graphic Design, Illustration and Logo design software.
SUPREME RESOLUTION IMAGE IN CORELDRAW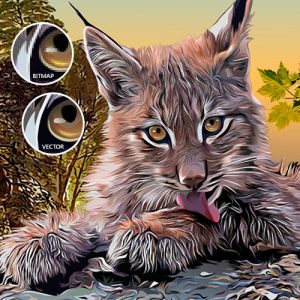 CorelDraw is most popular and artistic friendly software among worldwide graphic designers.
CorelDraw is a Vector-based software not Pixel-based; therefore it is easy to zoom-in or zoom-out an image without any resolution issues.
In CorelDraw a graphic designer can easily convert a Bitmap Image into Vector Image.
Vector File Format Svg (Scalable Vector Graphics) uses geometric forms like points, curves, polygon to represent different parts of the image as discrete objects.
Designing Logo and Illustration are ideal in Vector-based CorelDraw because images look wonderful and pristine in this platform.
BASIC TOOLS FOR GRAPHIC, LOGO AND ILLUSTRATION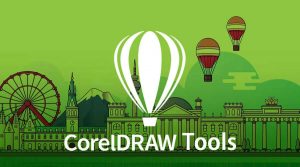 This graphic software has wide range of tools that enables artist to edit any shape with ease and precision; it allows adjustments of the text according to the shape or design.
CorelDraw has highly technical and modernized features which enable the worldwide graphic designing professionals to deal with demand of the clients and various business sectors.
To begin with CorelDraw you will have to first download the software into your Computer.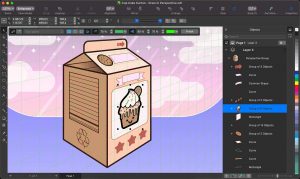 CorelDraw has toolbox on the left side panel containing Basic Shape Tools like Rectangle, Curve, Ellipse and Polygon tools along with Zoom, Crop and Text Tools.
The above Cup Cake Carton Box prepared in CorelDraw looks so perfect and it is completely possible to create various other different kinds of boxes and cartons in this software.
CorelDraw has Freehand Tool that allows the artist to draw curve smoothly at the workplace. While drawing any shape in CorelDraw Control Points get added automatically along the line of the shape which is totally adjustable.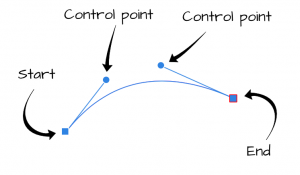 These Control Points can be moved in any direction smoothly which results in bending of the curve line.
Graphic designer can draw complicated designs from simple shapes by adding control points or nodes as much as they want.
Here image can be enlarged or minimised without distortion by using Zoom tool and one can crop or erase the unwanted part by using Crop tool.
Text tool allows graphic designer to add any Font type according to their need and purpose; indefinite artistic possibilities are available with the Text Tool.
LOGO DESIGNING IN CORELDRAW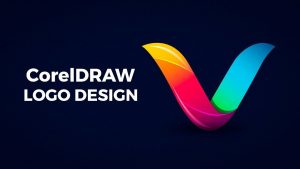 Designing Logo in CorelDraw is one of the important aspects of this software.
We know that a powerful image is more valuable than thousand words; therefore Logo must speak everything about the Brand and the Company.
While designing Logo graphic artist can start with any Shape but they must be very carefully because each shape, colour or font has their own specification. For example Triangles means Strength and Ellipse means Innovation.
Similarly colour also communicates and hence picking the right colour for conveying right message is mandatory. It is also necessary to use empty space to keep the Logo design clean.
Logos created through CorelDraw are predominantly used for marketing and advertising business. CorelDraw is immensely used for designing newsletters, brochures and documents with the help of its page layout properties.
PAGE LAYOUT AND MESH FILL FEATURE
CorelDraw helps in designing and layout of your magazine, news paper and brochure or letter page.
Neatly composed right page layout is essential for engaging readers' attention.
Page Layout tools guide the graphic designer in deciding where to add text, graphics or images on a page. Page Layout has many forms and each have its basic templates.
Along with designing pamphlet, book, news paper, magazine, and annual report layout; graphic artist can also design Web Home Page Layout with this software to draw website visitors' for their site.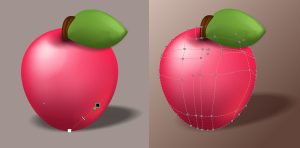 Mesh Fill is very delightful feature of CorelDraw; this tool helps in designing multi-coloured filled objects with unique effect.
In the above image of an Apple we can see very subtle changes in colour throughout the fruit; dark red at outline area and light red in the middle and this adds a sense of realism to the Fruit.
Images with Mesh Fill effect can be enlarged or reduced without affecting the file size.
NEWEST CORELDRAW VERSION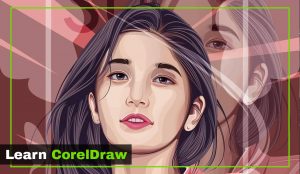 CorelDraw Graphic Suite is the current version of the graphic software which can be installed in the computer to accomplish graphic designing work.
The latest version is packed with incredible Tool sets to modernise the graphic designing process a step ahead.
It has features like Multi-Page View which allows comparing designs side-by-side and freely movement of pages according to artist choice.
It has whole new playground for creativity.
CorelDraw Graphic Suite has all new tools to create projects for small business houses to professional advertising and publishing company.
Extensive file compatibility and Font Manager Traits makes this software outstanding; it supports different file format for the seamless workflow purpose.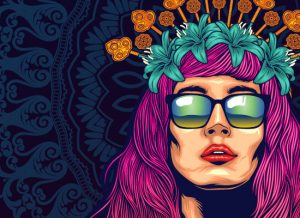 Brilliant colourful and powerful vector illustrations are possible in this platform from the basic lines and shapes. Complex art work can be created with versatile shaping and drawing tools and effects like blend, mesh fill, etc can be added to enhance the theme of the image.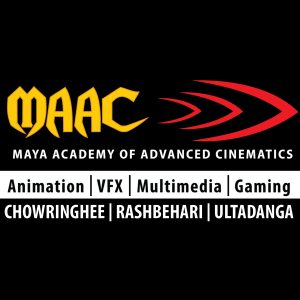 MAAC Kolkata Institute has a Short Term Course on Graphic Software CorelDraw.
This course provides in-depth knowledge about Page Layout, Illustration and Graphic Design to the interested participants.
MAAC has started Online Varsity in this pandemic situation for the benefit of the learners.
So Hurry Up! Join us and learn CorelDraw with our prestigious MAAC Academy Kolkata Call us 9836321595.