Welcome readers, today's blog will introduce you with Digital Sculpting and its use in Animation and VFX Movies.
Presently contemporary animation and VFX movies use digital sculpting as a tool to bring life into 3D characters or creatures.
Animation movies like Minions, Big Hero 6, Frozen, Ratatouille and many others has used 3D digital sculpted characters to entertain young audiences.
Similarly VFX movies like Avatar, The Incredible Hulk, The Pirates of the Caribbean etc too have digitally crafted figures to mesmerize the audiences from around the world.
Let us first understand what is Digital Sculpting?
Digital sculpting Or 3D Sculpting

Digital Sculpting or 3D Sculpting is the manipulation of the digital object with the help of digital software tools.
In this sculpting the artist can pull, push, smooth or pinch the digital object as if they were made of real-life substance like clay.
Digital Sculpting is perfect for character design and animation in video game design, films and TV shows.
In digital sculpting or 3D sculpting artist can start with simple geometrical shape like a sphere where many polygons can be adjusted to make the shape look like clay modeling.
Like traditional sculptor, skilled digital sculptor uses brush based tools to control digital geometry which are actually fake clay to mimic living structures.
In the film industry Zbrush and Mudbox is used for creating high-resolution polygon based digital sculptures for VFX and animation movies.
Digital sculpting is a multi layer process where layers of polygon mesh can be added one upon other.
Digital sculptor can customize the texture of the brush to suit their requirements; very similar to clay sculptor who uses different material like dried leaves or cotton scraps for texture.
This is the perfect medium to give real shape to your imagination.
Animation Movies With Digital Sculpting
Minions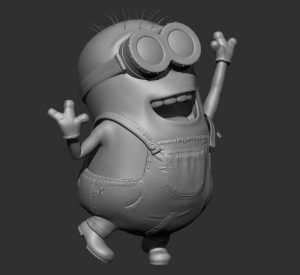 In animated film Minions digital sculptor from Universal Studios and Illumination Entertainment created the yellow, small creatures with Zbrush software under the guidance of supervisors.
Above digital picture of Minions is an example of digital sculpture which very much looks like the clay model animation of traditional modeling.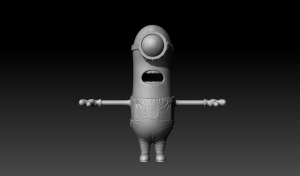 With digital sculpting artist can easily craft any figure from their imagination by using geometrical shapes and later can add colors and accessories over it.
Frozen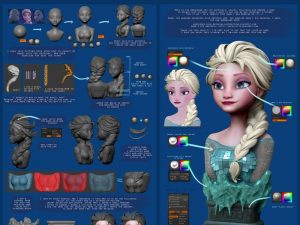 This image shows us how the character Elsa from the animated movie Frozen has been sculpted step by step using various geometrical shapes, polygon mesh, brush tools, color palette etc.
Elsa's hair contained 420,000 digital strands crafted through digital sculpting by the artists of Walt Disney Animation Studio.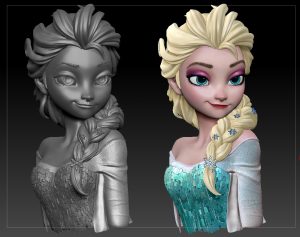 Digital Sculpting gives huge possibilities to the animators.
Smooth facial and body texture could be achieved through this technique of sculpting.
Big Hero 6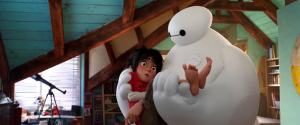 Character Baymax and Hiro from the animated movie Big Hero 6 were also digitally sculpted by artists of Walt Disney Animation Studio.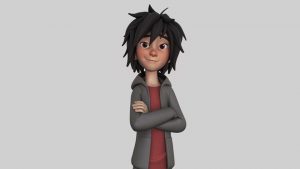 High resolution digital sculpting makes the model look like real character.
It gives photorealistic effect to the animated characters and that is the reason why digital sculpting has become a huge trend in animation movies now days.
VFX Movies With Digital Sculpting
Avatar

Academy Award winner movie Avatar have the character Neytiri sculpted with the most popular and powerful digital sculpting software Zbrush.
Under the supervision of VFX artist Joe Letteri, digital artists worked with dynamic 3D brushes to sculpt the face and body of Neytiri along with other Na'vi character.
Unlike traditional sculpting, artist can easily give movements to the digital sculpture by rigging.
Digital sculpting offers multi-resolution and dynamic topology to the 3D characters.
One can easily generate new geometry as many as needed suppose you want to pull elongated ear or horn out of character's head, dynamic topology will magically force out that new geometry as sculpting stroke has performed.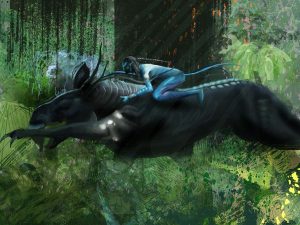 Powerful Zbrush put life into the six legs creature of the Pandora along with other strange animals of this film.
Sculpting software tool allows digital artist to add any specific feature or body part to the 3D character according to the demand of the director.
The Incredible Hulk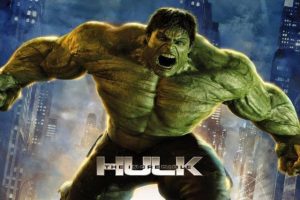 The green enormous character Hulk from the movie The Incredible Hulk is another example of digitally sculpted model by using Zbrush software.
Produced under the banner of Marvel Studios; this live-action film utilized 3D modeled larger than life sized 3D sculpted character Hulk for its vfx shots.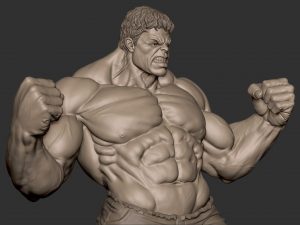 This beautifully 3D sculpted figure of Hulk has veins, muscular details, facial lines and anatomy of the body.
From a geometrical shape artist crafted whole body of Hulk by manipulating million of polygons to make him exactly like clay model.
The director of this film Louis Leterrier wanted to define Hulk with his muscle and strength so the VFX supervisor Kurt Williams envisioned Hulk as a Linebacker rather than bodybuilder.
VFX artists chose the height of nine feet for the character Hulk to make him more expressive.
Huge green humanoid monster character Hulk had lot of detailed work of modeling, texturing, painting and rigging.
The Pirates of the Caribbean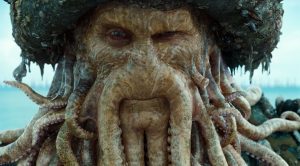 Remember the fictional character Davy Jones from the movie The Pirates of the Caribbean.
Yes that ugly and horrible character is the gift of digital sculpting software which has been nominated as tenth favorite CGI character in the film history.
ILM (Industrial Light and Magic) VFX Company earned Academy Award for Visual Effects for Davy Jones.
Through digital sculpting VFX artists designed the most striking cephalopod like head of Jones with octopus like attachments which gave the illusion of thick beard.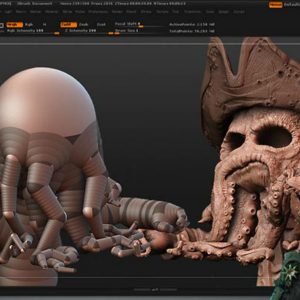 Artists began with a geometrical shape to sculpt the face of Davy Jones.
The above picture shows us how Davy's face is being modeled from the scratch with a spherical shape structure.
VFX team manipulated millions of polygons to sculpt the surprising face of Jones; they inserted details of facial lines, wrinkles and texture to make the character interesting.
For the face color of Jones sculptor got inspired from coffee-stained Styrofoam cup which they scanned to be used as skin color.
Digital sculpting is wonderful tool to sculpt figures and objects to its realism.
Huge potential of digital sculpting has won the heart of art enthusiasts to professional artists; Join us to discover more about Digital Sculpting.