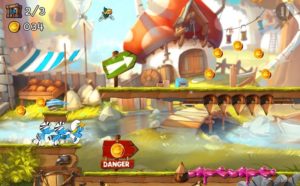 Hello, guys, we're back to MAAC Kolkata with our hotshot topics.
Now it's time to take you to the
In our today's blog, we will try to share an overview of Gaming Industry by sharing some facts. Hope you like it.
MAAC Kolkata in association with MAAC Chowringhee, MAAC Ultadanga and MAAC Rashbehari presents the article so that readers can have a concise idea of the gaming industry and also this exhibit is dedicated to the gamers who are beginning their career in gaming.
Free 2 play model:
The Free 2 play model is a popular method adapted for game distribution.
F2P helps in attracting new gamers and allows them to try new launches with no commitment to buy the product.
It opens the new horizon of marketing and business for game developers to monetize games.
India despite having a growing economy people still find it hesitant to pay for mobile games.
In Free 2 Play model the user can play the game for free but have to pay for the app upgrades and virtual goods.
Therefore this model is suitable for gamers who are price sensitive.
It's not just about developing the game, it's about providing service:
In the past millennium, the games were purchased in boxes and played at home.
Those games use to be the final version literally saturated with any scope of improvisation.
In today's era, the games are delivered digitally and in a multiplayer format.
Cloud gaming allows the developers to provide updates and downloadable content.
The user level is saved in the cloud and devices.
Developers are learning the use of metrics to evolve video games.
Catalyzed by Platform as a Service:
The mobile games and app market in India are estimated to cross Rs 2700 crore by 2016. Platform as a service (PaaS) is opening opportunities for new game developers to build new games in short period of time, without worrying about the infrastructure.
Virtual reality will be integrated with gaming:
Virtual reality headsets are slowly sneaking into the market which can be attached to the smartphone for a real-world experience.
Imagine playing cricket in a stadium instead of watching it from a 2D isometric.
Playing Global:
Trending digital distribution of game and global access to the internet has encouraged the investors to expand.
Game developers are including diverse themes and genres in their games to attract global appeal.
With cloud-based technology, it has become easier for the game developers to capture a global audience in video game development.
Gaming companies are planning way ahead for right infrastructure to take their games to the audience worldwide, as poor performance will only lead to abandonment.
Due to increased global reach, 2016 will experience high economically.
Mobile:
Games are most popular on smartphones and are predicted to overdrive the console gaming in future.
The audience reach has broadened to young gamers and females, Social media and smartphones have helped the game developers to reach and involve people that were not associated with video games earlier.
The gaming trends will continue to grow in the future and game developers have to get prepared for the shift in the gaming trends.
To learn more about gaming and its scope and to keep pace with it join..
Playing Console Gaming:
Console Gaming is a type of device which is utilized to play games is called a video game console.
The console produces a video image that displays the video game.
These consoles comprise of those that are utilized to play games at home, dedicated consoles, handheld consoles and microconsoles as well.
The support has advanced to now be one gadget that can be utilized as a set-top box, an internet browser and a CD and DVD player.
Dive into Designs and Creativity:
This is the place where the game is created and developed artistically by game designers and developers.
In this case, the game is derived from a fundamental concept of a project plan.
At this point in time, the documents and roadmaps are produced in order to abet game development.
And this consists of treatment documents that need to elucidate the purpose of the gameplay, game, character descriptions as well as concept art.
Afterward, this is translated into more details and that is also in the design document.
This is then translated into more detail in the design document.
A workmanship style direct is likewise made to build up a consistency over the games for a similar look and feel.
Last an undertaking design will be made to keep everybody on track and set up courses of events.
Economics of the Gaming Industry
In order to analyze the competition in the industry, it is quite significant to understand the economic condition of it.
The profitability of the industry is directly linked to the requirement to gain a chunk of the pie.
The more the game industry is profitable, the more is the requirement to gain a chunk of the pie.
This need at that point prompts more advancement, venture and ferocious contention to stand out.
Before innovation created to what it is presently, creating computer games cost moderately less and thusly, there was an awesome edge for the benefit.
Regularly the recreations were produced by a solitary developer or a little group and took a couple of months to plan.
This prompt a few discharges each year.
With enhancements in gaming innovation, there turned into a requirement for bigger improvement groups to manage expanded complexities in the outline that accompanied mechanical progressions.
These groups presently included developers, craftsmen, amusement originators and makers and numerous started to draw higher compensations, in this manner expanding the cost of work.
The time period for improvement likewise expanded to anyplace in the vicinity of one and three years.
This prompted spending plans of millions as showcasing costs likewise soar.
The business keeps on acquiring incomes and affects the economy with amusements, for example, Call of Duty: Black Ops getting $650 million in deals inside an initial couple of long stretches of dispatch. The worldwide computer game market is worth $93 billion.
If you are interested to know more about 2D Animation, 3D Animation, Visual Effects, Multimedia, Web Designing, Graphic Designing and other architectural courses.
Contact your nearest MAAC center in Kolkata