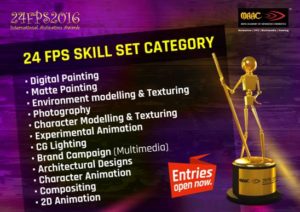 Here is an opportunity to hold the coveted 24FPS Awards trophy in your hands.
24 FPS International Animations Awards 2016 announces the launch of the much awaited & anticipated Digital Film Making Category & SKILL SET Category. Let your hard work & creativity shine through your work.
DFM Category
Film making is an incredible platform for expressing your views to the World. Here is an opportunity to portray your creativity by creating films in four genres mentioned for DFM Category. Kindly refer to the guidelines for further details.
Skill Set Category
There are 12 sub-categories selected from various course – Animation, VFX, multimedia, photography & many others; giving equal chance of winning to all students whether they have just entered MAAC or about to complete their course. Collect the guidelines from your centers.
So roll up your sleeves and put your best foot forward for 24 FPS International Animation Awards 2016!!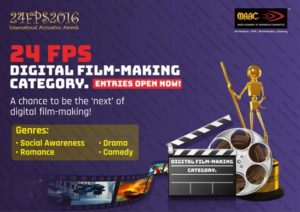 Maac Chowringhee / Maac Rashbehari / Maac Kankurgachi Are You Ready!!!!!