Hello readers, today in this blog we will see how Double Negative provided VFX for the television series Catch-22.
Catch -22 first premiered on May 2019 on U.S based Hulu (video on demand) service.
It is based on the novel of same name by Joseph Heller.
Catch-22 is directed by George Clooney, Grant Heslov and Ellen Kuras.
American actor Christopher Abbott played the role of John Yossarian a captain of Army Air Force and George Clooney played as Lieutenant Scheisskopf.
Writer Luke Davies and David Michôd adapted the novel into series format.
Plot Of Catch-22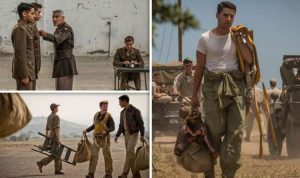 Catch-22 is a dark comedy television series based on the events of World War II.
The plot follows John Yossarian, a US Air Force bombardier in World War II who is furious because many people are trying to kill him whom he has never met.
Captain John Yossarian's real problem is his own army who keeps increasing the number of missions he must fly to complete the service.
He is trapped in the bureaucratic rule Catch-22; he chose bombardier hoping the war would finish before his training but now sits in B-25 bomber and drops bombs who are trying to kill him.
The 256th US Army Air Bomber Squadron is based on the fictional island of Pianosa in Mediterranean Sea, Captain John Yossarian is posted here and the event takes place largely on base and air.
Catch-22 has been treated as feature film with VFX by Double Negative Company.
Eye-Catching Visual Effects By DNEG
Visual Effect Company DNEG has worked on layout, animation, lighting and composition of Catch-22 shots.
Many of computer generated planes, environments, explosions smoke, fire and digital clouds are the creation of DNEG.
The VFX are made by Supervisor Brian Connor and Dan Charbit.
Principal photography for Catch-22 took place in Italy.
DNEG'S major responsibility was to create two airbases and multiple bombing mission shots from wide range of 3D digital and 2D components to bring the location shots alive.
It is quite surprising to see that DNEG TV VFX team handled 717 shots across 6 episodes and 105 sequences.
Production Vfx Supervisor Matt Kasmir carried out background research and took many VFX reference aerial shots of the base for the CG reference and to recreate the historical details.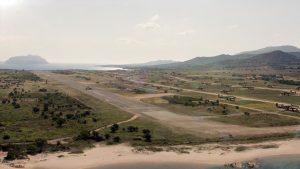 DNEG built CG runway with ocean and beach extensions which actually does not exist.
Pilots on Pianosa base used beach for recreation between missions.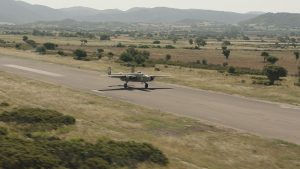 VFX team added airfield, parked planes, CG aircrafts with digital matte painting to enhance the original shot of the base; they even surrounded the base with the ocean through matte painting.
Software Maya was the main tool for modeling and texturing aircrafts and ground vehicles.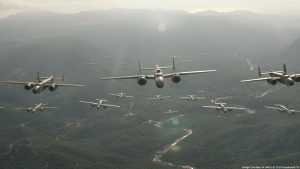 This aerial footage of aircrafts has been developed using the original plate having one aircraft, the look of the CG aircraft was built out of multiple lighting technique that involved reflection, refraction and traditional key, fill and base lighting.
Compositors and lighters worked together according to Supervisor Brian Connor; artists used Nuke Software for compositing.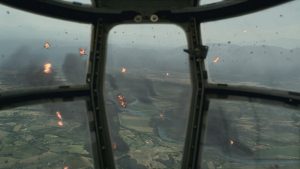 Many sequences of Catch-22 had been taken place inside B-25 Mitchell flown by bomber Captain John Yossarian and his fellow pilots under the order of commanding officers.
DNEG team looked carefully 8mm footage shots taken by cameras of air force personnel onboard B-25 bombers during the war for CG reference.
The footage helped the artists to understand the scenario during combat mission and they recreated broken, damage planes with CG tools.
The historical footage, aerial photography from B-25 and helicopter photography from all direction formed the foundation of DNEG's matte painting.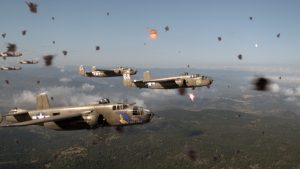 Huge number of digital planes was designed at DNEG based on real model of B-25; German aircraft Luftwaffe planes was also designed.
Animator separated the actor from live-action shot through rotoscoping and added to the CG B-25.
To create continuous aerial views major task was to match the angles, intensity of light and matching skies captured on different days.
All kind of 3D clouds was created using compositing software Nuke and lighting and rendering were done in Clarisse software to speed up the process.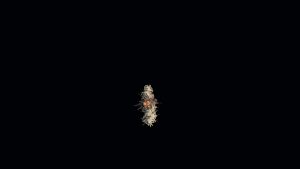 This is a library image of explosion used by VFX artists.
VFX supervisor along with DNEG's artists from Montreal and Vancouver designed the workflow based on building extensive libraries of planes, pilots, ground staff, buildings, trucks, Jeeps, tents, barracks and so on.
Library also had CGI pilots and officers performing typical actions on planes and ground.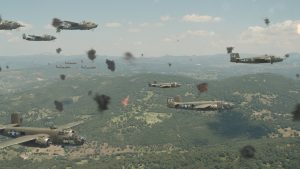 For the flak in the sky during the battle sequences artist composited individual pieces of flak through tools of the flak cloud; flaks had different shapes and released black smoke.
Houdini was used by artist to create all the flak, ground smoke, explosions and debris.
Correct timing was generated for planes interacting with the flak in their path.
Brian Connor and his team used special effects over lot of shots to make the shots more realistic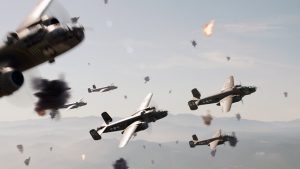 Match move supervisor Jeremy Wong made it sure that the bombers were tracked along with the camera to build authentic explosive shots.
According to Thom Chang lead animator the challenging part was to establish the flight patterns of B-25 exploding flaks in shots.
Team did plenty of research on speed and magnitude of B-25 flights to keep the feeling realistic.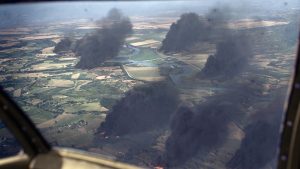 DNEG built the 3D factory accurately using authentic materials and structural design with large interior volume for the factory bombing sequence.
When large factory was blown up the result was realistic and convincing to the audience.
DNEG did extensive environmental work on the ground.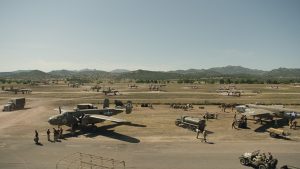 Mari 3D texture painting software was used for B-25s, Military vehicles and airbase.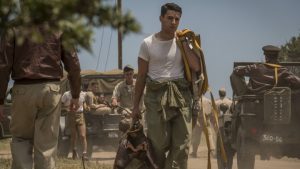 Captain John Yossarian's training episode was shot on vacant outdoor set which later populated with many assets at post-production stage to resemble it Santa Ana Army Air Base.
VFX supervisor Brian Connor did a great job in seamless collaboration between CG shots and live-action shots.
The overall lighting was handled by Casey Gorton, shots had HDRI (High Dynamic Range Image) for all ground sequences.
Catch-22 is a visual treat for its audience on Hulu platform.
MAAC is leading VFX Institute in Kolkata, call us @9836321595 to know more on VFX.