Don't get depressed with your somewhat poor results in the 12th standard as much more is waiting for you- Explore our Master Classes.
There is a broad range of scope outside the boundaries.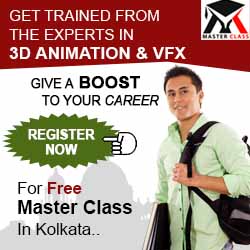 When it turns poor in your academia Maya Academy of Advanced Cinematics, Kolkata is there to offer you vast courses on 2D Animation, 3D Animation, VFX, Filmmaking, Multimedia courses, Gaming, Web designing, graphics designing and other AutoCAD courses with effective training and teaching in the related areas.
Maya Academy of Advanced Cinematics is a well-established Multimedia, Animation and Visual Effects Institute in Kolkata which has extended its wings in a few sections of Kolkata teaching and preparing different pupil from various parts of the world.
Our essential quality lies in the way that our well-prepared organization prepares the understudies with a top-notch and experienced group of training faculties in the concerned areas.
We aim at preparing our students in a way that after passing from our institute they get placed in the big production houses and corporate sector of Kolkata and abroad.
It is our central goal to set the objective and goal of each pupil who is occupied with making their profession towards Animation, Multimedia and Visual Effects.
We provide internal master classes that are essentially in 2D Animation, 3D Animation, VFX, Filmmaking, Multimedia courses, Gaming, Web designing, graphics designing and other AutoCAD courses
Our institute is dedicated to providing custom quality courses in an efficient way with the help of our faculty members.
We have employed our faculties after selecting from distinct fields of study forum.
They are experienced and skilled enough to teach and train our students in the most effective way.
At our foundation, the number of understudies has officially crossed the limit of 2000 students understudies and this filled in as our outrageous motivation towards preparing and teaching the understudies through successful instruction.
The present classes at our establishment are absolute to the point and identifying with the courses.
From the last few years, we have begun to proffer master classes that are absolutely free of cost.
Our main motive behind providing master classes is there are certain subject matters which are out of the courses' syllabus.
In order to provide a brief knowledge about these concerned areas, master classes are provided.
We want our students to get a brief idea about the other concerned areas of Multimedia, Animation, Visual Effects, Graphics Designing and Web Designing with effective training and teaching in the related areas.
In our today's blog post we are going to discuss the different master classes that are held by the MAAC Chowringhee, MAAC Rashbehari and MAAC Ultadanga and their importance for the understudies.
You will get a brief perspective of the varied activities that are held at the MAAC Kolkata centres.
Master classes are those classes held by our faculty experts on different pertinent subjects identifying with a decent variety of courses that are held here.
We have started this activity-master class for the understudies and upon pupils' request.
Also, the best piece is our organization gives these classes out of free charges.
We realize that your financial plan is ostensible and dealing with it we are proffering the master classes free of cost.
The most noteworthy things about the master internal class are that the resources examine and show understudies with respect to various subjects.
These various themes might be from Multimedia, Animation or Visual Effects.
Our foundations have educated a few subject points like Art of Camera Tracking, Vector Line-Art, Advanced Rigging, Polygon Illustration, Game Design (Part-1), Render Pass Compositing, Intro to Autodesk Smoke, V Ray Lighting, Lip-Sync in 3D Animation., UI KIT Framework.
Art of Camera Tracking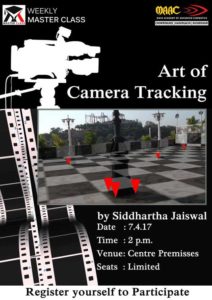 The art of camera tracking or Matchmoving can be defined as the method that allows computer graphics insertion into the live-action video stream with the proper position, scale, orientation, and motion.
The process is also known as Motion tracking.
This is the secret behind how the movie devils/monsters run down to the main street and how the robots run through crowds without being identified among the crowd.
The faculty team assembles to discuss the relevant topics and then decide which will hold after the other.
This initiative is taken by the faculties with a view to training the students about the technicality of the related courses that might be absent in the syllabus.
Vector Line-Art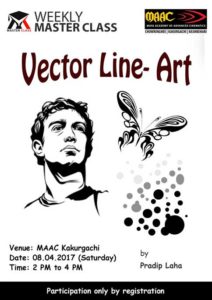 Line art may seem easy but it is quite tough.
It can be defined as the image consisting of lines, curved or straight, without any colour shading or graduation.
There are specific areas where you may have the independence of solid pigment and dots that can be used along with lines.
Vector line art is used to illustrate images with the help of lines, dots and solid pigments with lucid separation between each colour, given there is a criteria-that not a single colour blends or inclines from one colour to another but a distinct separation of colour.
Advanced Rigging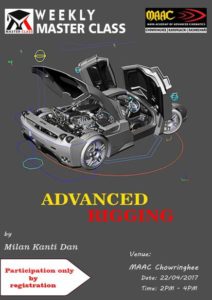 Masterclass on Advanced Rigging has taught students with the various fundamentals of rigging, character rigging, advanced 3D rigging and many more.
Students are given a vast concept of advanced rigging and the importance of it.
Polygon Illustration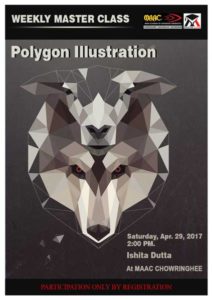 Polygons are prevalent in the advanced world.
They can be known as a sort of unconventional advanced craftsmanship.
Polygons confer your picture or content in a one of a kind 3D, retro style.
At first, polygon designs were utilized for making 3D models and scenes in video games in view of their render speed, which was accomplished because of low polygonal determination.
When in doubt (yet not generally) polygons are triangular.
They emerge when a question's surface is demonstrated, vertices are chosen, and the protest is rendered in a wire outline show.
The system is speedier to show than a shaded model.
Skilful advanced specialists even figure out how to keep away from creases in polygon plan.
With the purpose of creating polygon illustration, developers mainly depend on Cinema 4D. Though you can use any 3D software, developers prefer Cinema 4D.
This software is convenient owing to its adaptability and ease in certain fields of modelling, lighting, and Visual Effects.
Game Design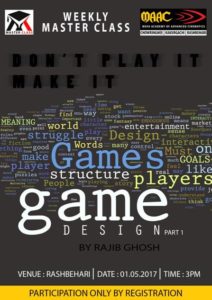 This field of study can be one of the amazing/interesting fields if you're a game lover.
A designing game requires lots of technicality and emphasis.
According to the Envisage International Corporation of US, game design is a large field and is drawn largely from fields of computer science/programming, creative writing and graphic design.
It can be defined as the art of employing design and aesthetics in order to produce a game for the sake of entertainment or for any other educational, scientific purposes.
Render Pass Compositing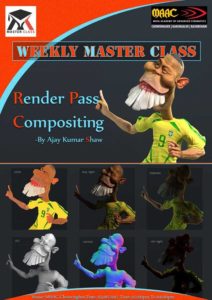 In this training series of the internal master class, our faculty Mr Ajay Kumar Shaw goes through the elemental and superior multi-pass rendering and compositing methods/procedures using Maya, VRay and Nuke.
Intro to Autodesk Smoke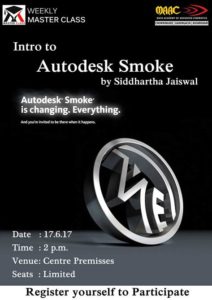 This training master class was held by faculty Siddhartha Jaiswal teaching the basics of Autodesk Smoke to the pupil of the institute.
The day's teaching finds out about Autodesk Smoke's consistent coordinated video altering and impacts capacities.
Smoke encourages you to increment your profitability by joining intense impacts apparatuses with a simple to-utilize timetable altering condition.
Autodesk Smoke consolidates a completing package and full editing package with a hub-based compositor across the board (all in one).
V Ray Lighting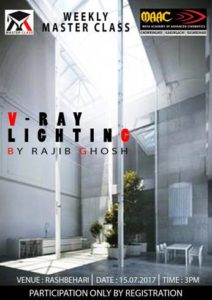 A significant topic is discussed in brief in one of the master classes held by Rajib Ghosh i.e. V Ray Lighting.
It is a rendering engine that works with the help of 3D software.
The rendering software utilizes global illumination algorithms like path tracing, photon mapping, and irradiance maps and directly figured global illumination.
Lip-Sync in 3D Animation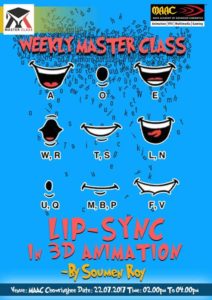 Lip synchronization is popularly known as 'Lip-sync'.
There are lip-synchronize modules for 3D Animation that make a muscle-like structure in the mouth territory of a 3D character.
UI KIT Framework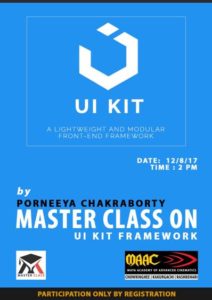 UIKIT is known for its utilization in iPhone Apple.
It is considered as a top-notch Objective-C framework that is specialized in managing the statistical front-end of the iPhoneOS.
UIKIT, being a public framework, is known for its global acceptance.
As a result, all the documentations can be found on Apple's iPhone; however, this is only a part of the entire UIKIT.
All these sections are taught besides the syllabus of the courses to the students of MAAC Kolkata
So what are you waiting for? Aspirant don't waste time just register in free Master Classes .