The presentation of Master classes is a joint initiative is from the MAAC team of Chowringhee, Rashbehari and Ultadanga.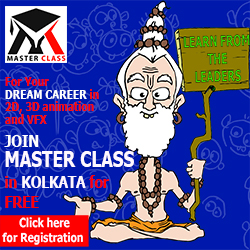 Maya Academy of Advanced Cinematics is a well established Multimedia, Animation and Visual Effects Institute in Kolkata which has stretched its wrings in several parts of Kolkata educating and training various students from different parts of the world.
Our main strength lies in the fact that our well-equipped institute trains the students with a high-end experienced team of training.
It is our mission to set the target and goal of every student who is interested in making their career towards Animation, Multimedia and Visual Effects.
Our expertise is basically in 2D Animation, 3D Animation, VFX, Filmmaking, Multimedia courses, Gaming, Web designing, graphics designing and other AutoCAD courses.
At our institute, the number of students has already crossed the boundary of 2000 students and this served as our extreme inspiration towards training and educating the students through effective education.
The present classes at our institute are totally hardcore technical and relating to the courses.
Apart from our affiliated and registered classes, we are also bestowed to offer internal master classes for the assistance of the students.
Now you might be wondering what these master classes are. What are the internal and external classes?
It is our duty to inform you of the fact that besides providing the valuable important classes we also proffer relevant master classes.
Master classes are those classes fostered by our faculty experts on various relevant topics relating to diversity of courses that are held here.
Since last four years, we have begun this initiative for the sake of the students and upon students' demand.
And the best part of it is our institute provides these classes out of free charges.
We know that your budget is nominal and taking care of it we are proffering the master classes free of cost.
The most significant things about the master internal class are that the faculties discuss and teach students regarding diverse topics.
These diverse topics may be from Multimedia, Animation or Visual Effects.
As for example, our institutes have taught several subject topics like: 3D Matte Painting, Character Designing, 2D to 3D Conversion (Stereoscopic 3D), Art of Stereoscopy, Storyboard (Part-1), Storyboard (Part-2), Clay Modelling, Clay Modelling (Day-2), Basic of Maya Dynamics, Clay Modelling (Day-3), Mudbox Modelling, Glass Painting, Art &Craft.
From the names only you are getting a brief idea about the importance of the subject matters.
3D Matte Painting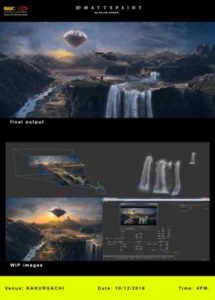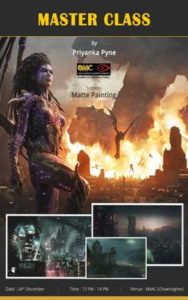 Coming to the first topic, 3D Matte Painting can be defined as the painted illustration of the scenery or landscape in 3D/three-dimensional in order to permit the filmmakers to generate and create the illusion of the environment that is not present or existing in the film scene.
Matte painting is combined with live-action to bring the credibility of the film or animation scene.
In this field, digital compositing is conjunct with 3D matte painting to produce the final effect.
Character Designing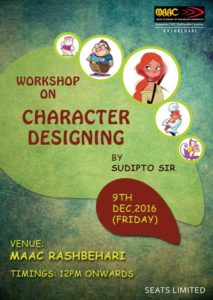 Character designing is the work of creativity and artisan. It is made as a result of the artist's craftsmanship.
It is basically 3D character modelling that can be defined as the procedure of developing/designing of a body through the mathematical representation of the body in three dimensions with the help of specialized software.
2D to 3D Conversion (Stereoscopic 3D)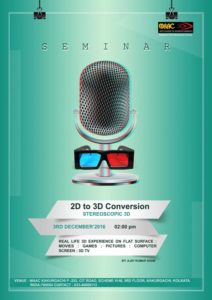 2D to 3D Conversion(Stereoscopic 3D) is the way toward changing 2D ("level") film to 3D shape, which in all cases is stereo, so it is the way toward making symbolism for each eye from one 2D picture.
Stereo after generation work process is significantly more intricate and not also settled as 2D work process, requiring more work and rendering.
Proficient stereoscopic apparatuses are considerably more costly and massive than standard monocular cameras.
A few shots, especially activity scenes, can be just shot with generally little 2D cameras.
Storyboard (Part-1& Part-2)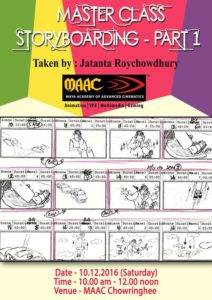 Two classes on storyboard are taken with a view to going into a detailed discussion of the topic.
Storyboard is the graphics planner in the form of depictions and illustrations exhibited in the form of sequence so that it can be beneficial in pre-visualizing a motion picture, animation, motion graphics or interactive media sequence.
The subject matter is sectioned into two phases with a view to capture the relevant portions and educate the students about the method to perform storyboard.
In this way, students can also realize their fields of interests and fix their mind.
Clay Modelling & Clay Modelling (Day-2 & Day-3)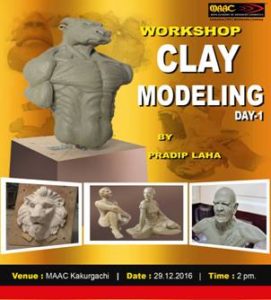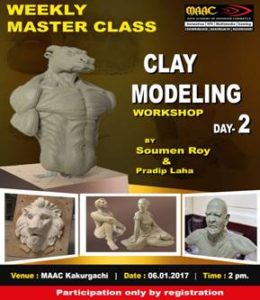 Clay modelling or clay model making is the process in which models are made with clay for the purpose of automobile design and Animation.
Here the faculty took three consecutive classes on this topic in which they discuss the importance of clay modelling in clay animation or claymation.
It is largely used in Stop Motion Animation. The best of this topic is that through this class students are also acknowledged about the necessaries of Stop Motion Animation.
It is important to mention that clay modelling or clay figures are often used in stop motion so that they can be repositioned to give different shapes for framing.
Claymation or Clay Animation can be defined as a stop motion animation that uses plasticine for remodelling.
As for example the film Kubo and the Two String is created with the help of clay modelling and Stop Motion Animation.
Basic of Maya Dynamics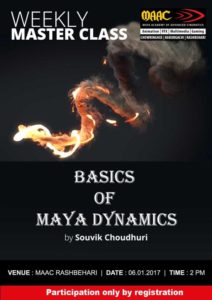 The basic fundamentals of Maya are taught to the students and a master class of it was relevant to make the pupil analyze the varied spectrum of Autodesk Maya and its fundamentals.
Mudbox Modelling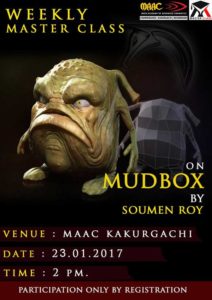 Now coming to the Mudbox, texture painting is a propelled procedure that is a computerized 3D sculpting and painting tool in Autodesk Maya.
The procedure of BG modelling and texturing includes successive steps through which every modeller has to adapt besides Mudbox modelling and texturing.
Several tools are present in the software like Autodesk Mudbox, Zbrush and Mesh are implemented to the model-environment or model.
Mudbox offers the conventional full-length layer based finishing work process which comes handier and simple to control than Z Brush.
As Mudbox presented the standard layers technique, it turned out to be simple for specialists to comprehend the procedure similarly as in another programming.
The extra favourable position of working in Mudbox is you can see the impact of your artistic creations live while you are painting.
It applies to each material including the Incandescent and Specularity. What's more, by utilizing Ptex you can disregard UV mapping in Mudbox.
The points of interest unmistakably demonstrate to us the scoreboard sliding towards the Mudbox when the issue is about surface painting.
The Mudbox UI is a 3D domain that permits the making of portable cameras that can be bookmarked. Models made inside the program regularly begin as a polygon work that can be controlled with a wide range of apparatuses.
A model can be subdivided to build its determination and the quantity of polygons accessible to shape with. 3D layers enable the client to store diverse detail passes, mixing them with multiplier sliders and layer covers.
Utilizing layers the client can shape and form their 3D demonstrate without rolling out changeless improvements.
Glass Painting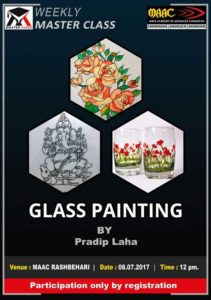 Glass Painting is a handmade design that can be crafted as handcraft material.
The process involves extensive painting on glass and it is a contemporary art.
This art is derived from the primordial art of stained glass painting.
Art & Crafts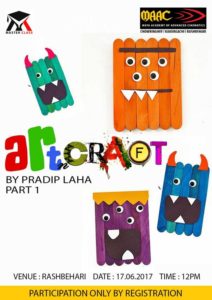 Several works of art and crafts are also taught in MAAC Kolkata out of the course's syllabus so that the students get interest while studying.
Varieties of relevant areas are never missed out by our faculty team in the institute.
We are centralized to focus on the significant areas of Multimedia, Animation and VFX.
We had a strong reputation in the market scenario for proffering premium quality training courses to the pupil and we keep it hard to maintain it.
So if you are thinking to make your career in these amazing courses, hurry to our place and get premium quality courses at reasonable prices along with relevant master classes for free click here to register.