Visual effects are widely known as VFX.
It plays a significant role in the daily tele-serials for Indian viewers.
One such most popular serial of these days is Sankat Mochan Mahabali Hanumaan on Sony TV.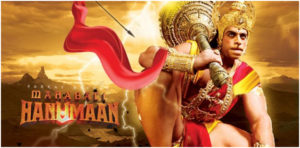 Our today's discussion will rotate around it.
This serial is teemed with VFX and thus enhances the look and feel of the serial very nicely.
In recent times, it has been observed that the one using VFX more in the serial you can engage more viewer.
This in turn aids in improving the TRP rating of the specific serial.
The first tele-serial to use VFX in the show was Ramanand Sagar's mythological show popularly known as Ramayana.
Subsequently, other serials started following the trend using visual effects.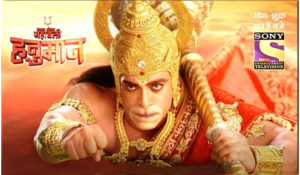 Legendary and historical series have wedded the fashionable with ancient stories and special effects to recreate the hoary to the engrossed viewers.
In this genre, Sankat Mochan Mahabali Hanumaan produced by Contiloe Productions has explored diverse known and unknown facets of the mighty Hanumaan.
PLANNING THE SETUP
After extended pre-production decisions, CEO of Contiloe, Abhimanyu Singh determined to set for the first mythological show Sankat Mochan Mahabali Hanumaan with multiple genres on Sony TV.
The crew has used state-of-the-art visual effects and stunts to tell the great tale.
This tale took viewers on a journey of the exciting life of Mahabali Hanuman right from his childhood from being a devotee of Lord Ram to being the conqueror of all evil.
It will also recollect the various events, bring to the surface his qualities and obtain morals from his life which are relevant in everyday life.
The most relevant part of it is the significance of VFX in the entire series.
A relevant point to be acknowledged is that it would have been impossible to accomplish the series without the use of VFX.
Moreover, VFX played an important role to establish the complete serial recalling minor to major events happened in the legendary life of Hanuman.
The pre-planning was done to set the story in a way that can create Mahabali Hanuman's heroic persona and take the show connected to the viewers.
The unmatched show along with its concerned areas of VFX and special effects are relevant to assume the budget of the series.
UTILIZATION OF VFX TECHNIQUES
Being a mythological and supernatural series it was crucial to use special effects. VFX and special effects help us to accomplish something that is unfeasible in real life.
During the present day, Indian Television soaps and serials are also incorporating high-end VFX to embellish the story's credibility.
In addition to it, grabbing existing and new viewer's attention has become more relevant than ever.
However, the requirement of more developed use of special effects is essential to make the show look more appealing and authentic.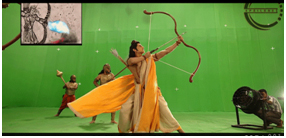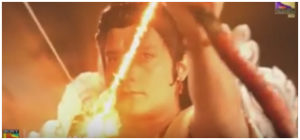 In Sankat Mochan Mahabali Hanumaan you can see here the efficient use of VFX where Ram is pointing his arrow in episode 486.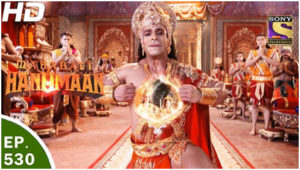 The above picture depicts the effective use of 3D and VFX.
At first, the model of Ram and Sita is composed of its background in a layer.
Then it is mingled with the second layer of Hanuman using VFX.
In order to show the sequence, Live-Action Effects and morphing are also used.
Morphing is discussed later in brief on the blog.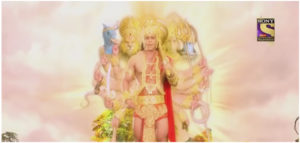 Several other techniques are also used to create fireflies, skin textures and other interesting visual effects such as eye colour changing, set extensions etc.
Another technique used is Chroma keying.
Chroma key compositing is a post-production technique in VFX Pipeline.
Where we shoot our subject or character on flat Green or Blue screen and later we can able to remove the particular background with the help of software's for background replacement.
As a result, this technique allows us to incorporate one image or video into another.
This VFX technique is widely used to modify the background or to add something that is animated.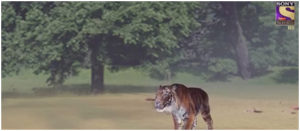 In episode 628 of the series the tiger is created with the help of 3D.
Though a touch of unrealism is hinted in this image but it had not failed to grab reader's attention towards the show's subsequent progress.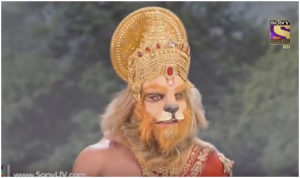 Morphing is also utilized in motion pictures that aid to alter an image or shape into another all the way through flawless conversion.
It is a type of special effect that is highly used in serials like Chandrakanta, Nagin, Ashoka Samrat and many more.
The above image is also suggestive of the fact that morphing had been used in this show to portray the character of 'Narsimha' in episode 555.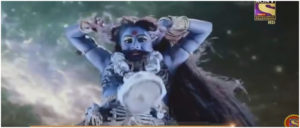 An efficient use of VFX is evident from the episode 516 when the 'Mahakal Roop'(angry look) of Goddess Kali is shown doing Tandav dance.
During the earlier period, when technology was not so urbanized and advanced, morphing was done by stop motion.
However, this is not the situation now.
In the recent years, due to the advancement of technology, loads of software has been developed which assists us to do proper morphing.
On many levels, it seems to get inspired by Hollywood VFX works.
The use of VFX in all these television series is somewhat similar yet advanced.
It also enables us to see Snow Mountains, peacocks and even Lord Ganesha (A human with Elephant's head).
VFX and VR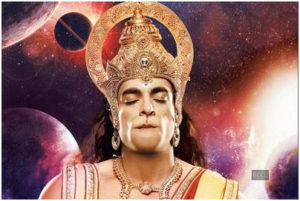 Virtual reality or VR is coming out as an important tool of VFX.
VFX artists are using VR technology to create those special effects that are hardest to create.
As for example, 360o videos and compositing, stitching panorama, HDR Lighting are created through it for making digital assets and dealing with stereo camera in the tele-serial.
Though the rating of VFX used in the show is decent, the production house is required to monitor specific areas of VFX more carefully.
They need a lot of advancements in the technical matters.
The team had profusely shown their artistic skill.
However, in terms of concept, more creativity is anticipated.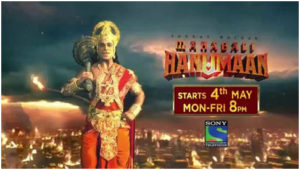 Here, in this show, the positive point is the application of VFX looked usual and realistic and attracted the viewers largely.
The color grading is done in an effective way to embellish the credibility of the present circumstances of the show.
FINAL DECREE
As per observation, it can be well stated that this serial is a landmark in Sony TV.
In terms of VFX, animation and colour grading, this fabulous show has literally raised the standard of technicalities in Indian Television.
The realistic approach of the show is indeed appreciable in concept, technicalities, creativity and innovation.
With the mounting trends, we can speculate that there will be increasing grid of VFX usage, ahead in future.
Immense opportunities are there in vfx industry just in a click away.