Animation and VFX has become an integral part of our hindi tele-serials
Today we are going to explore one of such  wonder techniques  used in Tele Serial NAGIN.
Nagin is a supernatural series made by one and only EKTA KAPOOR.
The plot of the tele serial Nagin is that two siblings ( Shivanya and her cousin Shesha), who are shape-shifting serpents tries to avenge death of Shivanya's parents.
Her parents were murdered by five people in order to obtain a precious gem "NAAGMANI".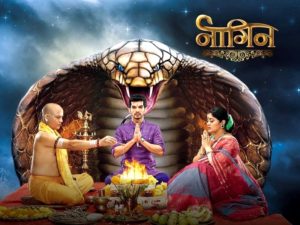 Well as a supernatural and fantasy series it was necessary to use special effects. Special effects are those that help us to do something that is impossible in real life.
The effects in Naagin were done in The Pixellence Studio, founded by Harsh Vardhan, Dimple and Darshan Dugar.
The main task for them was to bring the shows vfx close to the Hollywood's standard.
Dimple Dugar stated that matching Hollywood's standard in India was all about skillfully combining emotions with technology.
Which they were able to achieve in look and feel wise.
The tele serial has many amazing vfx.
From morphing into cobra to snake scales on skin, from tree to temple loads of animation and vfx can be seen in Naagin.
Well let's start from the technique of morphing.
Morphing is a special effects/technique used in motion pictures and animation that helps to change a image/shape into another through seamless transition.
In past when technology was not so advanced morphing was by stop motion.
But now, loads of software has been developed which helps us to do proper morphing.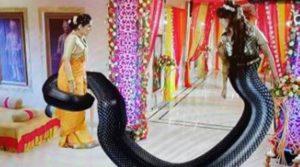 In Nagin we can see the use of morphing as Shivanya and Shesha morph into serpents and vice versa.
To show the morphing Digital Animation along with Matte Paintings and Live-Action Effects were used.
These were also used to create the 3D Cobra.
These techniques were also used to create fireflies, skin textures and various other stimulating visual effects such as eye color changing, set extensions, cobra tongue etc.
Another technique used is Chroma keying.
Chroma key compositing, or chroma keying, is a visual effects / post-production technique for compositing (layering) two images or video streams together based on color hues (chroma range).
This technique allows us to insert one image/video into another.
This is mostly used to change the background or to add something that is animated.
Like in Naagin chroma is used for both things.
For changing of background and to add animated objects like the serpents.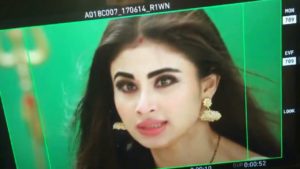 Apart From these two techniques, other technique used is that of animation.
Animation was used in making creatures like the snake, eagle and other objects like the temple.
The temple where the shooting took place was small.
Therefore it had to be animated.
Therefore animators had to create a 3D temple.
The main difficulty was that the design of both the original and animated one had to match.
But that was overcome and the team was successful to create the temple.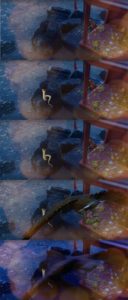 Apart from these vfx was also used for effects of smoke, skin changing into scales, change of eye colour and making fire and storm.
Due to such grand success and fine use of animation and vfx in Naagin, another season was released in 2016.
With a new season there were other and more advanced techniques used.In this season this season there are some new features.
Like colourful snakes have been added , there are 2 new creatures i.e. a mongoose and a peacock.
To create these new creatures more vfx and animation had to be used as they are a lot complicated than a snake.
This was also achieved with the help of Matte Paintings and 3D animation.In  season 2 vfx has been used to show Shivanya suspended in air.
The vfx used in Naagin is so dynamic, due to which the most viewed episodes in China are the first four episodes of the second season of Naagin, which have gained about 1,80,000 views as of May 1 2016.
Due to such high demand of Nagin after use of vfx season 3 will be launched in 2018.
With the use of vfx in Nagin many other Tele series has started to use Vfx.
In today's date we can see the use of vfx in almost all TV series.
Like those used in DKDM (Devo Ke Dev Mahadev), Mahabharat, Ramayan, Naag-arjun and many more.
The use of vfx in all these tele series is similar yet advanced. Like in DKDM we see snow mountains, Peacocks, Mice and many other creatures and places.
We also see Lord Ganesha (A Human with Elephant's Head) also part of animation and vfx.
Then in Mahabharat also we can see the use of vfx in all war scenes.
Vfx and animation is also used to create creatures and certain places like the royal palace and the battlefield.
Apart from these Matte paintings has also been used in major scenes.
Well due to the dynamic use of vfx and animation, Indian tele series are famous worldwide.
People from China are watching the tele series Naagin before being dubbed in Chinese.
People all over the world are waiting for season 3 desperately.
With huge success of this tele series many movies are being made with similar concept.
Such movies like Hisss, Creature 3D and Nagin are also a huge hit.
They also have similar use of vfx and morphing, which is used to change a person into snake or serpent or any other creature.
After reading this you can also witness the high demand of experienced vfx artist and animators for the dynamic industry of Media and Entertainment.
Therefore, if you are willing to learn about vfx and animation and about how you can transform your imagination into reality join MAAC Kolkata today.
Here you will be given the proper knowledge on how to do so by our faculty members along with new opportunity to experience.
To Know More Click Here & Register To Get Call Back. Bottom of Form