Hello friends, today I am here with a new and very interesting topic to discuss and that is Stereoscopic 3D. What is stereo-vision? The answer is – the word Stereo comes from a Greek word 'stereos' which means firm or solid. With stereo vision you can see an object as solid in three spatial dimensions – width, height and depth. It's the added perception of the depth dimension that makes stereo vision so rich and special.
Stereoscopic 3D is an attempt to reproduce the illusion of depth by adding a third dimension. Stereoscopy is the delivering of 3D effect with illusion of real life depth on a flat surface. The concept to produce stereoscopic 3D film came from stereoscopic photography. When shooting a 3D image, two cameras are used to capture two separate images of the same object from minimally different angle but from a fixed viewpoint. When played, the left image is seen by the left eye and right with the right eye, and then brain works to combine the two images. To limit the visibility, a special hardware or eyewear (anaglyph glass) is used. To make 3D images, red channel of right eye image is replaced with the red channel of the left eye image. Red-Cyan glasses are used to view stereoscopic images with red color for left eye and cyan for the right.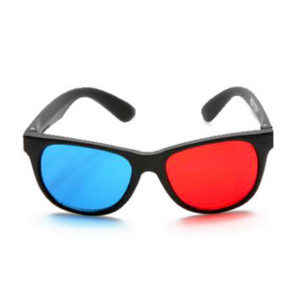 An Anaglyph Glass
The power of Love was the first commercially released 3D film in 1922. Unfortunately the film did not achieve a wide release, but the filmmakers and theatre owner kept experimenting with the growing 3D market. Experimentation continued for several decades, but the high cost and arrangements prevented studios from adopting 3D.
A new technology emerged that replaced the stereoscopic 3D film, was the invention of polarized sheet by Edwin H. Land. He saw potential in using polarized sheet in 3D projection. These polarized sheet required new projectors and silver screens to project onto. Bawana Devil was the first 3D colored film released in 1952. Disney also started making 3D films during the 50's. Disney's first 3D short film was Melody.
Another new technology emerged in the year 1970 as stereovision 3D. This was the beginning of a new trend in 3D movies. The first stereovision 3D movie was The Stewardesses. However the arrival of digital film made 3D post production work much easier. Now the 2D movies were converted into 3D, films such as Superman Returns, Alice in Wonderland, Clash of the Titans are the examples. Avatar by James Cameron in 2010 became the most successful 3D film to date. Avatar stands as the most expensive and highest grossing 3D movie of all time.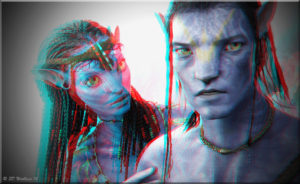 Still from the movie Avatar
Still confused to set your goal for your career? Step into MAAC Kolkata, the Best 3D Animation and VFX Institute in Eastern India. We teach our students to create Stereoscopic 3D images and movies also. Join today.