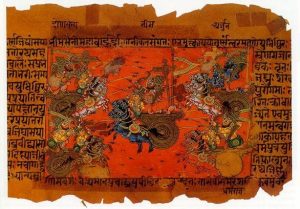 Animation is the process of making an illusion of motion and change by means of the rapid display of a sequence of static images different from one other. Animation creation methods include the traditional animation creation method and those involving stop motion animation of two and three-dimensional objects.
Indian animation industry has grown over the years, today at our animation Kolkata blog we will be discussing about one of the most talked about animation movie Mahabharat. This is the most expensive animation movie so far where investment goes to about Rs 50 crore.The movie was directed by Amaan Khan produced by Kushal Kantilal Gada and Dhaval Jayantilal Gada. The usp of the movie was its multi-star cast – the superstar Amitabh Bachchan, Ajay Devgan,Sunny Deol , Anil Kapoor etc renowned actor and actress of the Bollywood industry.
Amitabh Bachchan lent his voice to the character of  Bheeshma Pitamah, which coincidentally is the first time he ever has dubbed for an animated character in his career whereas  Anil Kapoor took 15 days to complete his work while Manoj Bajpayee ended up in dubbing for his character in just four days in Future Works Studio in Andheri, Mumbai which was commendable indeed. The character of Duryodh an was dubbed by Jackie Shroff where as Lord Krishna was dubbed by Shatrughan Sinha. The Draupadi was none other than Vidya Balan.The movie had an insurance cover of Rs 50 crore.
The dubbing effect of this Bollywood superstar uplifts this epic movie making the movie extremely enjoyable, and fun watching.Movie got a mixed reaction from the audience , it got a decent opening and the movie made profit on its investment made and created a bench mark for people who wants to step into animation industry and make an career out of it. It was so far the highest earner among the animation movies released so far.
Stay Tuned for more updates!!