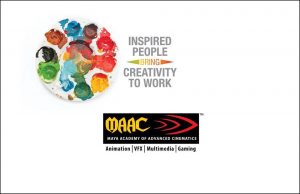 Career is one of the most important decision one takes in its lifespan. Career decides ones future. If you looking for a successful career in the field of animation and VFX, below are few important points we penned down for your better decision making.
1)  Apt knowledge on 2D & 3D software
You need to know a brief knowledge about 2D and 3D animations. When you opt for Animation & VFX you need to learn much software to upgrade your understanding in these fields.
2)    Teamwork
Most important! Working with people means understanding each other. You need to listen to them and at the same time you should have capability to make them understand your point of view.
3)  Know the Path
Animation and VFX are wide. You need to understand where your interest lies. Discover your passion and follow. To understand where the interest lays one can have one on one conversation with their faculty.
4 )  Portfolio
If you planning to get into animation industry it's the right time to build your portfolio. To build once Protfolio you need to do few researches. Contact to your seniors and take an idea how you can work on it. Once should be ready with a complimenting Portfolio after the completion of course.
 5)    Arranging the portfolio
Nobody has enough time to go through each work you have done. Show them the best you have done. Arrange your portfolio from best to normal.
6)      Patience
Time! Give yourself and your career time to reach stars. People working in this field earn a lot much but after a certain reputation has built. So give time but don't give up.
We hope our pointers will help you to take a wise decision.
Stay tuned with www.animationkolkata.com. for more updates.