If the movie lovers while watching their favourite hero's movie get  amazed and thrilled by the beautiful landscapes and difficult to difficult stunts shown in Bollywood movies, you will be surprised to know that most of them do not actually exist in reality. They are a work of pure graphics and VFX or visual effects.
Visual effects (abbreviated VFX) help the director bring his vision to life.
They are the processes by which director's imagery vision is created and/or manipulated outside the context of a live action shot. Which enhance the quality of the scene and its visual appeal?
Here in our blog we will discuss 7 such remarkable VFXs from famous Bollywood movies that viewers thought were real.
1. BHAG MILKA BHAG
Remember the whopping crowd in Bhag Milka Bhag was, in fact nothing else but was a pure cinematic illusion. The crowd was created by vfx, since while shooting it's not possible to gather so many people and retain them together for long shooting hours. So alternative to the same is here which you get to see below.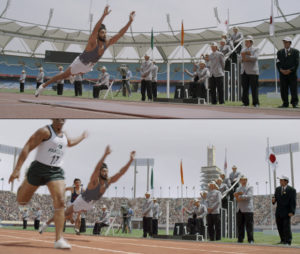 2.CHENNAI EXPRESS
The center of attraction, the long and stunning train running towards Chennai was actually a work of fiction and the train ride was indeed not that scenic. In reality to place such camera angels to capture the scenic beauty is very difficult keeping weather condition in mind.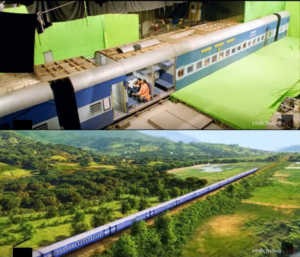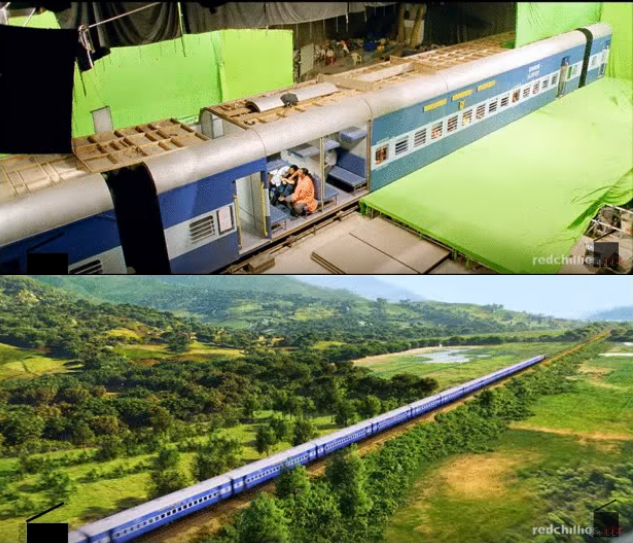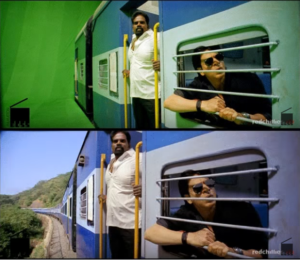 3. READY
Salman Khan might be a macho hero with all physical strength and super human abilities, but he is not stupid enough to risk his life and will hang himself to save the heroine from such a great height . So here is how it happened below.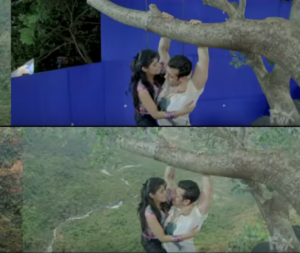 4. DHOOM STUNT
Mr Perfectionist, Amir Khan has actually not ridden the bike along the rope in Dhoom 3.  Such stunts we only get to see in circus with expert stunt man doing the same.
Our hero's cannot risk their lives for such dangerous act.  So the gorgeous stunt is a striking effect of graphical art and of course VFX.
Here you get to look into the same.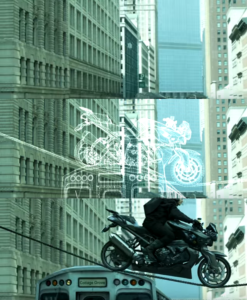 5. CHAK DE
Remember Chak De India movie of our Indian ladies hockey team winning world cup for our country.
The stadium where most of the scenes were shot was actually empty. Here you go.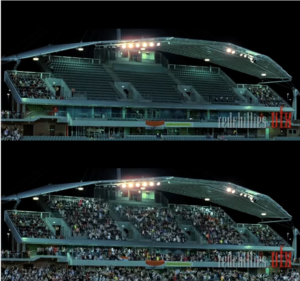 6. KICK
VFX can make a simple walk by Salman Khan look  extremely dangerous as you can see below. Salman Khan just walked across the railway track in front of a green screen which is called a chroma shot. Later that the green screen is replaced with the train and  you can see the stunning effect yourself below. Salman Khan.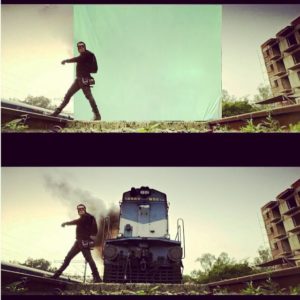 7. PK
The fascinating spaceship we wish to see in reality, it actually doesn't exist in reality.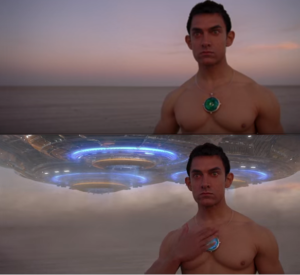 So with our above discussion we would like to conclude that the VFX has become a part of every Bollywood ventures.  So skilled technician and good VFX artist are in high demand in India as well as abroad.
So if you are dreaming big for yourself here is the right opportunity and right time to hit the market by acquiring the right skill from Leaders of VFX Learning Institute.
Choose the Best VFX Training institute to sharpen your skill and become industry ready VFX artist.