Today in the Best Animation Institute Kolkata Blog we will discuss the aspects of 3D character modeling.
We all are more or less familiar with the term 3D i.e Three Dimensional.
A three dimensional figure consist of length, width and height.
Launch of 3D character modeling in the visual medium has proved to be great revolution and these 3D characters have not failed to entertain us with their dynamic characteristics.
Whether it is animated movies, VFX blockbuster or action-packed video game every character on the screen is 3D model which is created by talented group of artists.
3D character modeling are utilised in movies and games to enhance engagement and interaction thereby making them enthralling.
Application of 3D character modeling has been spread to different sectors from Science to entertainment industries.
3D Character modeling artists are in high demand today as they can build 3D characters which are the crucial part of 3D world.
What Is 3D Character Modeling?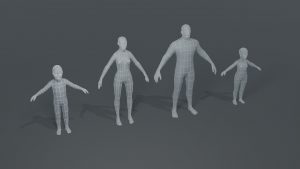 3D Character modeling is the procedure of developing a three-dimensional character from the scratch within 3D space of computer programs.
Animation studios need character artists with strong understanding of polygon modeling workflow and digital sculpting technique for seamless character modeling.
3D platform offers animators to skilfully transform their concept or ideas into 3D model.
Different range of 3d software are available in the market from free to very expensive; from minimum set of tools for beginners to advance interface with steep learning curve.
Autodesk Maya, 3ds Max, ZBrush, Blender, Houdini, Sketch up are some of the common 3D modeling software.
3D Character Modeling With Polygon & Nurbs In Maya
In software like Maya 3D artist works with either Polygon or Nurbs Surfaces to create desirable high-resolution 3D Characters.

3D Character modeling artist must be familiar with the term polygon mesh which is the collection of vertices, edges and faces.
Polygon Modeling uses triangle, cubes, hexagon and other shapes.
3D artists adjust these polygons in different angles and directions to give them a proper shape of a human head or animal figure.
Polygon Modeling gives 3D model a realistic appearance.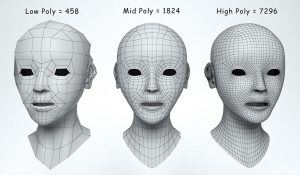 For any particular 3D model it is important to decide the numbers of polygons one needs to use; higher the number of polygon; the smoother and realistic the 3D model would be.
The above picture shows how the Eyes, Nose and Lip become more sharp and definite on the face of 3D model with high polygons.
This is an advanced approach towards creation of 3D models for high-end animated movies and video games.
However millions of polygons are used in movies 3D Characters rather than games as movie characters have to be more efficient.
Game developers make use of less number of polygons in 3D models so that the game can be run smoothly and download quickly.
NURBS Modeling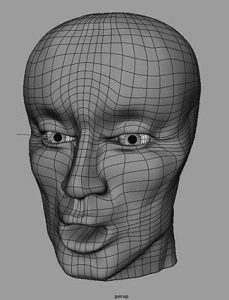 NURBS Modeling (Non-Uniform Rational Basis Spline) allows artists to develop smooth curves and surfaces in 3D models.
3D model once created in Nurbs modeling can't be altered hence the artist needs to be more conscious and attentive while designing 3D models in this platform.
Creating character head with Nurbs surface is not an easy task because human head has features like mouth, nose and eyes which need to be handled diligently.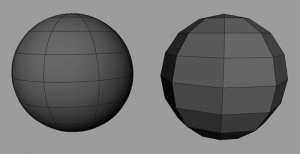 This picture shows Nurbs surface (left) is smoother than Polygon (right) with same number of points and subdivisions.
3D animator can make 3D character head from the simple sphere Nurbs surface by manipulating the surface in variety of ways; he/she can add on details and same modeling principle is applicable on rest of the character body.
Polygon Sphere has visibly hard or sharp edges whereas Nurbs Sphere has smooth surface.

Autodesk Maya has been used by Disney-Pixar movie Finding Nemo to generate colourful, vibrant underwater creatures.
Abundant toolset of Autodesk Maya does not limit artist's imagination in working on 3D model; finest and smallest details like movement of hair and cloth can be added using magic tools of Maya.
Adding Texture and Shade on 3D Character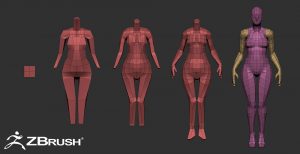 ZBrush is another 3D modeling software used by filmmakers to design three-dimensional characters by making use of poly-mesh which are composed of polygons.
After preparing the basic 3D character modeling figure through poly-mesh artist adds texture to the figure and this determines the quality, accuracy and realism of the 3D model.
Texture provides colour and volume on the model.
ZBrush has Texture map button which is being clicked before adding texture on the 3D model.
With ZBrush's sophisticated brush tool artists can draw strokes with depth and at the same time they can paint the model like sculpting.
Shadows and highlights can be automatically added to the 3D character.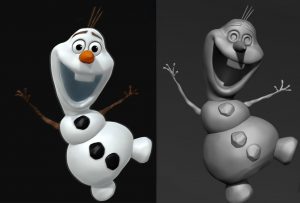 The Olaf, a cheerful snowman form the film Frozen (2013) is another example where ZBrush has been used to give a smooth texture on Olaf's overall body.
Animating the 3D Character comes next after Texturing and Colouring; different animation techniques are available in modeling software to animate any 3D character with details.
Requirements For 3D Character Modeling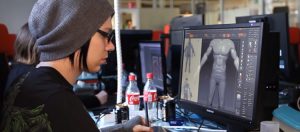 Creating 3D Character requires not only talent but artistic vision and knowledge of anatomy, skeleton structure, muscle, proportion, gestures, texture, colour grading software, facial expressions, digital sculpting, angles, lighting, shading and lot many things.
The best 3D Character is the one which resembles most with a living person with the right topology, natural smile and gesture.
A good 3D Character Modeller must have vision to convert simple 2D image to fully functional 3D Model.
He/she must have good communication skills and must have ability to work with other departments and understand their requirements.
Prospects of 3D Character Modeling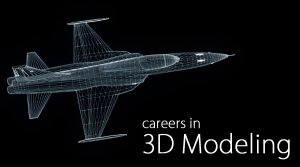 3D character Modeling has endless possibilities and it has already become essential part of the modern digital media landscape.
3D character Modeling is an exciting and rewarding means of artistic self-expression; though it may look daunting for beginners but with the right institute the journey of learning becomes easyer.
MAAC with right 3D Animation course and resources for practice at the academy makes it easier to learn 3D Character modeling from scratch.
3D Character Modeling has huge prospects in vast field of knowledge, entertainment, science, aviation and other industries.
To bring your ideas to life join our MAAC Institute Courses on 3D Character Modeling.