VFX or Visual Effects is a very common trend in all kind of movies today.
Let us discuss about this magical larger than life digital technique in this blog today.
As we all know that Visual Effects is a process by which image can be manipulated or created outside the context of live action shot to make the viewing experience more memorable.
VFX are different from Special Effects because VFX requires a computer and the effects are added post shooting.
Earlier Visual Effects were used heavily in Science Fiction movies and Action Movies but nowadays every film, advertisement web-series goes through the process of Visual Effects due to the advance in technology and availability of VFX artists.
In movies Visual Effects make the moving shots or action sequences lot more appealing and captivating.
Demand of the audience and the flexibility of computer technology had made application of Visual Effects in movies a common phenomenon.
To build up Visual Effects for the particular movie computer generated imagery (CGI) and VFX software are compulsory.
In the current scenario VFX artists plays an important role; they communicate with the Directors and the Cinematographers to determine which scene is required to be shot in green screen or popularly known as chroma keying.
Most of the studios have separate VFX department to handle all nitty-gritty about the movies.
Commonly there are three main types of Visual Effects that are applied in films: CGI, Compositing and Motion Capture. Each of these types of Visual Effects take place after principle photograph and in controlled studio setup.
VFX artist uses various high-end software and tools to erase the line between real and unreal visual shots.
Let's now move on to see how Visual Effects have worked in the movies mentioned below.
Immensely Creative Visual Effects in Bollywood Movies:-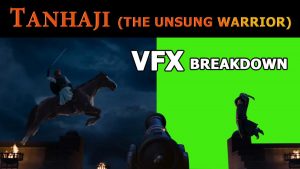 Tanhaji: The Unsung Warrior released in (2020) and directed by Om Raut has superb visual effects executed by NY VFXWAALA Company founded by actor Ajay Devgn.
This film took 3 long years to be completed and VFX team worked for 6-8 months on heavy 3D scenes.
Major action scenes were shot in the studio set up with Green Screens or Blue Screens at the backdrop.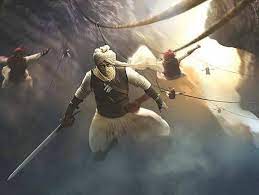 The director of the film claimed that making Sandhan Valley set was quite challenging for them. They had to create 300 feet long gorge inside the studio and used moulds of stones and rocks of the valley to build a wall on which textures were added through VFX software to get the real effect.
VFX Supervisor and his team worked diligently on pre-visualization for the entire film shot by shot.
This Ajay Devgn and Saif Ali Khan starrer 3D historical movie has successfully fulfilled audience expectation through its realistic visuals, actions and storyline.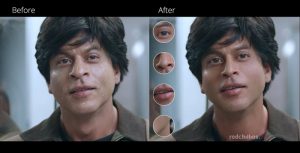 Action thriller movie Fan (2016) directed by Maneesh Sharma is another example where superstar Shah Rukh Khan played a younger obsessive fan character named as Gaurav Chandna.
For creating younger character Gaurav, Oscar winner make-up artist Greg Cannom worked on prosthetic make-up on the face of Shah Rukh Khan with the team of Red Chillies VFX.
Biggest challenge was to prepare 25 year old younger Gaurav out of 50 year old Shah Rukh Khan and for this task Shah Rukh Khan assisted Greg Cannom for 4 to 5 hours prosthetic make-up task.
After prosthetic make-up visual effect team of Red Chillies placed multiple tracking markers on the face of Shah Rukh Khan during the live-action shooting.
By implementation of Visual Effects character Gaurav Chandna got a little bigger eyes, sharp nose, straightened eyebrows, overall skin tone changed and lip also modified.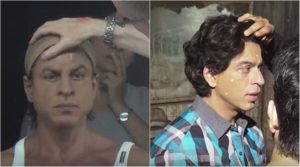 Facial track markers were used to achieve Hollywood level accuracy and for match-moving and seamless composition.
Autodesk Maya and Foundry Nuke were used commonly for post-production process.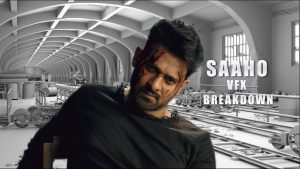 Saaho (2019) a high-voltage action film directed by Sujeeth Reddy was shot on multiple sets and received digital extension to get the appearance of larger than life.
Glimpse VFX or Visual Effects Studio had created the Bandra-Worli Sea Link Bridge in 3D, Hero 3D cars and traffic, Ocean System and several other digital effects for this film.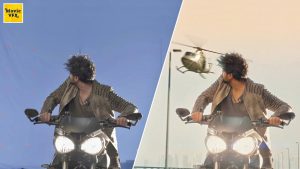 This film has many high-end action stunts performed by Superhero Prabhas and VFX team worked hard on these crucial stunts to get everything right.
Both Blue and Green Screens were used to add-up computer-generated images later on the post-production stage.

3D cars and accident scenes were added at the backdrop very seamlessly with the help of visual effects create on the digital platform.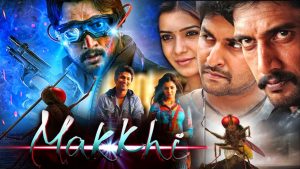 The bulging red-eyed Makkhi is Hindi version of S.S Rajamouli's South Indian blockbuster film Eega.
This fantasy action film is loaded with incredible CGI and visual effect story telling ability, the protagonist of this film is reincarnated as a house-fly to take revenge of his death.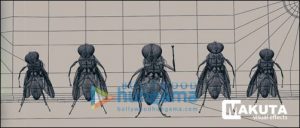 Hyderabad based Makuta VFX Company worked on this project with around 100 VFX artists around the clock to deliver magnificent visual effects and incredible character Makkhi.
VFX designer Pete Draper took the reference from the real life flies for Makkhi's anatomy. He wanted to design the Fly in unique way and he knew that a 40 feet fly on the big screen will definitely make the audience hooked on the screen.
Several VFX team members like modellers, hair and fur designers, rigger artists, animators designed the animated fly with Computer Generated Imagery.
This is the first Indian film to use 90 minutes of computer-generated imagery and the film has 2,234 live-action shots.
The sequence between Sudeep and Eega or Makkhi was quite challenging for animators because they found that later can only express the emotions through its slender arms rather than its face.
Animators also went through different training programmes like acting theory and insect format to make this film project more realistic. Visual Effects of this film was quite expensive around rupees 70 million.
Visual Effect has become essential part of movie making process in the current Bollywood Scenario and the challenge is how to achieve visual effects is more and more seamless ways.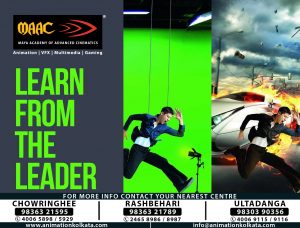 Contact our Best MAAC Institute in Kolkata to acquire knowledge on this high-end technology.