Today in this topic let's have a look on the latest 2D Animation Software under Adobe CC.
Adobe CC or Adobe Creative Cloud has collection of applications from Adobe system which provides users access to the collection of software used for video and photo editing, animation and motion graphics.
Creative Cloud delivers monthly or annual subscription over the internet.
Individual artists or professionals can download the required software from Creative Cloud through internet and can make use of it as long as subscription is valid.
Initially Amazon Web Services used to host Creative Cloud but currently Microsoft Azure is hosting it.
Adobe CC has amazing 2D animation software that can bring stories to life on film, TV and web.
2D Animation Software In Creative Cloud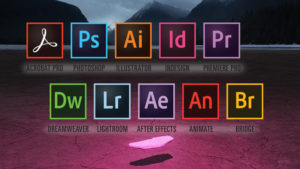 Adobe CC helps us to access different software from graphic designing to animation.
Creative Cloud application includes -Adobe Acrobat Pro, Photoshop, Adobe Illustrator, Adobe InDesign, Premiere Pro, Adobe Dreamweaver, Adobe Lightroom, Adobe After Effects, Adobe Animate and Adobe Bridge.
Among the above set of applications Adobe After Effects and Adobe Animate are primarily 2D animation software.
Creative Cloud is committed to the animators all across the world.
As said by Scott Belsky, Executive Vice President of Creative Cloud "Adobe Creative Cloud has truly become the creativity platform for all".
Adobe CC is designed to make the creative process more successful and supercharged.
Creative Cloud delivers great intuitive collaboration features and faster access to file services.
Adobe Animate Under Creative Cloud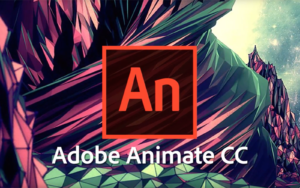 Adobe Animate by Creative Cloud is an animation program to create marvellous 2D animations.
Previously it was named as Adobe Flash.
The transformation from Flash to Animate has added up wide range of advanced functionalities for example support to WebGL and HTML 5 canvas.
Users can export content for WebGL, HTML5 Canvas easily with Adobe Animate.
Choosing Adobe Animate for 2D animation will definitely introduce the user to a whole new set of animation tools.
Adobe Animate has all the best tools from Flash along with Creative Cloud features.
It has enhanced animation tools and ease presets for shape tweens.
Adobe Animate is Vector Graphics based software.
It has ability to create better vector brushes and has modified paint brush.
With enhanced brushing tools one can put pressure and tilt functions on drawing of lines and strokes with the help of pen.
Camera Effect For Realistic View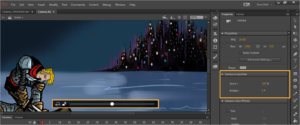 Adobe Animate has amazing Virtual Camera functionality.
Virtual Camera of Animate gives a very realistic view to the animation.
Dramatic effects can be added to the animations using the Virtual Camera feature.
The artist can easily and effectively Pan or Zoom 2D figures in this software.
Simple animation like scaling of the figure or movement from far to near is easily possible here.

Motion path represented by dotted lines helps to define the path of the character's movements.
Animator is free to add any number of Key-frames at any position within the image.
For exporting the animation Adobe Animate has adapted the web standard export format that has made the viewing process easier from desktop user to mobile user.
Lip Sync For Better Expression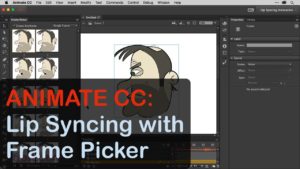 Another feature that Adobe Animate offers is Audio Syncing.
Within this 2D software the animator can do audio synchronization for his/her 2D animated images.
2D animated images get realistic expressions by the synchronization process.
Frame Picker Panel in Animate lets the artist to choose the frame in the graphic symbol's timeline that matches each sound.
Frame Picker enhances Lip-Sync in animation workflows.
Tool sets for animation is far easy to handle; drawn characters or imported images can be easily animated using user friendly animation tools.
Therefore Adobe Animate is excellent 2D animation software offered by Creative Cloud for the animation lovers and professionals.
Creative Cloud With Adobe After Effects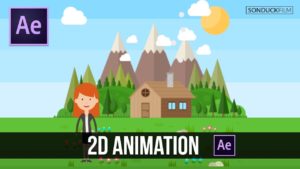 Adobe After Effects is other 2D animation Software offered by Adobe Creative Cloud System.
It offers range of animation styles useful for television programs, films, videos and commercials.
Adobe After Effects is designed for animators to create motion graphics.
This software is considered as standard for motion graphics in video industry.
The tools offer numerous ways to animate the texts.
2D Title Animation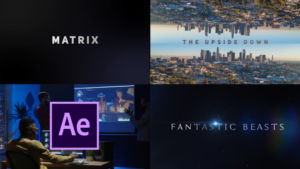 Title and text animation are important part of visual medium.
After Effects permits twirling titles, rolling credits, spinning words and many more.
Countless ways are available to move the text from spin to swipe to slide.
It has title animation that follows movement of object in video shots, corporate style title animation, glitch title animation and many more.
Users can animate the texts on the images or without the images in many possible ways.
Also one can add motion to logos, shapes and cartoons by using key-frames.
Artist can apply lot of functions on the Key-frames to give movement to the images.
Data-Driven Animation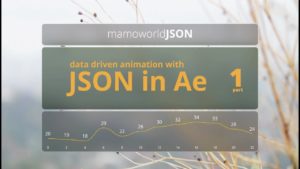 After Effects under Adobe Creative Cloud has a completely new feature called Data-Driven Animation which enables users to create interactive animations and motion graphics using data file.
JSON data file format is used to collect live data from various sources.
JSON data file contains data of election statistics, survey results, weather reports etc.
The animator can import these data files into the After Effect project to animate graphs, characters and many more.
Enhanced Puppet Pin Tool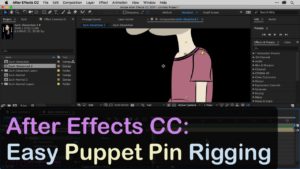 After Effects has invested a lot of care in its Puppet Pin Tool.
Enhanced Puppet Pin Tool adds new life to the animations.
With the pins animator can define the position, scale and rotation of the pin.
Pin tools can be moved to deform the graphics.
Puppet Pin tool offers new possibilities to create dynamic animations.
By using this powerful tool Animators can give life to 2D images.
The timeline of After Effects has an approach to quickly animate anything.
Its user friendly characteristic has made it a favourite application for animators of the visual industry.
As 2D software Adobe After Effects provides more intuitive user experiences.
Adobe Animate and Adobe After Effects both of these 2D application under Creative Cloud are playing incredible roles in the animation industry.
We at MAAC Kolkata provide courses on 2D software get in touch with us to know more.