Today we will highlight the world of vfx where you can see and feel its presence while viewing some popular advertisement in television.
VFX revolutionized the Cinema and Television industry.
The importance of visual effects in Advertising is gaining dominance day by day.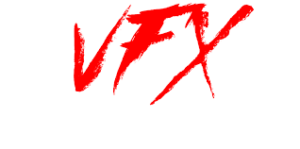 Your darling puppy ran away from you. How will you find him?
Or, you want to sell your old stuffs, rent your apartment, add staff to your business or improve the reach of your business.
What is one thing that facilitates all of this?
The one thing that has been around since ancient civilizations- "Advertising".
Whoever and wherever you are, almost all human beings have made use of advertisements one way or the other.
Human beings wouldn't have been here without advertising.
Today we see advertisements of different magnitudes and enormity.
Some of them have left us amazed, others have made us laugh and some others got us thinking.
As technology improved and became accessible, creative brains made the best use of it and astonished the world.
In 2011 MarketTools, an online market research company, worked with GenArts, a visual effect developing company, to determine the impact of visual effects on audience engagement using a national footwear company's video promotion for a new footwear model.
The video with VFX outperformed the other as 90% of people preferred the video with visual effects.
VFX has developed slowly and steadily towards the advertisement sector in India as well.
It enables in creating innovative advertisements.
VFX is today helping the brands to create ads on a grandeur scale to break the monotony among the clutter of ads in digital space as well on TV.
This has no doubt increased the visual appeal as well as retention power of the ad films.
We will take a look at some of the VFX heavy ads shot within few years in India.
Remember the Lava mobile ad by Mahendra Singh Dhoni as he has become the Brand Ambassador of Lava Mobiles. Where we see him walking from one building to other holding his phone in hand . Do you think that is what he has done actually?
No not at all anyone will risk his life like that if it would have been a live shoot. Here comes the role of VFX which has been extensively used in creating the ad.
Just check it out.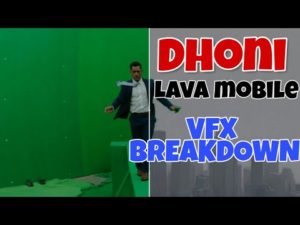 Here is the reality.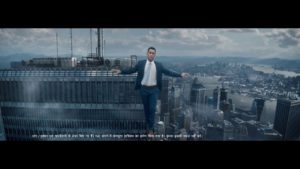 Ching's secret an Indian brand of Chinese cuisine ingredients made a TV commercial "Ranveer Ching returns" in 2016.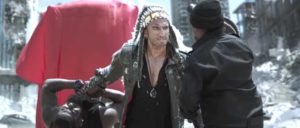 The ad was claimed to be the most expensive ad film ever made with an advertising budget of  INR 750 million, similar to that of a mid size Hindi film.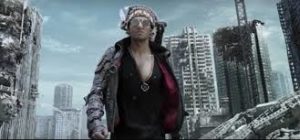 The ad was directed by renowned filmmaker Rohit Shetty and showed a dystopian future where the lead actor rides a chariot into an arena to combat hunger and save the people from starvation.
Supported by YRF the 5 minute ad registered more than 6 million views on YouTube alone upon its release.
NY VFXWAALA was responsible for creating the dystopian city.
The dystopian city was created by NY VFXWAALA, a division of Ajay Devgn Films.
Remember the cute babies dance?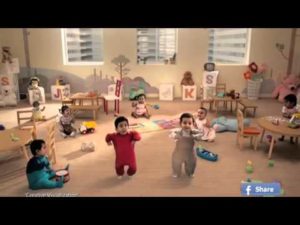 It always turns out to be cute where babies are involved in any commercial.
This Kit Kat ad involves babies in a hospital ward playing with their toys and dancing to the doctor at the sight of a Kit Kat chocolate, similar to the MTS India ad.
The brand delivered its message that the chocolate is refreshing.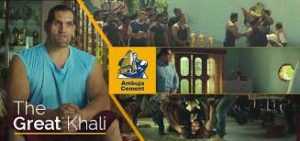 In 2015, Ambuja cement started an ad campaign featuring The Great Khali, a popular wrestler.
The TV commercial shows the difficulties faced by the wrestler due to size and strength while he tries to live a normal life in a house.
In the end, Ambuja cement provides him with a strong home for his comfort.
The ad used VFX extensively which was done by Metropolitana a VFX studio based in Spain.
Where Khali falls down, breaks the wall, then only VFX shots have been taken.
It was an innovative ad that became successful due to the VFX shots.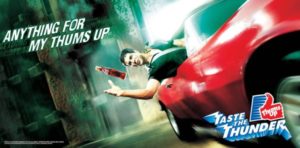 Thums Up has unveiled a new television campaign that sees brand ambassador indulging in the extreme sport all for his bottle of Thums Up.
Parkour, which means 'Art of moving', is an extreme sport popularized by the French, where VFX has been used to a great extent to create the effect and visual pleasure for audience.
Few years back down our memory lane we will get some more interesting use of VFX in one of the commercials.
Jet Jumbo Coil Ad has used VFX to certain extent.
It is Directed by  Latha Menon, Produced by Iris Films, Camera is by Thiru, Music by Anandh R , and VFX by Sabu (Prime Focus).
The coil coming at the end of ad is been created with vfx where we can see a yellow fire line around the coil.
Panasonic 'Smart TV' campaign – PANASONIC TV created waves using smart VFX work too.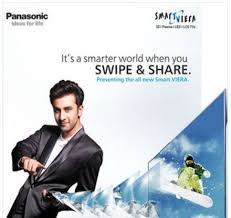 The popular Panasonic commercial showcases the benefits of Panasonic's smart TV offerings and stars Ranbir Kapoor , harping on the product's enhanced picture as well as sound quality.
One of the biggest challenges was to build the entire world setup surrounding Ranbir in an authentic and believable manner.
The commercial demanded a huge amount of VFX shots which were seamlessly weaved into the entire narrative.
When penguins 'Shake a Leg' for the 7UP 'I Feel Up' campaign- is worth another milestone in visual effect.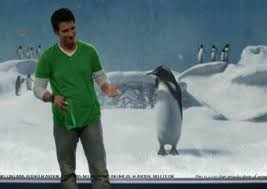 This popular commercial brought the I Feel Up philosophy to the masses, starring Sharman Joshi dancing off with a penguin.
Brand philosophy and overall messaging was brought to life by VFX only.
The Happydent 'Palace' campaign:- Where a chewing gum lit's up an entire palace – This was a concept which was proficiently delivered using ground-breaking special effects and animation.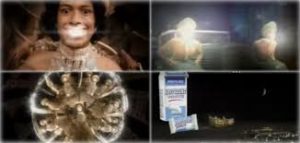 This ad showed that men are illuminating an entire palace by chewing Happydent gum, instead of bulbs, resulting in sparkling teeth.
With newer innovations such as augmented reality and virtual reality enriches the advertising sector day by day.
It is only a matter of time before these visionaries start to take advantage of these technologies to tell their brand stories in new ways.
Making use of  some animation techniques and VFX to its maximum potential – these are a few examples of ads we get see in Indian television.
For making advertisements better and more viable – they are ready to accept new technologies, thus, creating job opportunities for animators and visual effects artists.
Traditional outlook Combined with new concepts has changed the way the Indian industry would operate.
It has opened up new avenues.
The creative heads will continue to explore these to come up with better commercials and expand the industry further.
Know More Click Here & Register To Get Call Back.