Number of Animation Films releasing worldwide is increasing day by day.
The new trend in animation has lots of theatrical animated features.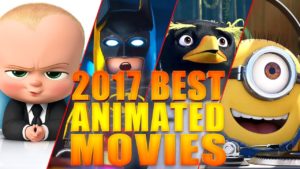 Technology has leveled out the playing field, making feature-scale animation production accessible to producers everywhere. Even in the early 2000s, animated features were the privileged domain of a few well-heeled producers but now-a-days the situation is remarkably different remarkably from then.
While we're not going to have 6,000 animated features per year, nor animation will be live-action production, the industry is finally starting to increase production in a meaningful way.
Sometime within the next decade, it will not be unreasonable to expect hundreds of animated films per annum.
No, they won't all be good, and that's fine, too.
But more films mean more opportunities for more filmmakers, and only good can come out of that.
Nearly 100 Animated movies released worldwide in 2017, out of which the following 5 movies are the highest grossing films of 2017.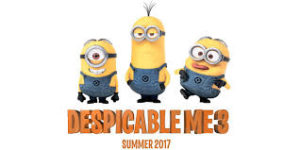 Despicable Me 3 (stylized in marketing and onscreen as Despicable M3) is a 2017 American 3D computer-animated action comedy film produced by Illumination Entertainment for Universal Pictures.
It is the fourth overall installment and third main installment in the Despicable Me film series.
It is the sequel to Despicable Me 2 (2013). The film is directed by Pierre Coffin and Kyle Balda, co-directed by Eric Guillon[6] and written by Cinco Paul and Ken Daurio.
In the film, Dru,the long lost Twin Brother of Gru,the main character,teams up together to defeat a new enemy named Balthazar Bratt, a 1980s child actor who grows up to become a villain.
Steve Carell, Miranda Cosgrove and Dana Gaierreprise their roles of Gru, Margo and Edith from the first two films and Julie Andrews returns as Marlena, Gru's mother from Despicable Me (2010).
Kristen Wiig and Steve Coogan return from Despicable Me 2, while Trey Parker, Jenny Slate and Nev Scharrel (replacing Elsie Fisher as Agnes) join the cast.
Annecy International Animated Film Festival showed Despicable Me 3 on June 14, 2017, at the , released in the United States on June 30, 2017, by Universal Pictures in 3D, RealD 3D, Dolby Cinema, and IMAX 3D.
The film received mixed to positive reviews from critics[7] and has grossed over $1 billion worldwide, making it the third highest-grossing film of 2017, the fourth highest-grossing animated film of all time and the 24th highest-grossing overall.
After Minions in 2015, it is the second film to gross over $1 billion, produced by Illuminations, becoming the first ever animated franchise to do so. Despicable Me 3 became the second non-Disney film and the sixth highest animated film after Toy Story (2010), Frozen (2013), Minions (2015), Zootopia and Finding Dory (both in 2016) to gross over $1 billion, and is currently the fourth highest-grossing animated films of all time and the twenty-fifth highest-grossing films of all time.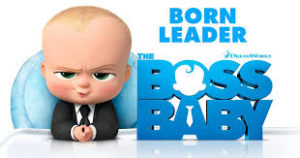 The Boss Baby is a 2017 American computer-animated adventure comedy film loosely based on the name written and illustrated by Marla Frazee[4] and produced by DreamWorks Animation.
It was written by Michael McCullers and directed by Tom McGrath .
Miles Bakshi, Steve Buscemi, Jimmy Kimmel, Lisa Kudrow, and Tobey Maguire, voces the supporting characters while it stars the voices of Alec Baldwin as the title character.
The plot follows a baby who is a secret agent in the war between babies and puppies.
At the Miami International Film Festival,The Boss Baby  was premiered on March 12, 2017.
It was released by 20th Century Fox on March 31, 2017.
Upon release, the film received mixed reviews from critics and grossed $498 million worldwide against its $125 million budget.
A sequel is scheduled to be released on March 26, 2021.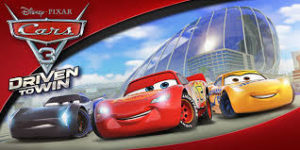 An American 3D computer-animated auto racing sportscomedy in 2017,Cars 3 is a drama film.
It was produced by Pixar and released by Walt Disney Pictures. Directed by Brian Fee, the screenplay was written by Kiel Murray, Bob Peterson and Mike Rich.
After Cars and Cars 2, the producers made a sequel in this Film. Cristela Alonzo, Chris Cooper, Armie Hammer, Nathan Fillion, Kerry Washington and Lea DeLaria gave the supporting characters voices and were joined by the returning voices of Owen Wilson, Bonnie Hunt and Larry the Cable Guyare for the main characters , in addition to dozen NASCAR personalities.
In the film, Lightning McQueen sets out to prove to a new generation of high tech race cars that he is still the best race car in the world.
Grossing over $383 million worldwide, the film was released on June 16, 2017.
It has received generally positive reviews, with many critics considering it an improvement over its predecessor, as well as praising its emotional story and animation.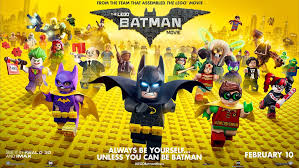 3D computer-animated, The Lego Batman Movie is a superhero film.
It is produced by Warner Animation Group.
It was written by Seth Grahame-Smith, Chris McKenna, Erik Sommers, Jared Stern and John Whittington.
It was directed by Chris McKay,and produced by Dan Lin, Roy Lee, Phil Lord and Christopher Miller.
The film is an international co-production of the United States, Australia, and Denmark,and is based on the Lego Batman toy line and the first spin-off installment of The Lego Movie.
The story revolves around  Batman's attempts to overcome his greatest fear to stop the Joker's latest plan, with Will Arnett reprising his role as Batman for the film, along with Zach Galifianakis, Michael Cera, Rosario Dawson, and Ralph Fiennes.
Premiered in Dublin, Ireland on January 29, 2017, The Lego Batman Movie was released in the United States on February 10, 2017.
Internationally, the film was released in 3D, RealD 3D, Dolby Cinema, and IMAX 3D.
The film received positive reviews and grossed $312 million worldwid.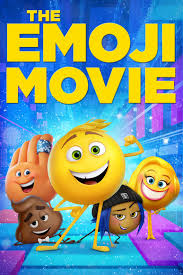 An American 3D animated computer science fiction comedy film,The Emoji Movie was released in 2017.
It is directed by Tony Leondis and written by Leondis, Eric Siegel and Mike White, based on the trend of emojis.
It stars the voices of Christina Aguilera, Sofía Vergara, Sean Hayesand Patrick Stewart as well as  T. J. Miller, James Corden, Maya Rudolph, Steven Wright's voices.
The film centers on Gene, a multi-expressional emoji who lives in a teenager's phone, and who sets out on a journey to become a normal  emoji like his parents.
It is Produced by Sony Pictures Animation, and distributed by Columbia Pictures. Premiered on July 23, 2017, at the Regency Village Theatre The Emoji Movie was theatrically released in the United States on July 28, 2017 was panned by critics, but It grossed over $215 million worldwide.
So animation has great future and animators be ready to unleash your creativity. Are you ready?
To Know More Click Here & Register To Get Call Back.