An American 3D animation comedy adventure film of 2016.
Finding Dory is produced by Pixar Animation Studios and released by Walt Disney Pictures.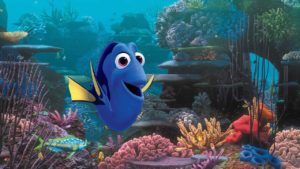 Directed by Andrew Stanton with co-direction by Angus MacLane, the screenplay was written by Stanton and Victoria Strouse.
The film is a sequel  to 2003's Finding Nemo and features the returning voices of Ellen DeGeneres and Albert Brooks, with Hayden Rolence , Ed O'Neill, Kaitlin Olson, Ty Burrell, Diane Keaton and Eugene Levy joining the cast.
The 3D film focuses on the amnesiac fish Dory, who journeys to be reunited with her parents.
Pixar's most successful 3D film for about 10 years was 'Finding Nemo', and yet, other movies kept getting sequels while our favorite fish story didn't.
At last, in 2010, writer/director Andrew Stanton got inspired. Five years later, on June 17, Finding Dory came to the theaters.
Stanton says that the last thing he ever thought he was going to do was a sequel to 3D movie Finding Nemo, but the brain works in mysterious ways.
Around 2010 he started to think about Dory.
He knew she was a tragic figure when he created her and he couldn't drop it.
And that's usually the kind of stuff, when it keeps coming back without your trying; you realize there's something worth digging for."
The opening of the 3D film starts to paint Dory as the tragic figure.
Things quickly lock in with the narrative of Finding Nemo and move on from there.
The beginning of 3D movie Finding Dory was wonderful and sad, but it wasn't always what generally you see in theaters.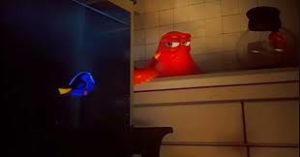 Along with the sad beginning, we saw many scenes set in the Marine Life Institute, otherwise known as MLI.
Dory's story mostly took place in the Aquarium, and there were some visually clever as well as funny scenes including the octopus Hank talking to Dory from a sink, Destiny, the whale shark meeting Bailey the beluga.
Character writing  is quite  difficult but, when you've taken a side kick who was suffering from  short term memory loss and turned her into the main character,  that's even harder.
Co-director Angus McLane confessed dealing with that situation was maybe film's biggest challenge.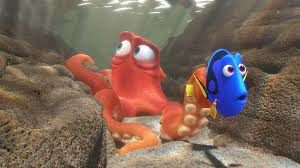 "She wasn't built to be a main character," said Stanton.
"She was made to support someone else and a main character was a very different role.
She was so wired to tee up everyone else and put the spotlight on them, and we kept falling into that trap.
So it was hard." Like the scene in the touch pool. In early repeatations it starred Hank, the octopus, almost like an Indiana Jones-character, moving Dory long through the pool.
"This biggest problem with this scene is it's not about Dory," McLane said.
"Hank was really driving the scene as it started and finished with Hank…so the  3D film changed to make sure every sequence was about Dory achieving her emotional goals."
There was very little action with Marlin and Nemo.
"Marlin and Nemo are still very much in the film," said producer Lindsey Collins.
"They're there at MLI.
They're just not with Dory. But that was made intentionally because we wanted her to do this on her own.
" So even though Marlin and Nemo are around, they have less to do in the final 3D movie than they did in original versions.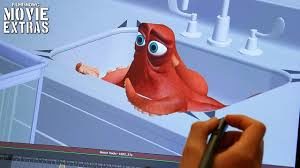 "Hank was planned to be the side kick, the Anti-Dory, who can do things she can't," McLane said.
Besides requiring an octopus character in the movie, the character of Hank was narrated to the 3D animators to be "lovingly curmudgeonly," When Stanton told the animators his vision for Hank they had no idea what plot will be there for the character.
They just knew what he looked like and how he has to move.
It's only in research that things develop.
So, for example, Stanton found out that some octopuses can even move around and camouflage themselves also.
And that gave him a perfect instrument to get a fish around a human place, like an aquarium.
Bones make 3D animation kind of easy.
An animator can predict movement with them.
But an octopus doesn't have bones, and that makes animating one exceedingly difficult.
It took over a year of animation work just to get the character's movements to a believable place.
Hank's introduction is one of the most complicated shots in Finding Dory.
Finally, 146 total versions from 18 different artists, completed it in  the course of 13 months.
However, the good news is, once many of those problems were solved, things got easier.
While  breaking the story of Finding Dory, the team created about 103,000 storyboards over the course of three and a half years.
They created  a new reel of footage for  four months over that time and that became the blueprint for the movie that's animated.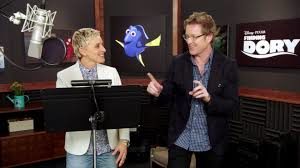 When they were deciding about the casting of the movie, Andrew Stanton was always wondering how people would sound opposite Ellen.
But, afterwards, he could see the chemistry she had with new cast members like Ed O'Neill and Ty Burrell.
Finding Dory has a very small crossover with Finding Nemo, and the team more or less completely reanimated the shot to bring it up to the higher 3D animation standards of 2016.
Supporting characters: Gil, Crush, Squirt, Mr. Ray, etc. many of those was back, but not all of them.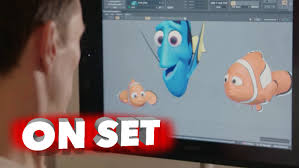 Pixar loves to explore their 3D animation with each film and, on Finding Dory; they did it with several new pieces of software.
First is Renderman RIS.
Every Pixar movie has utilized the original Renderman software till now, so that makes Dory the first film in about 30 years which was done on something different.
Finding Dory is more advanced than the other Film in path tracing, which simulates light randomly, and makes for much more realistic water and other effects.
Dory also  used  a program called Katana, which enhances the lighting, and Universal Scene Description, also known has USD.
"We learn a lot working on these films," said Pilcher. Basically, to make the movie right, the filmmakers have become highly knowledgeable about ocean matters.
Pilcher said. "We are trying to take all the information from reality and reinterpret it in a somewhat manageable, simplified way that stylizes it a bit. Give it character."
Lots of aquariums all over the world were researched by  Pixar's design team but the one in Monterey, CA the Monterey Bay Aquarium, was a biggest inspiration on the look of Finding Dory's MLI.
The  3D movie is mainly about Dory, a fish suffering from short term memory loss.
So the filmmakers wanted to make sure everything was seen through her perspective.
By the end of this film, we should feel that Dory has grown up to be okay by herself," said MacLane. "That was the central driving idea we had".
"That's the point of the story," Stanton added."She's no longer the passenger, she's the driver.
She has to learn how to do that." It's like worrying about a kid," Stanton said of making this 3D movie.
"I was worrying about whether she was going to make it.
And I suddenly needed that resolved.
So now I really do think it's a closed circuit.
Nobody plans to make a sequel 13 years later. It's a product of character love."