Hi guys!! In today's blog we are going to discuss about the movie FAN. Although the movie was not a blockbuster hit like expected but the techniques employed in this movie was amazing and was accompanied with a lot of surprising VFX.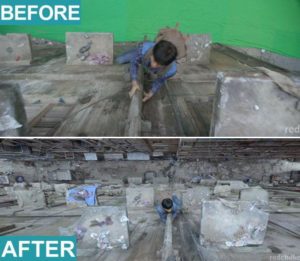 The movie FAN was directed by the renowned director cum producer MANEESH SHARMA and produced by ADITYA CHOPRA under YASH RAJ FILMS production house.
To begin with let us first know the jist of the movie.
The story revolves around the main protagonist slash antagonist Gaurav Chandana (played by Shah Rukh Khan) a die-hard and obsessive fan of Bollywood superstar Aryan Khanna (also played by Shah Rukh Khan) and how he (Gaurav) unexpectedly tries to seek revenge against Aryan for turning his fan away.
For all we know the rest of the story is quite known and well-discussed in media already.
The main question that arises in this occasion is that how is the movie unique?
The answer to such a mind boggling question is the use VFX or VISUAL EFFECTS in the movie.
The effects used in this movie were so hardy and difficult to achieve that despite the prolonged attempts great film makers of Hollywood couldn't accomplish it.
The VFX used in the movie was handled and monitored by SRK's company Redchillies.
VFX along with the aid of a renowned VFX artist Harry Hingorani as its supervisor.
The Redchillies VFX used a one of its kind life sized 3D printed model (of SRK himself) to create a younger paradigm, SRK.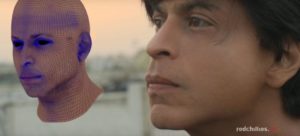 Apart from making SRK look younger and smaller accompanied with certain changes associated with the facial feature, VFX was also used in few chase and action sequences in the film.
Prior to the profuse application of VFX the main challenge for the cast and crew was to make SRK look younger for his role as Gaurav.
Maneesh stated that even the greatest VFX artist across the globe thought that it was not possible as Gaurav's face should look similar to that of Aryan and yet different and younger.
But VFX producer Keitan Yadav believed that with the help of a mixed composition of prosthetics and computer-generated effects (special effects and VFX) the desired looks could be more plausible and achievable.
And thus Greg Cannon the make-up artist accepted one of the most challenging aspects of the movie-making process.
He said that the task sounded amusing but he was shocked by the number of days it took him to complete the task and make SRK look younger.
It took him a total of 70 days to complete the task whereas usually such tasks are attained within 10 days.
This one particular task demanded so much of their time due to the chubby cheeks required.
Therefore he began working with different moulds for different facial features as promised.
Yet he was not able to achieve the young look that was anticipated, as it was quite feasible to make someone look old but in contrast it was really difficult to make someone look young with such an enormous age gap.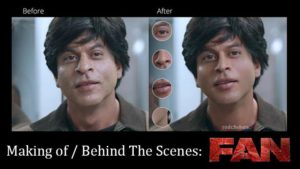 He had to give Gaurav well toned and chubby cheeks. But after trying hard enough, one day Greg was wondering, while in his office, and discovered the mould of Brad Pitt.
He saw that he had an unusual cheek and jaw structure.
Therefore he endeavored to give Gaurav, Brad's facial built which turned out to be successful. Therefore finally after 70 days of hard work he successfully achieved his goal.
But this was not only it. Greg and SRK along with the rest of the makeup crew had to patiently sit for 5 to 6 hours daily just in order to apply prosthetics and silicon on SRK's face which would make him look younger.
They had to tape SRK eye lids and cheeks upside to give them shape.
They used plums to push SRK's upper jaw up.
They used little eye brow pieces to make it look thicker. Then finally after immense hard work the look was successfully established.

Finally, after the completion of all the shorts the VFX artists initiated their work.
Firstly they all had to make Gaurav's nose appear smaller than that of Aryan's.
Then, they had to fill up the parts in between prosthetics and silicon. They also had to make the facial tone smoother and even.
Followed by this they had to enhance the gap between the nose and upper lip.
Then they had to make Gaurav's eyes beseem bigger and move the jaw line slightly up.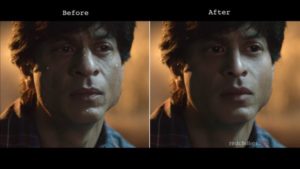 Finally removal of the difference between prosthetics and the real skin was to take place.
Then the expressions were to be changed and the lips were to be adjusted accordingly.
After all the VFX used in face customization of his other physical features was started. For instance they had to remove Adams apple and muscles behind neck.
Then they had to shrink Gaurav's build by narrowing and straightening his shoulders, and removing the muscles.
Due to the changes brought up in his body they had to perform several body scans.
To make correct and absolute measurements for Gaurav's body scanning they were to be done while SRK was trying Gaurav's costumes.
VFX was also used to achieve certain emotions on Gaurav's face as an impact of too much makeup.
Apart from all these VFX was also used in action scenes.
The most seemingly unattainable part in the entire movie making was achieving a smaller nose.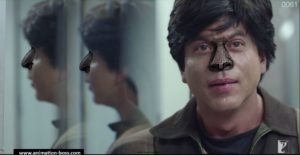 The amazing fact about this movie is also that the concept about the film was first narrated by late Yash Chopra to SRK about 12 years ago but the filming didn't happen then.
But finally after all the long waited ups and downs the film was completed and was finally released on 15th April 2016.
It goes without saying, as the VFX and Animation Industry is blooming in today's world, and is needed in each and every place along with the unimaginable applications of VFX, it's highly recommended to learn about it.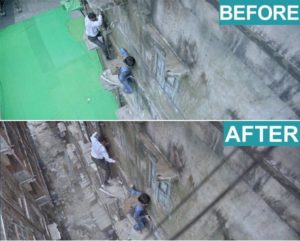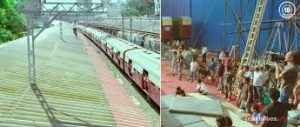 Join MAAC KOLKATA today. The place where you will be trained to become your best version and guided to know that the only limits is your imagination, and will assist you to achieve your goal and turn what everyone says "impossible" into "possible".