In the history of Indian cinema Satyajit Ray's name is written in GOLDEN WORDS. When we are talking about Vfx ,special effects and Animation, we can proudly announce the name of —-Satyajit Ray.
The legend was born in north Calcutta on May 2, 1921. He graduated from Calcutta University with honors in Economics.
While still at school and college Ray became a fan of western film, and classical music. He studied art at Shantinekatan.
Ray was a profolic writer and the strength and distinction of his films derive from the screenplays he wrote himself. He had a reputation for being ingenuously creative with the limitation of modest budget and scant equipments.
In his time line when technology was not so upgraded and fast he shows use of special  effects in his film "PAROSH PATHOR", "GOOPI GAYEN BAGHA BAYEN", "HIRAK RAJAR DESHE".He was one of those rare geniuses of India who won a number of laurels from abroad as well as his own country .
In today's blog we are going to talk about his first fantasy adventure comedy film "GOOPI GAYEN BAGHA BAYEN"- In 1961 Ray directed one best fantasy featured film "Goopi Gayen Bagha Bayen" based on a story of his  grandfather Upendra Kishor Roy Chowdhury.
The film is the first film of the series , followed by a couple of squeals-"Hirak Rajar Deshe " "Goopi Bagha Fire Elo" written by Ray later on was directed by his son Sandip Ray.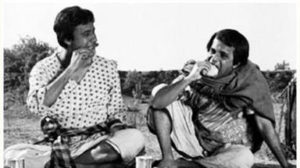 STORY-The film was based upon two funny characters Goopy who was a singer but he has a cracked voice and by his bad voice he wants to impress the people of his village Amloki.
Persuaded by the village elders to sing song for the king, and he does so and is driven out from his village on donkey for waking the king by his terrible singing, exiled into a forest.
There he meets Bagha another exile from the nearby village Haritaki sent to forest. In his case due to playing drum badly he gets this punishment.
They start singing and drumming, initially to scare off a roaring tiger. While they are completely voyaged in, they attract a group of ghost, who are fascinated by their music .The King of Ghosts grants them three boons.
->They can get food and cloth whenever they needed by clapping their two hands.
-> They gain the ability to hold in awe and they became motionless with their music.
-> With the help of magic slipper they could go anywhere they want.
They travelled to Shundi where the king appointed them as the court singer. The king Halla was the long last brother of Shundi, and being poisoned with magic potion that makes him evil.Halla king was manipulated by his self centered prime minister, and they decided to attack Shundi.Goopi and Bagha travelled to Halla for preventing the attack, but they got captured and lost their magic slipper.
Somehow using the trick they manage to escape. They reached the ground where the soldiers are preparing for battle. They started singing and drumming. They captured the king of Halla and reunite him with the king of Shundi.Goopi Bagha marry the daughters of the two kings.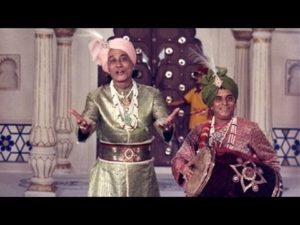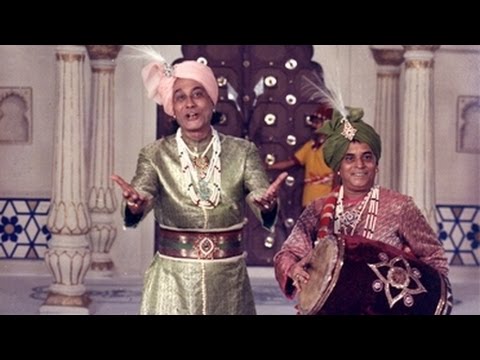 Live action Camera- While capturing the clapping scene Ray used a unique technology of camera. He placed two actors on a 8 ft high bamboo roof and set the camera in ground and instruct them to jump in front of camera.
When the entire process was going on the camera film was set to play in a opposite direction. After all completed they play the film in right way direction and the jump reflects as they are lifting and vanished off.
Ray used trick photography while shooting the the last song "aye ayere aye monda mithai hari hari" where the earthen sweet pots are coming from the sky and the soldiers are catching the pot and having the sweets.
He used color lab work as well as fine photographic knowledge and timing for doing this. one thing we must say which was the most pivotal sequence of the movie-the six and half minutes dance by the ghost's .
He used a specified classical dance form of South India, which used 12 musical instruments of which he selected only four instruments. He deliberately avoided melody. The dance culminates with the four classes positioned vertically with the priests at the bottom, and the common people at the top, in contrast with the traditional class hierarchy.
Ray imagined the cast system upside down in reaction to the evolving nature of power.
Awards:- The movie won two huge national award for Best featured film and Best Direction. This film also nominated for the Golden Bear At the Berlin Film Festival. It won 4 international THE SILVER CROSS AT ADELAIDE, Best Director At Auckland film festival, Best Film at Melbourne International Film Festival, Merit Award in Tokyo.
Just to wind up we are glad to say special effects sets in bengali movies holding hands with Ray.  The journey which had begin then has transformed with the revolution of technology that actually special effects in films has brought into in today's era.