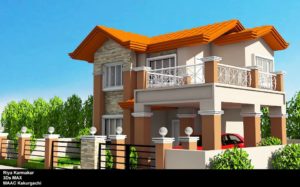 Hello friends, we are back with a new subject to discuss with you. Can you tell any field where the wings of 3D Animation are not spanned? Of course not. You can pick any field and can see the use of 3D animation there. Today we will be talking about the use of 3D Animation in the Architectural Design. 3D architectural walkthrough animation is a technology to enliven design before they are built. It helps us to visualize as if we are having a tour into the real world of our dream home. Say whatever it is home, office, school building, college, hospital, malls and hotels, CGI makes us feel as if it exists in the real world. It is possible to add a computer created environment around the 3D architecture to enhance reality and to better convey its relationship to the surrounding area.
Constructing a house or a building incurs a lot of expenses. If the same is not built in desired way, a lot of time and money will go wasted. Therefore before building if the customer is showed the complete infrastructure in a CG model, it becomes easier to make changes at the very initial stage. Gone are the days when the architect and engineers used two-dimensional views to make their clients understand for construction. It did not give a good visual description. 3D architecture visualization has changed the way buildings are made today. 3D views can give more instructive view of the complex areas. It also makes it easy for the customer to understand the product better. With the help of the popular software like 3ds Max and Maya today, 3D modeling and animation of walkthrough have become easier. An example of 3D walkthrough can be seen below made by Yantram Studios:
3D modeling is an extremely demanding career. In order to be a successful 3D Modeler one needs to be very creative and well-honed. You can also choose 3D Animation as a career option. It gives a wide range of opportunity in today's market. A 3D modeler can work for architecture firms, healthcare industry, automotive industry, manufacturing and many others. So don't let the chance go from your clutches, join MAAC Kolkata today.