Animation & VFX played an important role in making any kind of movies; rather it can be Bollywood or Hollywood.
Indian cinema's trends upgraded to super fine Hollywood style.
Where live action footage is lesser than animation footage or the visual effects or computer graphic imagining.
In 2012 one Telegu fantasy film open a new era.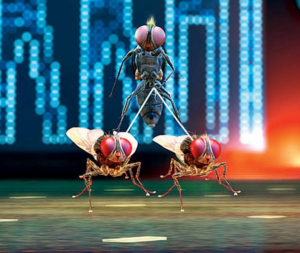 The Telegu film "Eega" which was dubbed in Hindi as "MAKKHI", written by K.V Vijayendra Prasad and directed by his son SS Rajamouli.
In this film the industry has tries to do something different from the "commercial viable models".
South Indian film style established a trademark in the arena of making such a fantasy film.
S.S Rajamouli the director of some master pieces film like "BAHUBALI", "MAGADHERRA" broke the myth of Indian cinema.
Some mind blowing creatively shattering stuff being made for the viewers.
The story was started in the form of a bed time story told by a father to his daughter. Nani, Bindu, Sudeep was the main character.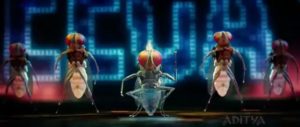 Nani loved Bindu , on the other hand Sudeep a wealthy business man was also loved Bindu. Sudeep treated Nani as a rival, for that reason Nani was killed by Sudeep.
Twist of the story came when Nani reincarnates as a house fly to take the revenge from Sudeep and protect Bindu from any ill things. The film was released in two major versions alongside with "Mayalam".
The film critics acclaimed that the casting, direction, animation and visual effects at its best on release.
Makuta VFX and Annapurna studios respectively done Visual Effects process and the digital intermediate process.
The film has such an innovative and incomparable animation which has never been used before.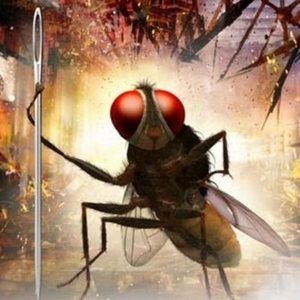 This film was fully depends on Animation and Visual Effects.
Most of the work has been completed in India, only ten percent work done out of India.
Animation work done at Hydrabad.
Pete Draper collaborated with large no of Animators, worked for the design of the "FLY".
According to S.S Rajamouli the "Fly" has to create the best impact on the viewers.
So he tried to prepare an extra ordinary design , as a result of the whole the Fly's eyes comprise eighty percent of his face which made it very expressive.
The team has conducted photographic shoot of unconscious flies.
After the detailing, cosmetic changes done to make the "Fly" more appalling on screen.
A group of Animator accompanied with rigger artist, concept artist, shader designer, and hair and fur designers has designed the animated fly in two months.
Clay artist had to work hard for refine it on a daily basis.
The animators found the sequences between Sudeep and the fly, one of the most difficult to execute.
As because the fly has to express his emotion only by slandering its arms rather than its face.
Animators worked out more than three months for a scene where the fly stuck in chain of a bicycle.
Another sequence where the fly has just born and leave trench, creates a big challenge for the makers.
For the scene they prepare a big canyon in front of the fly.
Animation of that scene was most complicated as the story demands the perfection of every single discipline.
But Pete Draper and his co workers worked hard and honestly for delivering the scene most believable.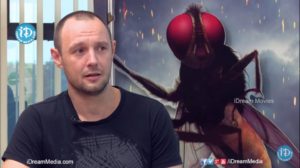 For those particular scene animators uses painting work, dynamic effects, fluid stimulation and high level of geometry.
For an average sequences using visual effects, a artist had to work with maximum ten million polygons.
But for this scene they had to work with more than 5 billion polygons.
That represents the detail work of them.
Trench walls, debris, foam etc has been crafted in a very smooth way.
Which was absolutely astronomical?
Some very important special effects cannot be done in India due to technicalities.
The work has been done from America, China, Iran, Iserial, and Russia.
The film has a record for using ninety minutes CGI on screen.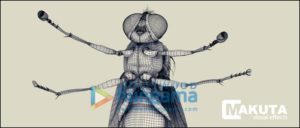 The Film has nearly 2400 live action shots.
This film has a combination of live action with Animation.
Software like 3D max has used for modeling and for character animation MAYA has been used at its best. Movie rendering was done through 3D max.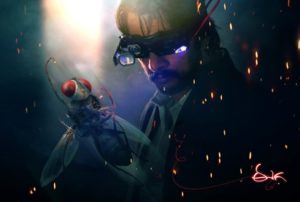 Photography also plays an important role in the context.
During the photo shoot prime lenses, ari Alexi camera been used, Where else high intensity lighting were used for micro photography.
For extremely slow motion sequences phantom camera was used.
Re-recording and editing was done with simple gray scale animation. Scenes were shoot 2000 frames per second.
The film has scored a number of points not only in India; it has scored a good number in International market too.
World wide release was done successfully.
Tamil version of the film was released on 6th july 2012. The Hindi version of the film was released on 12 October 2012.
The film was also dubbed in two more languages one was Chinese with a title as KUNGFU HOUSEFLY, and another one was Swahili as a titled named INZI. Inzi was released in various countries like Kenya, Republic of Congo, and Tanzania.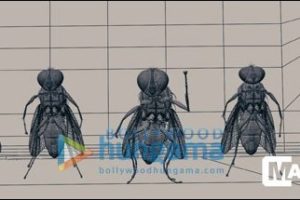 The movie has created a milestone in the History of Indian Cinema.
The film has shown a new way to Indian cinema.
World cine media received a message that what India can deliver.
The movie has marketed around 170 million in south India on its release day only; it reaches up to 570 million.
Globally this film has marketed up to 1.15 billion.
The film has really proved that Indian cinema can go up to a high rise.
Commercially the telegu version was much more successful than Hindi version.
Telegu version won a number of awards from 60th National Film Festival.
It has also nominated for Cannes Film festival and also nominated in panorama section of Shanghai Film festival.
The film also got nomination in Madrid film festival. At the end we can proudly said that the film has got the best response from everywhere.