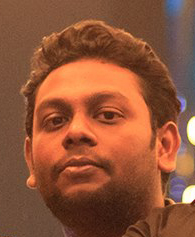 Interviewer: – Hi Sunny how are you?
Sunny: – I am fine and doing well. Missing Kolkata & Maac Chowringhee very much, specially the making days of our project in 24 FPS.
Interviewer: – Please narrate your experience after you finished your course with Maac Chowringhee?
Sunny: Life in Maac Chowringhee was easy, fun filled,with lots of exposure , learning, training etc and I guess that has actually has give me a quick start in my career, it was challenging indeed Maac  Chowringhee has taught me so many things in this past three years.
Interviewer: – What experience you have gathered over this 3 years long training from Maac Chowringhee. Share with us?
Sunny: Experience is Awesome. Nothing else could match this. Now I lead my own team & work on my own shots. I can create and destroy anything …….(Laugh) what I mean to say is through VFX training at Maac Chowringhee Institute I am able to create visuals giving any types of effect.
Interviewer: – Share some experience of your work in movies?
Sunny: In my childhood I watched lot of cartoons, vfx & wondered how it was made but now know how they do it and "I" am doing it myself it's amazing. I am contributing my efforts in such good movies. It feels very awesome when you see your work in the theater and your awesomeness doubles when someone praises your work and you got your name in the credit title list of the movie.
Interviewer: – You have been working in such a big company Prime Focus World, what's the studio set up and working environment there?
Sunny: Currently I am Working in Prime Focus World as a Roto Team Leader. Over here the atmosphere is very good unlike others. Pressure will be there during deadlines but rest of the time we enjoy. We deliver excellent quality of work with no compromises that's why we are the best at what we do.
Interviewer: – What are your future plans?
Sunny: My future plan is to be VFX head or VFX supervisor or even move further, May be my own studio.
Interviewer: – Surely you will have your own studio.Tell us something about Maac Chowringhee?
Sunny: Maac Chowringhee is a very good place to learn, for every student who wants their career in VFX or visual effect Industry. It is the right place because Maac Chowringhee teaches everything right from the pre-production to post-production.CG and VFX is an immeasurable thing, everything cannot be taught in the class, but Maac Chowringhee give us an opportunity to explore by our own self and learn something by our own by organizing wonderful events like 24FPS, NSM, 100 hour challenge and many more. I am glad that I had chosen the right center to peruse the course.
Interviewer: – Did you miss any of your staff or Instructor from Maac Chowringhee?
Sunny: Yes definitely I miss my mentor Supriyo Podder(DEVIL-X), Siddharth Jaiswal (SID sir). I want to work with all 2 of them and make some Mind Blowing project. Don't know when we will work for sure together again.
Interviewer: – Hope You had a great time chatting with us and we all pray for your bright future.
Sunny: Yeah I had a great time and thank you so much. Love you all.