Hello friends. Disney keeps bringing one after other surprises for the animated movie lovers. Yes! I am talking about the Oscar Award winner for the best animated feature film Big Hero 6. Today we are going to discuss the behind the scenes and unknown facts about the movie and what made it winner at the Academy Awards.
The Walt Disney Animation produced and released by Walt Disney Pictures movie Big Hero 6 is an American 3D computer animated superhero comedy film. It is based on the Marvel Comic superhero team of the same name, and is the first time when Disney featured a Marvel Comic Character. The $165 million budget film became the highest grossing animated film of 2014.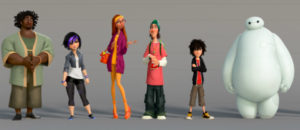 Cast of Big Hero 6
The real challenge for the directors, Don Hall and Chris Williams was to design Baymax and the inspiration for the design was found in two places: Japan and Carnagie Melon University. The facial expressions of Baymax came from bells of Japan which combined two dots with one line. And for body, they learned about soft robotics at Carnagie Melon University and finally they created a cute, huggable and lovable robot for Hiro, the lead character. They also designed a beautiful city San Fransokyo for the movie which is a beautiful blend of San Francisco and Tokyo that simultaneously looked like both the cities. Zach Parrish, the head of animation, animation supervisors, Nathan Englehardt and Michael Franceschi were responsible for overseeing 85 of the animators working on the movie and they considered themselves to be the actors and stunt people. Big Hero 6 had largest cast of characters ever in Disney animated film with 16 main characters.
Baymax – the Robot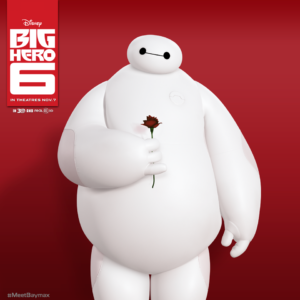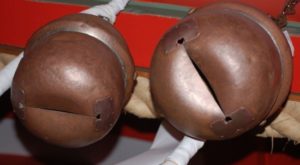 Bells of Japan
The animators had used software called Denizen to create people as the film took place in a populated city. Especially for the film, Disney Studios built a physically plausible rendering system known as Hyperion. This was a lighting simulation system based on the concept of global illumination. In order to meet Hyperion's huge processing demands, Disney installed a new supercomputing cluster that consisted of over 2000 Linux workstations. Every detail in the movie has been taken care very minutely. Tens of thousands of miles were travelled to research the tiniest visual elements. Millions and millions of animated frames, passed between departments, all come together until you have something like Big Hero 6.
You are also welcome to design your own characters. Learn every nooks and corner of animation in depth from MAAC Kolkata. Join today.