Interviewer: Hello Aritra, how do you do?
Aritra: Hello Sir, I am doing wonderful, thank you.
Interviewer:  Let's discuss, how is life after MAAC?
Aritra: After MAAC, my life has become more creative. I have started finding creativity in every little thing. My thinking capability has completely changed. Presently I am working in a very challenging environment. Well, I liked accepting challenges since my childhood. I am very satisfied with my life that MAAC Rashbehari has offered me.
Interviewer:  How would you describe your life in MAAC Rashbehari?
Aritra: I have spent two years of my life in MAAC Rashbehari and trust me I was a wonderful experience being with such talented faculties and helping batch mates.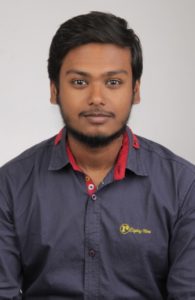 Interviewer: Did you find yourself lucky to meet any movie star?
Aritra: Yeah! I met some of the famous Tollywood stars like Prasenjit Chatterjee, Dev, Nusrat, Tanushree and choreographer Ganesh Acharya.
Interviewer: Since you are a proud employee of PWC, how is the working atmosphere there?
Aritra: The working environment is wonderful Sir. They are very friendly and understanding. I feel myself Lucky to work at PWC. The work is a bit challenging still it is the best place to work…(laughs)
Interviewer: How do you see yourself in future?
Aritra: Well, I love to work in graphics and can work with graphics for hours. I wish one day I would have my own Graphics Designing Company. In fact, I have already thought a name for the same…(laughs).
Interviewer:  May your wish comes true, please share your thoughts about MAAC.
Aritra: Thank you Sir, Yes! Why not, I always feel delightful to speak about MAAC. It was my second home. I really love and miss my institute very much. The whole atmosphere is very friendly and faculties are very frank. This helps a student to discuss their problem without any hesitation.
Interviewer: Hope you had a great time chatting with us we at MAAC pray for your bright future.
Aritra: Yes, definitely sir, thank you once again.