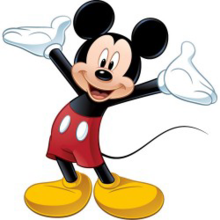 Hello Friends, today we are going to discuss the adventures of Mickey Mouse. Today, Mickey Mouse is one the most well known characters around the globe. Can anyone deny that he/she has never heard or have seen Mickey Mouse? Perhaps, no. Mickey Mouse had always been a part of everyone's childhood.
Mickey Mouse turns 88 years old this year. Still none of his hairs turns gray and wearing the same outfit for decades, but all in all, he looks pretty good and cute. Mickey Mouse has not had any movie in past few years, but his cheerful face remains one of the most recognizable images in the world, surpassing even Santa Claus. Mickey Mouse was an official mascot of The Walt Disney Company. He was created by Walt Disney and Ub Iwerks at the Walt Disney Studios in 1928. The mouse typically wore red shorts, large yellow shoes and white gloves in hand.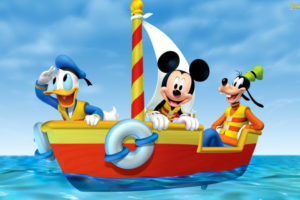 Mickey's story starts with a rabbit. Walt Disney originally created a character called Oswald the Lucky Rabbit for Charles Mintz, a film producer who distributed products through Universal Studios. Oswald's ears and nose were longer than Mickey's; his feet were black and shoeless. Oswald was an instant hit then and Universal ordered a series of shorts. While Oswald was a Disney's creation, Universal legally owned him and refused to give more money to Disney and retained all his employees. Then Disney with his loyal animator Ub Iwerks returned to work and recreated Oswald's replacement. They shortened the ears and nose, made several changes and turned a rabbit into a mouse. They named it Mortimer but later Disney's wife changed the name to Mickey Mouse.
Mickey Mouse first appeared on the screen in the short film Steamboat Willie (1928), the first animation to feature synchronizes music and sound effects. It premiered on November 18, 1928 and proved to be an instant hit. Mickey went on to appear in over 130 short films. His films included The Band Concert (1935), Brave Little Tailor (1938), Fantasia (1940), etc. Lend a Paw (1942) won an Academy Award for Best Animated Short Film.
Join MAAC Kolkata today and dive into the pool of Animation, where we do not understand anything other than Animation. Contact us today; we are just a call away.
MAAC Chowringhee – 9836321595
MAAC Kankurgachi – 9830390356
MAAC Rashbehari – 9836321789