In our today's blog we will discuss the power of print media.
The world is facilitated by information exchange.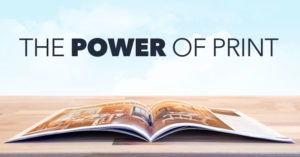 Be it in the form of news, opinions and gossip, interviews, film and television shows, books or any other medium, this sort of knowledge interchange is what enriches, and provides direction and structure to our life.
Media determines our actions to a large extent, and often we become sources of information as well.
This sort of proliferation of media is the basic root of advertisement, which is the promotion or publicizing of a product, service or event.
Branding is a crucial aspect as well, because if one does not have a distinguishable name, they have no way to stand out in the media pool.
While society as a whole is going digital, the most trusted form of media still remains print media. By print media, we mean physical, tangible sources of information such as newspapers, magazines and leaflets.
While digital advertising and media promotion is becoming quite popular, let us focus on the classic mode of print media advertisement.
Print media advertising uses such physically printed forms of media in order to reach consumers, businesses, customers and other prospective audiences.
There are several different types of print media that brands can use to promote themselves:
Periodicals: These refer to newspapers and magazines. There are over 1 lakh periodicals registered with the government of India as of 2015.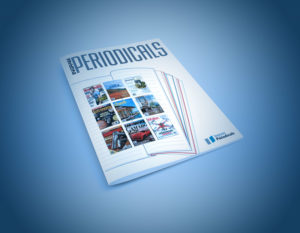 Most of them are in the Hindi language (around 39,000) and English (around 13,000). Advertisers can choose from a large selection of newspaper formats, such as local, regional or national titles published daily, in the evenings, weekly, or even Sunday editions.
Newspapers target different readerships with a mix of various categories of content like sports, entertainment, business, fashion, politics, and/or opinion pieces, in addition to local, national and international news.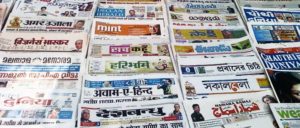 Magazines are in a book format and offer advertisers extensive choices of readership and frequency of publication.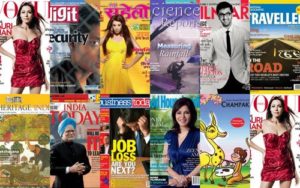 These typically cover a wide range of interests, like sport, hobbies, fashion, health, current affairs (such as trade and commerce, business, etc.) and local topics.
Advertisers can buy different sizes of advertising space, from small classifieds ads which have only text, to larger ads that can include text, photographs, illustrations and graphics in sizes that range up to a full page or even a double-page spread.
Major papers by circulation include Dainik Jagran, Dainik Bhaskar, Amar Ujala, The Times of India, Hindustan Times, and Ananda Bazar Patrika.
India Today, Economic Times, Champak, Anandamela, Femina, Reader's Digest and Sarita are among the most popular magazines.
Billboards and Posters: If you live in the city, chances are that you see at least five billboards every day.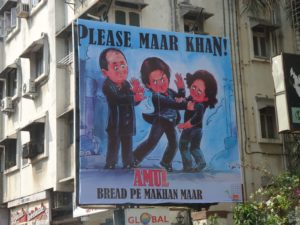 If you don't know what billboards are, they are what we commonly call hoardings.
These and posters are put up on various street corners and feature advertisements about different products, services or events.
They are the easiest method to reach a huge and varied audience.
In fact, there are so many billboards in our country that movements have started in several cities to motivate the authorities to regulate them and prevent defacing of public property.
Sometimes, instead of pasting posters on walls or lamp posts, pamphlets and flyers are handed out to pedestrians.
Direct Mail or Post: Some advertisers use the postal system to spread their sales message.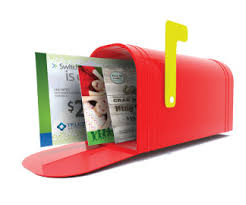 In this kind of print media, printed content is posted directly to the consumer's home.
These advertisers usually have a mailing list of people who will be sent their media. Magazines like Reader's Digest India use this system to promote their secondary publications and sweepstakes events, which are also tactics to turn the casual reader into a subscriber.
Door To Door Drop: Have you ever found an advertisement pamphlet tucked away in the morning paper or with the other letters in your postbox? That is the door to door drop system.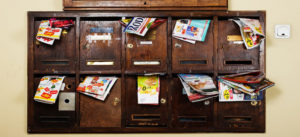 Catalogues: A catalogue is a type of magazine that contains a list of products or services.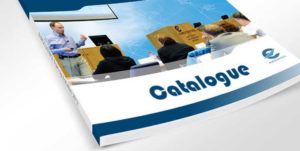 They are typically used by stores to provide customers with a comprehensive collection of their available products and inspire them to make purchases, and are even found in planes for passengers to browse and order on the go.
Now that we have an idea of the different types of print media, let us look at the plus points of print media advertising.
Print Media is a sensory medium, unlike its digital counterpart.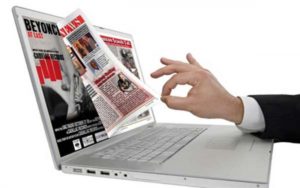 While moving content to the internet has drastically improved the reach of advertising, the virtual world does not offer tangibility.
Feeling paper in one's hands makes the advertisement seem more real, and establishes its existence in the physical world.
It's not just touch: printed paper triggers more senses than seeing something on a screen, and therefore has a stronger impact on the reader.
Research has shown that engaging more than three senses can increase the effectiveness of an advertisement by upto 70%!
Further, print offers less distraction than the internet which leads to longer durations of engagement with a particular content.
This means that content leaves a more profound effect on the reader.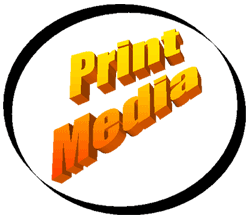 Print is also extremely flexible, as different categories of information can be targeted to specific audiences through different formats, as we saw in the types of print media.
These days, a lot of these print media advertisements are being converted to a digital format.
News providers, periodicals, and other advertisers are expanding to an internet presence in order to reach a wider audience and make current content available at all times.
They include advertisements for their content on other websites as well by purchasing what is known as 'digital real estate', or ad-space.
Event traditional print media ads include QR codes linking to the advertiser's digital presence and bridging the gap between print and virtual.
This digital content is accessible across mobile as well as desktop platforms, increasing the capability of the media.
At MAAC Kolkata, you can harness the power of this fast-growing world through courses tailored to teach you about graphic and web design, branding and advertising and give you a head start for your advertising career and print media industry.