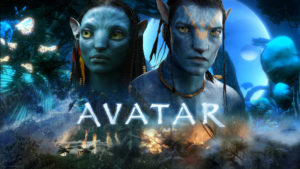 Hi guys! There is not a single one of us who have not seen James Cameron's Avatar. Avatar is a 2009 American epic science fiction film directed, written, produced and co-edited by James Cameron. Yes! The director of the epic Titanic (1997), he planned for the movie even before the release of Titanic that is in 1994 he began the development of the film and wrote 80 page treatment for it. This film was planned to release in 1999 but due to unavailability of necessary technology, his vision could not be achieved. The film was budgeted at $237 million and became the highest grossing ever breaking several box-office records. It also became the first film to gross over $ 2 billion. It was nominated for nine Academy Awards and won three, for Best Art Direction, Best Cinematography and Best Visual Effects.
What sets Avatar apart from the other hit films is the awesome development of the characters throughout the film. Weta Digital supervised the Visual Effects in the film and appointed 900 people across six locations were working around the clock to achieve what was assumed to be impossible a decade earlier. To help finish preparing the special effects sequence on time, number of other companies were employed including ILM. Groundbreaking visual effects took VFX to a new level of creative and technological excellence. Every details in the film was so well furnished that it gave a feeling such place do exist in the universe. Softwares like Maya and Mudbox were used to animate and sculpt the characters in the movie. New software for texturing and painting called Mari was developed by The Foundry in cooperation with Weta. Muscles simulation and facial animation tools were also used. 53 different Na'vi models, approximately 90 unique environments and 1500 shot specific terrain elements that make up these environments were created.
Microsoft created a new cloud computing and Digital Asset Management system named as Gaia for Avatar. To render it, Weta used 10,000 sq ft server farm making use of 4352 HP servers with 34816 CPU cores with 104 TB of RAM and three petabytes of storage space was used. Roughly 10 TB of data was generated per day. To render, 2 of the animation software and managers, Pixar's Renderman and Pixar Alfred queue management system were used.
So, my dear friends, it's time to act instead of thinking which course to select for your career. Put on your sleeves and get ready for a bright future in the world of animation and VFX. Call us today and sit for career counseling with us. We will help you to reach your goal. Join MAAC Kolkata today.