In the eve of republic day celebration MAAC Ultadanga students thought to manifest something which can give us a gratifying feeling of our being.
"Let New India Arise Out of Peasants' Cottage, Grasping the Plough, Out of Huts, Cobbler and Sweeper."
These words of Swami Vivekananda resonate the feeling of being a republic, where the people and no one else are the supreme rulers of their land.
Indeed we had awoken to our freedom at the stroke of midnight on 15th August, 1947 which we had attained after a long two centuries of colonialism and another ten decades of relentless struggle.
But it was not until 26th January, 1950 that we became the true owners of our own land.
The constitution of India came in effect on the day replacing the "Government of India" act, giving us the long awaited status of a republic.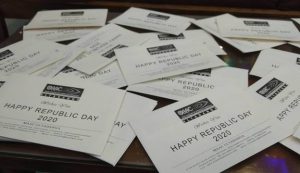 And thus, the people of India who had been repressed for their own freedom had at last won their battle and reclaimed their motherland as theirs and theirs only.
Seventy years down the line and here we are moving forwards towards the future with heads held up high swooning with pride at the privilege of being an INDIAN.
Every year the day comes by to reinforce our beliefs and give us a pride reminder of who we are.
Maac Ultadanga Center Academic Head Mr. Ajay Kumar Shaw came up with the idea of spreading the message that power lies in the hands of us, the common people of this mighty republic.
Hence the idea to hold a card making competition was conceived,
Which catered to the goal of our vision.
All the faculties and the management team of Maac Ultadanga center teamed up together to organize the same.
With this the idea of a card making competition was set into motion.
The students of other batches at Maac Rashbehari, Maac Chowringhee were informed about the same to design whatever they want, so as to represent our theme of Republic Day.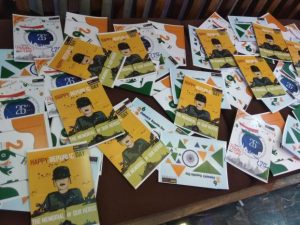 With the deadline set the students started their process of brain storming, scrounging the internet for ideas and getting them together to forge their own piece.
In two days, and Maac Ultadanga got flooded with a lot of entries for the contest.
After that we collected our entries, and started to shortlist them so we could come up with a winner.
Maac Ultadanga hard a difficult time trying to sort out the entries.
To our utter amazement all the submissions by our Maac Ultadanga students were really good.
Maac Ultadanga faculty felt proud seeing students learning and putting their learning to work.
There was quite a diversity in the work of students all catering to the same theme.
Agnish Dey tried to approach the topic in a very traditional way, which reflects the Mandala style.
Amit Mondal tried to focus on the roots of our country the farmers and the defense keeping the essence of our peace loving nature.
Annesha Roy represented our diversity as the main pillar of our country's existence.
With a lot of designs to choose from we settled for the ones that outstood in that assemblage of great pieces.
Ultimately, we came up with four entries to represent our sentiments.
Jyotirmoy Das came up with a bright design that portrayed the first line defense of our country.
While bringing to forefront the sacrifices that were given to keep our privileges safe and secure.
We,really are able to sleep soundly because they stay awake guarding us.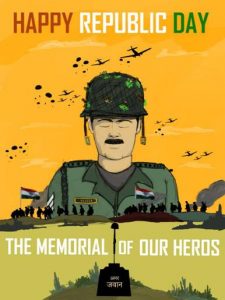 Amoy Sikdar on the other hand tried a festive approach, as indeed it is an occasion to rejoice at our identity and freedom that is bestowed upon us.
He also hinted on the various cultures which imparts us the colours that we are so proud of.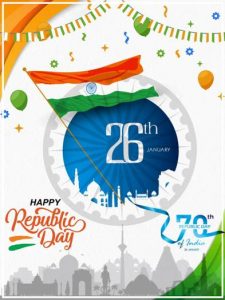 Surya Dey kept a totally Indianized design which was very pleasant to look at while easily conveyed our emotions regarding ourselves.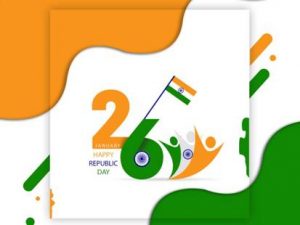 Trishagni Mukherjee opted for a minimalistic approach to fit the graphic requirements and yet effectively represented our reason for rejoice.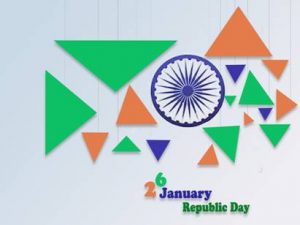 With the designs and winners selected, we were all set to jump to the second phase of our operation.
We wanted to spread the feeling which was larger than ourselves to other people too.
So, we got them printed as cards and assembled together our avengers to hit the roads.
We made a small team out of our students and then set off to greet people, who passed by hastily as they chased their urgent tasks at hand, busy with their own lives.
Maac Ultadanga center faculties Ajay ,Aadya and Puja also joined the students in their endeavor.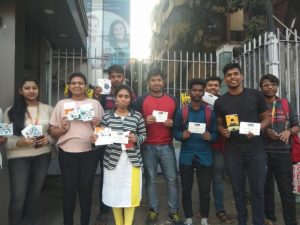 But before we could approach people we needed to understand in today's busy world we need to take pause and look back at our history.
We should be grateful and proud of the power we have in our hands is the result of relentless years of struggle our country had.
So today we are able to fill our lungs with fresh free air of freedom.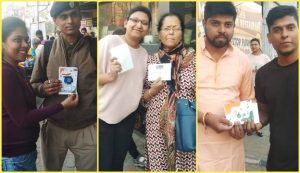 With this ideology in place we stepped forward approaching people greeting them with a smile and giving them a reminder that it is Republic Day.
We should be proud of it.
Not all went well as a few people shied away from us but we did get a good number of positive and great responses from people who understood our sentiments.
We are very satiated to share our beliefs and feeling and spreading positivity on the Republic Day.
Our students were thrilled and felt elated to be a part of it.
MAAC Ultadanga, Maac Chowringhee and Maac Rashbehari joined hand to celebrate and spread positivity on the eve of Republic day.