Fruit Carving is an art which involves carving fruits into interesting shapes and figures.
It's a famous and very common technique, which is most popular in Asian and European countries, particularly China, Japan and Thailand.
The most commonly used fruits for this purpose are- watermelons, apples, bananas, cucumbers etc.
This fruits carving technique is most probably originated from China.
But now it's popularity has spread across the world and people of various countries are trying to indulge themselves in this art to create something innovative.
Presently, it's of great demandand professional fruit carvers creates attractive centrepieces and decorative items for events, marriage ceremonies, parties etc.
In India also, the fruit carving has gained quite recognition and can be seen in many occasions.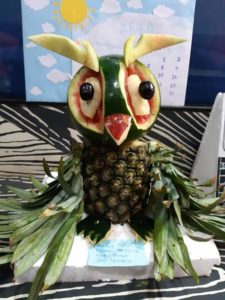 Recently MAAC Kolkata has arranged the Fruits Carving Competition on the 21st and 22nd of June, 2018.
This competition was arranged in all the branches of MAAC Kolkata, namely Chowringhee, Rashbehari and Ultadanga.
Earlier last summar the center had held fruitfull summar compitation.
The students of the institute took active participation in the event and made beautiful figures out of the fruits.
They brought the fruits along with them in the institute and showed their true talent by creating various animal shapes, decorative pieces etc.
The fun event was enjoyed by all.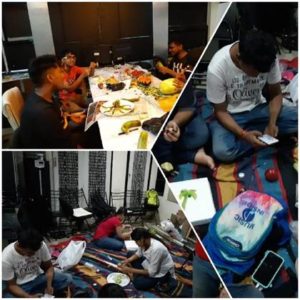 The students gathered in their respective branches and sat together in a group.
With the help of fruit cutter, peelers and knives they carved the fruits.
With great concentration and sheer hard work they were able to make the desired designs.
The staff and the faculty of the institute helped the students too.
These type of competitions are very helpful for the students to explore something new and creative, in between regular chores and errands.
The students are, undoubtedly, experts in the world of animation and visual effects, due to the superior assistance of the MAAC faculty.
And these type of innovative competitions helps to bring a new wave of excitement among the students,to learn new skills and taste some new experiences.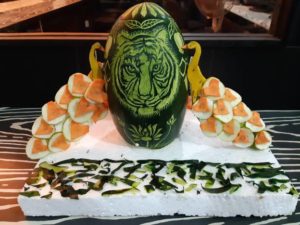 Let's take a look on the amazing creations of the students which is worthy to be appreciated.
This one is surely a wonderful piece of art done by one of the student.
This can be a beautiful centrepiece for decorating in variety of occasions.
Faces carved on watermelon is a quiet common yet difficult work.
The student has carved a tiger face with appropriate detailing and attractive side decoration.
One can surely not get past the ferocious tiger with full of expression.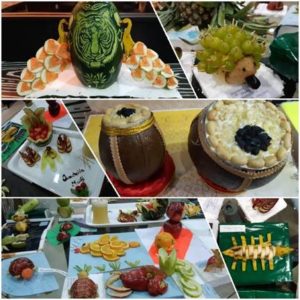 A cute band of performers came to entertain us.
There is Mr. Apple, Mr. Orange and Mr. Sweet Lime, who came along to spread happiness with their intriguing music.
The student has been able to depict a nice story with this cute creation with regular fruits.
This fun creation is very much worthy of applause.
Another student showed the talent by carving this realistic crab with just an apple.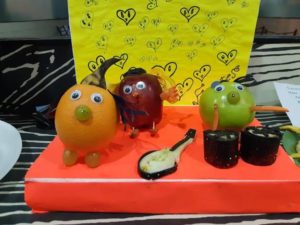 This crab has an endearing look with adorable claws, which one should be beware of.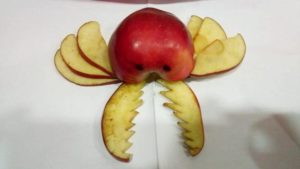 Isn't it amazing that just an apple can be used to make such a minimalist design?
Now let's take a look on this wonderful beach scene created by one of the student.
The bananas has been used wisely to create such wonderful palm trees and land.
And the bright sun with carrots are really wonderful too.
This creator of this art has used the fruits quite well and undoubtedly, created a wholesome and understandable scene.
How many people can imagine that fruits can be used to illustrate beautiful scenery too?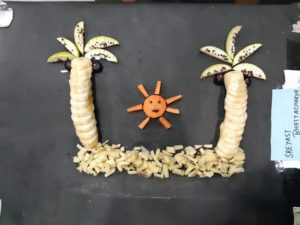 Another masterpiece which depicts two lady bugs on a leaf.
This one too has been made from apples.
Turning a delicious fruit into an insect surely needs vision which the students of MAAC definitely have in them.
To make these lady bugs an apple was cut into half and a scoop was cut out from the backside, to make the body.
And then rose apples were stuck with the help of sticks to make the face.
It seems easy but proper carving is needed for which one needs to be extremely patient and do it with great concentration.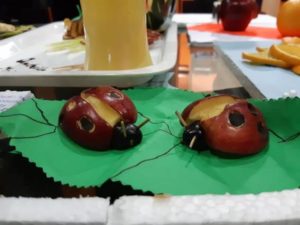 Banana is a fruit,rich in iron and potassium, which is easily available and this fruit is recommended to every single person, from a small baby to an old person.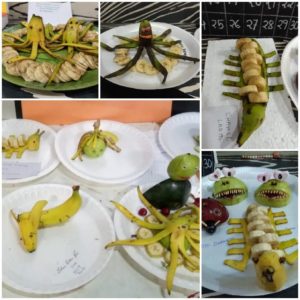 And many students of MAAC have attempted to make adorable and attractive pieces of art through this nutritious fruit.
Octopus and squids made from bananas might look easy to make but it should be done with close attention to achieve the perfect output.
And the alligators too needed to be made with a of attention too and it was handled gently to avoid messing up the shape.
What to say about this beautiful under water scene? A fish from oranges.
This beautiful gold fish is made from thin orange slices cut into half and then placed correctly on top of each other, to make the scales.
The orange peel has also been used to make a cute small tail.
One can definitely name this fish- Orange Fish, who can be placed in a round aquarium in the corner of a room.
The students of MAAC has proved that through imagination and perfect skill they can create excellent piece of art which can depict story on it's own.
Two beautiful swan carved out of apples are peacefully swimming in the lake of heaven.
This forbidden fruit has been used with ultimate perfection to make such a beautiful pair of swan.
The feathers of this birds looks very good with all those layers.
This slow and steady apple-tortoise could definitely try to win the race of the fruit carving competition.
Again a minimalist art where a tortoise has been just using apples.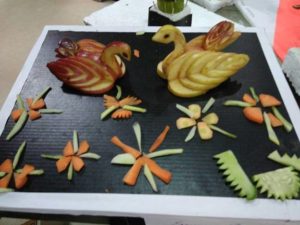 The intriguing design of the tortoise on it's back is something, which cannot be ignored at all.
A creepy apple monster with huge nose and gross teeth has been created with perfection and the carving of the teeth is so wonderful that really deserves applause.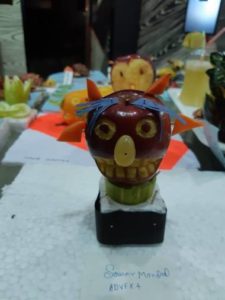 Through these impeccable work we can guess the sheer amount of dedication in the students and their enthusiasm which led them to create such wonderful piece of work.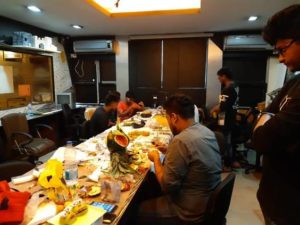 The students of MAAC is not confined in the world of Animation, VFX and Special Effects, rather they can show the world their expertise in different art challenges.
The faculty chose the winner and runners up and that was the end of this wonderful competition.
Everyone is surely looking forward to the upcoming events and competitions, which are not only fun and exciting, but also a great way to gather interesting life skills and experiences.