An Indian animated children's television series airing on Nickelodeon and Vasantham– Motu Patlu , has taken the Television world by storm .
The series is produced by Cosmos-Maya.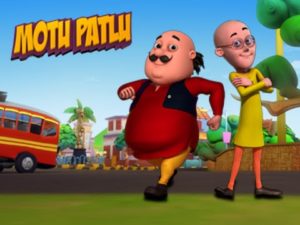 It is adapted from the classic comic strip on Lot Pot. It was premiered on 16 October 2012, beginning with episode "John Banega Don".
It is based on life of two friends, Motu and Patlu, who lives in the fictional city Furfuri Nagar.
This animated series is directed by Ronojoy Chakraborty and the theme music is composed by Sandesh Shandilya.
The producers are Deepa Sahi and Anish JS Mehta. Sukhwinder Singh has sung the theme song "Motu Aur Patlu Ki Jodi".
It is one of the most popular animated kids show in India.
Maya Digital Studio's super hit series 'Motu Patlu' aired on Nickelodeon is the winner of the Best 3D TV content at AAKA (Animation Association Karnataka Award) 2013. 
An animated series favorite amongst kids and parents, Motu Patlu is a Maya Digital Studios property.
Earlier, International cartoon characters dominated the Indian animation industry mostly.
"I am glad that Motu Patlu has successfully broken this tradition, making it one of the few Indian characters which is loved by both kids and parents alike", said Mr. Ketan Mehta, Chairman and Managing Director, Maya Digital Studios. 
"In the early days, foreign production houses used to approach Indian animators to provide backend services.
For this reason, Indian animators lacked a sense of story-telling for a long time.
But now there is a new animation revolution underway and Maya aims to be a leader in Indian animation content development", he further added.
When Maya Digital Studios launched this 3D animated series 'Motu Patlu' on NICK in October'12 the famous characters from Lot Pot comics struck a chord with kids and families across the nation instantly.
Already a phenomenon in India, Motu Patlu is one of the kid's favorite animated characters and it is the only Indian kids' show which is able to compete with the best of the world.
Motu Patlu is inspired from the characters of Lot Pot Comics, and is a lively comic caper that is set in the beautiful city of Furfuri Nagariya.
Similar as chalk and cheese, Motu and Patlu … the Awesome Twosome is always on an adventurous expedition and has an uncanny ability to get into tricky situations.
The animated story focuses on how they have a penchant to land in hilarious situations and later rescue themselves by sheer luck.
Samosas are the favourite food of Motu. Motu is always trying to lift samosas from the local Chaiwala who thinks he makes the best samosas in the city.
Patlu always solve the problems which Motu creates most of the time, sometimes Ghasitaram, Chingam and Dr. Jhatka aid them.
Ghasitaram, sometimes misguides and tricks them by making Motu Patlu try Dr. Jhatka's vast repertoire of weird gadgets and gizmos and crazy inventions.
Motu receives more energy and derives more strength than his normal state, when he eats samosas.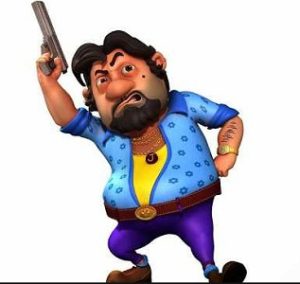 The main villain of the series is a criminal named "John- the self proclaimed Don" who is always accompanied by his two dumb henchmen, Number One and Number Two.
John wishes to become a super criminal of high repute but his objective is never achieved due to the heroic actions of Motu Patlu, who trap him and expose him and his plans following the strategy of Tit for Tat.
The main characters of this show are:-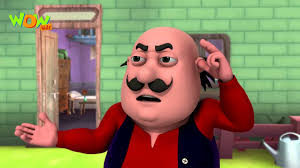 Motu: Motu is a fat man who is one of the show's central characters.
He likes to eat samosas which provide him power. His best friend is Patlu.
He often lands in trouble because of his actions.
But he is a good-natured man who wants to help others. He wears a red tunic with a navy blue vest, yellow Pyjamas, and shoes.
He gets extra energy like Chhota Bheem and can defeat anyone in the world, after eating samosas.
He is depicted as extremely afraid of mice.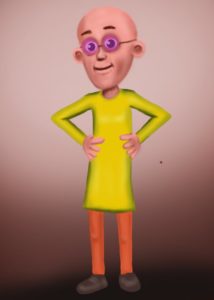 Patlu: Patlu is a slim man who serves as the one of the show's main protagonists.
He is often portrayed as the smartest guy in the city.
He often gets into a quarrel with Motu but he manages to help himself and Motu when they land in trouble.
He always wants peace and advises Motu to lead a peaceful life, but he can always be requested by Motu into helping him.
He wears a yellow tunic with orange leggings, brown-framed glasses, and brown shoes.
Dr. Jhatka: Dr. Jhatka is an eccentric scientist. His accent is like a sardar, so he is referred as a Punjabi.
His inventions are very good and successful but not useful to the people.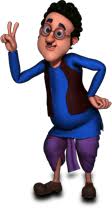 Ghasitaram: Ghasitaram has 20 years of experience in every field but none of the experience is useful to anyone.
His design is a parallel version of Patlu. He wears a cobalt blue tunic, purple dhoti, dark brown vest, and shoes of the same color.
Chingum: is a police inspector. He believes that no criminal can escape from his clutches.
However, with the help of Motu and Patlu ,chingum  catch the criminals merely by luck.
A Rajinikanth devotee with a strong south Indian accent, Chingum is a solicitous police inspector.
Chaiwala: A man who lives near Motu's house. He makes Motu's favorite samosas and Patlu's favorite tea in the city.
John: John the Don serves as the main antagonist of the show.
John wants to be the fearsome Don.
But his intentions fails very badly and thus end up in him getting arrested.
Unlike other thieves, he is afraid of Motu and Patlu and not Chingam,the policeman.
He always wear  a blue dress shirt with dark blue flower prints, yellow undershirt, brown belt, dark periwinkle leggings with blue cuffs, and brown shoes.
Number 1 is John's goon who serves as the one of the supporting antagonists.
Number 2 is John's goon who rarely speaks.
He has a dark mark on his eye and a band aid on his oversized nose.
He has dark brown hair, wears a cyan striped shirt, aquamarine ascot, and brownish-orange pants.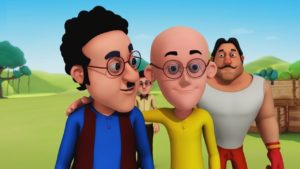 Boxer: wears red boxing gloves, a white tank top, and red pants with vertical yellow stripes, and is Motu's neighbour.
He is an aggressive man and a teacher in the school they used to attend.
Bubblegum: He is the Commissioner of police of the area comprising Furfuri Nagar and adjoining villages and is the father of Chingum.
Hera Singh: He is an Hawaldar of Inspector Chingum..
Pheri lal: He is an Hawaldar of Inspector Chingum. .
Sabziwali: In the whole Furfuri Nagar, she sells the best vegetables. She wears a green sari over a black blouse.
Additional characters include Mayor Mr. Singh, the Chief Minister, and Chhotu
Since the inception of the television series, its creators Lotpot magazine, Maya Digital Studios and the Nickelodeon India are aggressively promoting its merchandising the series products and tie-ups.
So we can conclude our discussion by saying animation has huge scope in Indian market and creative people we need you badly. So if you have creativity in you just join us we are just a phone call away @9836321595.
Immense scope is there in Animation Industry To Know  More Click Here & Register To Get Call Back.