Maac Kolkata the Best Animation, VFX, Graphic Design, Web-design Training Institute in Kolkata.
Which offers quality education using state-of-the-art infrastructure.

Research & Development team consisting of industry professionals and experts who prepare the detailed curriculum for each course to provide students a solid foundation for learning.
As a part of this endeavour, hi-tech labs with wi-fi enabled campus act as ideal training ground for budding professionals that allow them to experiment and practice to enhance their skill sets.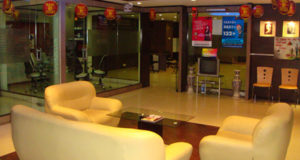 Top4 Courses that can give you a successful career are as follows:-
International Program In Visual Arts And Design

International Program in Visual Arts and Design is an advanced comprehensive career course which is designed to take aspirants through all the facets of Computer Graphics and creative skills required to excel in the field of Animation, VFX and Digital Design.
This course has a precise blend of creative development modules, offering thorough exposure to industry leading software's used for Digital Content Creation (DCC) for Media & Entertainment industry. During the course, students get the opportunity to interact with industry professionals. The course helps them sharpen their skills and access other value added content like Self Directed online training videos and execution of short film projects.
This course also ensures that the aspirant gets an exposure to the latest trends and emerging technologies. The learning objective for each semester is assessed by an industry standard evaluation methodology to ensure that students have a complete understanding of concepts and technologies used in the production workflow of the Digital Content Creation process.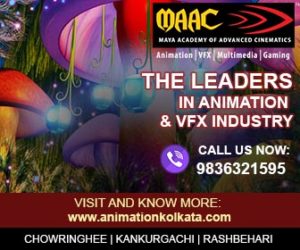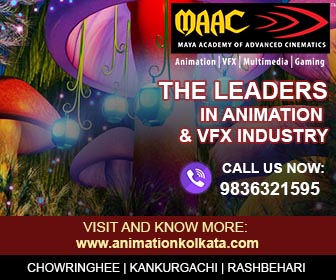 Course duration: 864 HRS
Course Content divided into 6 Semister
Career Option Out of the Programme is as follows:-
 Graphics Designer
Web Designer
Motion Graphics Artist
Modelling Artist
Digital Sculptor
Lighting Artist
Layout Artist
Rigging Artist
Character Animator
FX Artist
3D Designer
Matte Painter
Camera Tracker
Compositor
Clean-up Artist
Depth Artist
Roto Artist
Paint Artist
BG Prep Artist
Matchmove Artist
VFX Generalist
Stereoscopy Artist
Pre-Visualization Artist
3D Interactive designer
UI Designer
Render Wrangler
Matte Painter

Animation is magic. It takes you in to the parallel world of your imagination, where anything is possible.
It is an incredible medium to explore your creativity, without any limitations. And this is exactly what you will learn to do at MAAC Kolkata.
AD3DEDGE Plus, a 3D animation course, covers the complete process of animation film making, from pre-production and production to post-production stages of film making.
Emphasis is given to important aspects like storyboarding, stop-motion, 3D design and modelling.
AD3DEDGE Plus is an ideal starting point for aspiring animators, looking for a break in the field.
You will be provided hands on training in latest, in-demand software like Maya, Autodesk 3ds, Fusion, Mudbox, Adobe Audition, etc.

You will also acquire the necessary skills like story writing, directing, cinematography, editing and lighting, required to be a successful 3D animator.
This course creates job-ready professionals who are recruited & hired by animation studios, graphic design companies & gaming studios.
You can choose from three specialization options at the end of the course-modelling & texturing, lighting & shading, and animation.
Course duration: 600 HRS (including one specialization)
With Specialisation Series
There are three specialization option, you can choose any one.
Course duration: 72 HRS (For each)
Career Option Out of the Programme is as follows:-
Modeling Artist
Lighting Artist
Texture Artist
Render Artist
Character Animator
Layout Artist
Digital Sculptor
Rigging Artist
Video Editor
Motion Graphics Artist
FX Artist
Game Artist
3D Generalist
Advanced Program in Visual Effects Plus

Popularly known as in ADVFX Plus. Were you surprised by the action sequences of Krrish 3 & Ra.One?
Did you imagine being in space while watching Gravity or on the battle field in 300: Rise of an Empire?
These were the result of visual effects (VFX) technology and VFX artists. VFX is the integration of live – action and computer generated imagery to create environments, which look realistic and believable to the audiences.
Visual effects today plays a key role in feature films, television programmes, animation, video games, commercials and almost all forms of entertainment.
The Indian VFX industry growing.
With the large number of movies being made in Bollywood and across regional languages, the VFX industry is projected to reach Rs. 14 billion by 2015.

This fast-growing industry demands trained and skilled VFX artists who could work on national and international projects and bring the director's vision to life.
ADVFX Plus is a career course, designed to provide you with all the fundamental and advanced skills required to be a successful VFX artist.
This course covers subjects ranging from the very basic of 3D film making like pre-production and storyboarding, to advance level topics of motion graphics, digital design and editing.
These will help you to enhance your skills and meet industry requirements.
At MAAC  Kolkata we provide studio-like environment for practical training sessions, which help you get the same experience as a professional VFX artist.
Course duration: 600 HRS
Career Option Out of the Programme is as follows:-
Compositor
Camera Tracker
Matchmoving Artist
FX Artist
Motion Graphics Artist
Matte Painter
Clean-up Artist
BG Prep Artist
VFX Generalist
Stereoscopy Artist
Depth Artist
Video editor
Pre-viz Artist
Roto Artist
Paint Artist
 Advanced Program in Digital Media & Design
APDMD (Advanced program in Digital Media & Design)

If you have the eye for graphic that beautifully blend art and technology by creating an exclusive experience while accessing web content, then APDMD could be the course you're looking for.
This course adopts a comprehensive, 360 degree approach to provide extensive training in Print, Web, 2D Animation and Responsive Web Design. Students are introduced to the latest trends in the industry like Digital Publication, Augmented Reality, etc., while securing one of the most top-notch careers in the industry.
Course duration: 384 HRS
Course Content Divided in 4 Semister
 Career Option Out of the Programme is as follows:-
 Web Designer
Graphics Designer
Content Developer
Layout Artist
Template Designer
Packaging Designer
Advertising Art Director
Illustrator
Digital Storyboard Artist
2D Animator
Visualizer
Print Media Communication
Communication Designer
Page Layout Artist
Media Content Manager
Mobile Content Designer
App Designer
User Interface Designer
UX Export
So these were the amazing job opportunity you cannot ignore being an part of Maac  Kolkata. And if you are really looking forward to make a promising career in the said filed just trust us come for a free counselling session @9836321595
Our official website: – http://www.animationkolkata.com
You should always give it a try….