In our todays blog we will discuss in depth the process how to learn effective story boarding only at Maac Animation Kolkata.
What is storyboarding?
What is the job of a storyboard artist?
Storyboarding techniques.
What Is Storyboarding?
Storyboard is a sequence of visualized images based on the particular story concept for motion picture, 1motion graphics, animation films etc. It is like comics but in a much better updated way. Process of Storyboard preparation was developed by Walt Disney during 1930 for their own productions and gets followed by them and many more other production studios.
Example:
Three panels below showing us a small story as an example of storyboard for an animated film. Panel one is showing a character comes into the screen from left and goes out from right. Panel 2 is showing another character comes into the screen with an arms as if he wants to hit the first character. And third panel shows both the characters in th frame both running hard and this frame is an eye relief.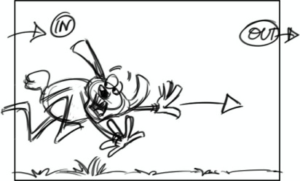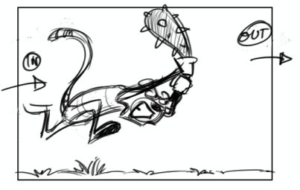 What Is The Job Of A Storyboard Artist?
A storyboard artist visualizes stories and sketches those visualized frames of the story in pencil drawings in rough mode and from there to the finally approved panels.
Professional storyboard artists first plans characters according to the locations and also take helps of placing camera according to the required shots.
Let's take a small story and let's try to board the same by simple camera placements.   
Story:    Roji the rabbit found his farming does well and feels happy. He is standing in the field while he found Jack coming towards him with a plough on his shoulder.        
In beginning, let's have a conceptual image (Pic : 1)
which will reflect where the story is placed.  This picture of top planning gives us a rough idea where and how the characters are placed. We have also idea where is the east, west, north south sides are and according to that now we can draw some concept sketches by which we shall get correct positions of character and backgrounds.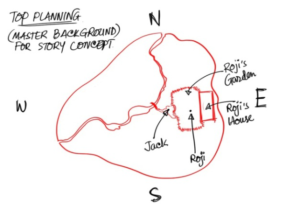 In our first line of story concept we have Roji character is getting established with a happy satisfied mood and to enhance the same lets place him in front of his house.
In Pic: 2, we placed a camera in green colour to get the idea in much better way. Because we are targeting to sketch the rough cut panel to view the same written concept in a cinematic frame (Pic: 3).
Along with it we created one more frame (Pic: 4) where we have put camera movement information for compositing team to establish his expression as said in story.
Even we create another frame (Pic: 5) for further reference for viewers and compositors, as we know the character will see another character who is coming towards him.
And we also can see that all these shots are based according to the camera 1 position. In pic: 6 we can also see the camera is in same position to hold the expression of the character.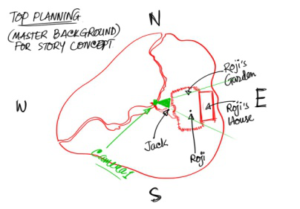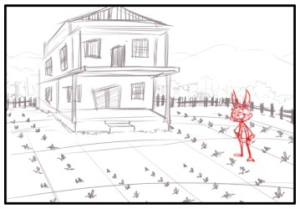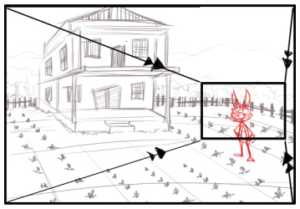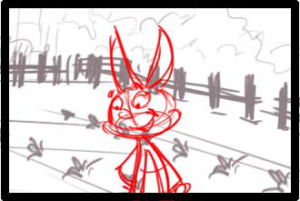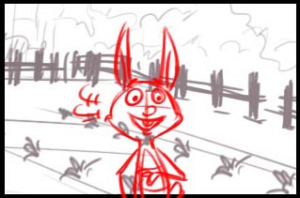 In the second line of the story we see that Jack character is coming towards Roji character with a plough on his left shoulder.
Accordingly we place the second camera behind Roji to explain properly to the viewers that the Jack is coming towards Roji (Pic: 7).
This shot is taken over the shoulder of Roji and that is why it is called an OTS (Over the shoulder shot) (Pic : 8).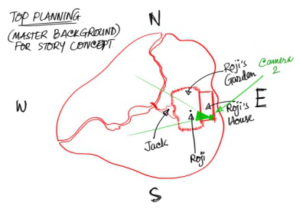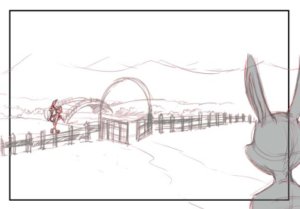 These are basic way of panel by panel storyboards but there are more and more aesthetic feels to make it better for any show.
We at Maac Chowringhee held special class for Storyboarding. Its 2hrs -3 days a week for 6 Weeks programme. For enrolling please feel free to contact us at   +91 9836321595   or can email us @ info@animationkolkata.com.