One would have been living in total isolation for the past seven years if he/she hasn't taken notice of an animation revolution  called Chhota Bheem– a show created by Rajiv Chilaka of Green Gold Animation for children's television channel Pogo – that has taken the children's entertainment industry by storm.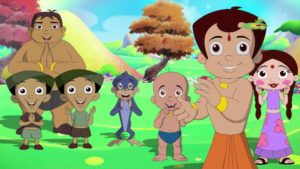 Chhota Bheem Premiered in 2008 on Pogo TV.
It focuses on adventures of a boy named Bheem and his friends in the fictional kingdom of Dholakpur.[1]
In this series, Bheem and his friends are usually involved in protecting the kingdom of Dholakpur and its king, Raja Indravarma, from various evil forces.
Sometimes they also help other kingdoms.
It is among one of the most popular animated cartoon series for children in India.
The entire show is created in 2D Animation using a Flash pipeline, thus giving the entire look a very seamless flow and design.
The costumes, characters and sets are very neatly created and have their own distinctive qualities which go onto enhance the viewing experience of the kid audience.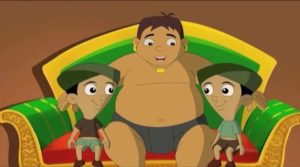 The show's bullies – Kalia, based on the evil Duryodhan, and his cronies, Dholu and Bholu – are distinctly darker in shade than any of the show's more positive characters.
Thus, the makers are also shedding light on the fact that the world is filled with both good and evil and its one's choice of which side he/she would like to be on.
The backgrounds (BGs) showcase some great scenic beauty of India, which not only resonates with the domestic audience but also encourages a global audience to sit up and take notice of the diversity in the Indian geography.
The colorful costumes, justifying the various characters on the show are also something worth commending.
A kid between the ages 6-12 years will always prefer to watch vibrant colours over dull or something with lesser colours, thus the makers have learnt from their earlier television outings and acclimatised to the tastes and viewing habits of their audience; which in turn has contributed in gaining further popularity among its target audience.
Rajiv Chilaka, in a few of his interviews, has likened himself to the next Walt Disney and believes that his Chhota Bheem franchise to be a bigger crowd-puller and money-spinner than even the Indian Premier League
Chilaka has come a long way considering he had no connection to either the film or the television industry.
After heading to the US for his Masters in Engineering at the University of Missouri, he realised he wanted to do something else.
He had an inclination towards storytelling but felt his strengths were a mix of technology and creativity.
So, he came to the conclusion that animation is where he can succeed.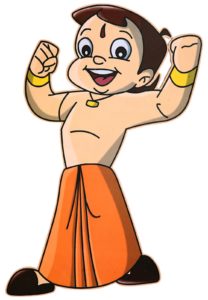 One day, struggling with creating a more lucrative series, Chilaka thought about his favorite's character in the Mahabharata, Bheem, and thought of creating a younger version of him.
But a pilot along with six developed episodes failed to get Turner's Cartoon Network and the Disney network's.
He then decided to re-do  the look and feel of Chhota Bheem – after becoming somewhat  successful  with his other ventures with Turner in the meanwhile – and re-pitched it to Turner.
It got picked up as part of Turner's Desi Toons (indigenous cartoons) series to localise more content.
Which eventually went to Pogo? In three years, it became the top-rated kids show in India and still continues great viewership.
The five reasons why Chhota Bheem is close to the little hearts of the Country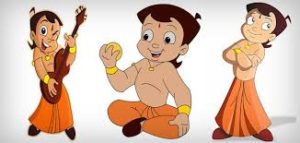 Point One
Characters – Bheem, Chutki, Raju, Jaggu, Dolu, Bholu and Kalia.
They are well-known faces on the TV today.
While Chutki is a simple and cute  girl, Raju is an sweet little boy without any hair on his head and a small frame.
Jaggu the monkey is as popular as the others and Kalia is made fun of by the kids for his stupid antics. Bholu and Dolu are the little assistants of Kalia.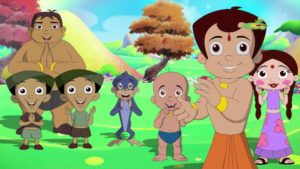 Point Two
Laddoo – The Laddoos made by one of the character, Tun Tun Mausi, also Chutki's mom, are a great hit.
Kids love it when Bheem pops one of those delicious looking laddoos, becomes stronger to fight goons and succeeds.
The concept derived from world famous Popeye eating spinach in the popeye show is every bit well received.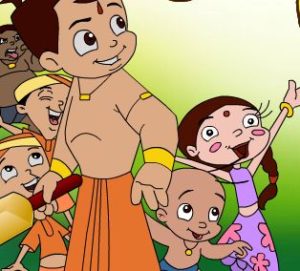 Point Three
Friendship – The friendship showcased between the characters spreads a message of bonding to children.
The main characters always stand united, despite the many differences that crop sometimes.
This is a direct thought given to the children about giving importance to the value of friends in life.
Point Four
Good Wins Over The Bad – Bheem and his friends always end up fighting the evil at the end of each episode.
Every story that has been created shows the hidden message underneath that good always prevails over the bad.
Something that is well taught to the kids in the form of animation.
Point Five
Moral Stories – Most of the stories penned for the Chhota Bheem are morally backed.
There is always a strong moral message given along with the entertainment and fun.
Chhota Bheem is also well known to the elders and the parents in the family, thanks to his rising popularity.
The success of this series is a standing testimonial to the fact that good content will always be appreciated and rewarded
If there are a few lessons that one can learn from this brilliantly crafted animated character and series, they would be: honesty, wit and boldness; never be jealous; stay united; be content; be considerate, generous and courteous; always stay calm and composed; be alert; have a sportsman spirit and have a sense of humour, among many others.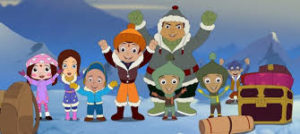 Children always look for an escape route from the pressures of school, peers and other troubles and Chhota Bheem comes to their rescue with his adventures and fantasy tales.
Children can relate to him and wish to be part of his gang as he takes on baddies to save the day for his friends and his village.
The makers clearly understand the psyche of today's young minds and have successfully transcended those learning's into their fictional series.
Chilaka exults that he sometimes can't believe "that the character has grown so big!"
None of the other creations from the studio has even come anywhere close to its star property.
But, then, once in a lifetime only, a'Chota Bheem' comes along……