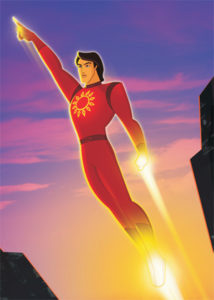 One of the most loved 2D animation series is India is Shaktimaan.It potrays the character of a super hero who can fly, always in favour of good people, he is very strong , protects poor and weak people always. The series was created by Reliance Animation. He battle with evil and is bestowed with super power.
In order to develop the story and the content giving shape of animated characters keeping in mind the design, style, backgrounds, colour keys, animatics the entire pre-production planning and development the production house had gone through lots of detailing and pain.
Three independent consultants also contributed in the production flow of  13 episodes of 22 mins each (a total of 286 mins of animation) with original sound design and music composition for every episode were produced and delivered in less than 120 days which was extremely commendable at its own means. That too without any compromise on quality. The team consist of around 400 artists, animators, compositors and of course the core team at Reliance Animation, with the Director of the show Vikram Veturi.
Shaktimaan with his limitless yogic powers battles ruthless monsters and destructive situations created a special place in the hearts of millions. Its thrilling storylines, gripping scripts, excellent animation, amazing color schemes, superb music has created a wholesome experience – Shaktimaan proved to become a package giving viewer complete satisfaction with quality 2D animation.
It is undoubtedly the finest 2D animated series on Indian broadcasting. As for the viewer's, the response is was phenomenal. Not just the kids, but even one starting from grownups were getting hooked with the story, narrative and the characters.
Popularity of 2D animation has gained new heights and has always stolen the hearts of millions of viewers. We at Maac Kolkata pioneer institute expertise in 2D animation with our various courses. Check our website more more details and more upcoming events.