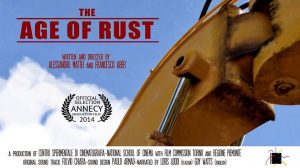 The Age of Rust is an award-winning Italian short film that deals with the issue of the depletion of Earth's natural resources in a unique manner. The protagonists – if the term may be used – of the story are giant 'dinosaurs' ambitiously dubbed the Petramosaurus Cavator native to the Alps in Europe. These not-so-gentle creatures are, in fact, land excavators, and the film charts the fictional story of these Cavators from birth to courtship and procreation to possible death. They are hungry for land and rocks – their source of sustenance – which they go to great lengths to consume. They are a threat to all species, including humans,  until man decided to join forces and use these monsters for their own ends.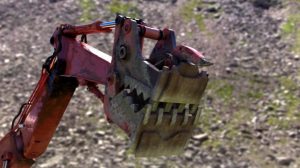 Petramosaurus Cavator.
At first glance, The Age of Rust is not a film you would peg as animation. The stylisation is highly realistic, and the creatures novel. As the film progresses beyond the life story of the Excavators, we see the heart of the story: the rampant issue of destruction of nature by these machine-creatures. There is a satirical note to their hunger for rocks and land, leading them to land up with broken 'necks' when they tumble from precarious piles of their favourite food. The allusion to man's encroachment of Nature's obvious and it is easy to see why the film is so widely acclaimed. A must-watch.