The moving images have always surprised its viewers. Moreover, anything impossible can also be achieved by the help of special effects in the cinemas today. First Indian movie with special effect was released in the year 1937 and the name of the popular movie was "Khwaab ki duniya" directed by Vijay Bhatt. As its name suggests"Khwaab" means Dream "Duniya" means World , it a world of dreamer indeed. The special effects director of the movie was Babubhai Mestry, who was popularly known as India's Father of Trick Photography. He introduced some of the home grown techniques where he used dim light with black curtain as the background on which objects were given illusion of movement with the help of black thread.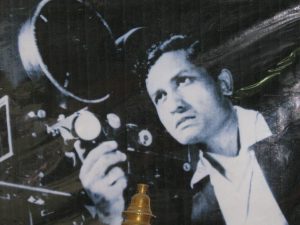 Babubhai Mestry –India's Father of Trick photography.
In the 1980s India's first computer graphics facilities came up underthe leadership of Prasad Video Digital which later gave birth to Prasad EFX who imported the first film scanners and recorders to India and pioneered the Digital Image Revolution in India. The first complete computer graphic film was a telugu movie "Ammoru" in which the graphics were done by a Hollywood technician.
Lately, very highly proficient organizations in the special effects lineup have emerged in India. With the gradual evolution of need and availability of cheap labour in Indian, Indian Film Production studios started working for some of the big production houses in Hollywood. Since the year 2000, we have many examples in Indian Cinema with extensive use of special effects, such as Koi mil gaya, Om Shanti Om, Rang De Basanti, Don, Raaz and the list is endless now. These films have been written keeping in mind the state of the art special effects.
In today's time we cannot even think of making movie, advertisement, without using special effects it has become a part of cinema. People who are aspiring to get into film making as there career should have knowledge of special effects also.
We at Maac Kolkata do teach our students in MAAC Chowringhee, MAAC Kankurgachi, MAAC Rashbehari, to make Digital films with special effects in it. Our students have won several awards in 24FPS Digital Film Making Category.
For more such updates stay tuned with us!!