In this blog we are going to discuss about the international course in visual arts and design along with its growth and career opportunities.
Visual arts is a modern term for a broad category of art which includes all forms of artistic disciplines.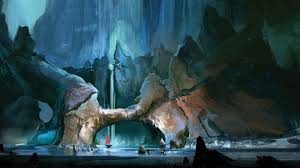 Visual arts is an invocation of emotion when it is best expressed with the help of skills and imagination giving it a proper look.
Visual arts covers three mail sub-fields; fine art (painting, drawing, graphics, sculpture, architecture (decorative art, tapestry, ceramics, glass art)and contemporary art(artistic photography, video art, animation) etc.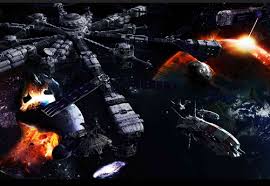 Students who are engaged in the visual arts creative process gradualy generate and conceptualize artistic ideas organize, develop and refine those ideas, and create an original work of art that communicates meaning.
Students can create individually or collectively with others, in different media, utilizing different technique, and applying any skill or concept.
These days with the advancement in the world of art students are just not satisfied with the different courses but want to get the best of experiences which are available worldwide with the help of different courses which makes the industry ready and they gain knowledge both theoretical as well as practical.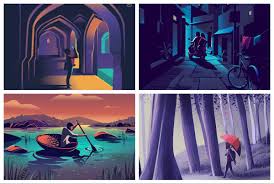 Out of different types of programs offered by different institutes International Program In Visual Art and Design popularly known as IPVAD in one programme which maintans international standards which helps the students get an edge in this field.
The different types of topics which are covered in visual arts programs are Digital Film Making, Post Production, Video Editing, Sound Editing, Stop Motion Animation, Texturing, Rigging, Digital Sculpting, Maya, Asset Integration, Augmented Reality, Coral Draw, Dreamweaver, Flash, JavaScript, Photography, Advance Rendering, Compositing and Mobile Gaming and many more.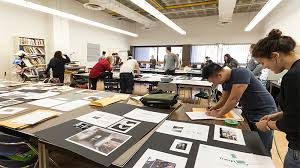 Along with these things students are also guided with specialization in Modelling /Lighting /VFX.
The students get the best of the knowledge and expertise from the best in the industry so that they are groomed well to come up with their individual projects in a more creative and aesthetic way.
In Aesthetic design they learn how to appreciate art, beauty and taste and incorporate the same in their work of art.
In Digital Design they learn how to make the art more interactive with the help of visuals, art and music.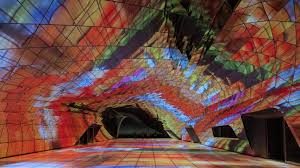 In Pre-Production they learn how to start their work by deciding on different factors of production like, costume, location, special effects, costumes etc. which can help them in planning their things more tactfully.
In Digital film Making they learn about different processes and techniques used by filmmakers to reduce cost as in this the films can be stored digitally and is more safer than normal film making.
It has opened up greater possibilities and opportunities for film makers as the editing is also simpler and they can also make use of special effects.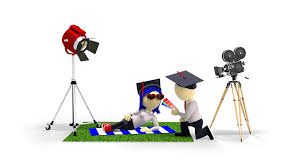 Video editing is one of the most important part of Post production as in this process the videos are rearranged and manipulated to create a new work of art. In Sound Editing they learn how to select and assemble the sound recordings to prepare it for the final sound mixing.
In Compositing they learn how to combine two or more images together to get a single picture. Along with these topics they even get to know about different softwares like Javascript, Flash, Dreamweaver, and Coral Draw.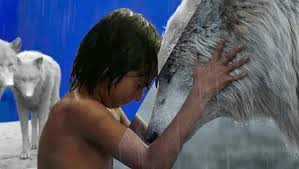 The different areas where they can be absorbed are Clean Up Artist, Layout Artist, Graphic Designer, Camera Tracker, Motion Graphics Artist, Fx artist, Compositor, Matte painter, Rigging artist, Character animator, Depth artist, Ui Designer, Pre Visualization Artist, Roto artist, Paint Artist, Match move artist, Stereoscopy Artist, BG Prep Artist, Vfx Generalist, Render Wrangler, 3D Interactive Designer etc.
In Stop Motion animation students learn how objects can physically move in small increments and captured one frame at a time which gives the illusion of motion to us when we play it again.
Rigging is where they learn how to create life like movements in articulated bodies.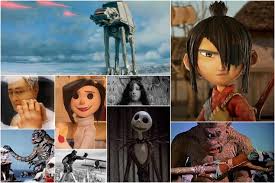 Texturing helps them to learn art forms as if it has some feel to it when you look at it. It gives them a different dimension when texture is added to the scene or picture.
In Dynamics they learn how to create the effect of movement and energy in the art to make it more real.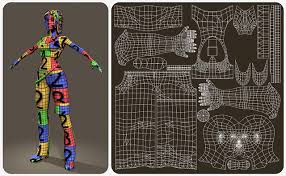 In Animation they learn how to make figure move with the help of different software.
Digital Sculpting gives them a first-hand experience and knowledge about how to create 3D object on screen using digital clay using sculpting software.
The course is an advance course which is divided into 6 semesters and duration is of 864 hours.
Technology is moving at a fast pace and creating more avenues for Animators, 3D Designers, Advertising, healthcare professional, Cosplay, Prop making and Virtual reality.
Cloud Computing is also making it easier and more accessible as they can work independently in their own space.
Everywhere there is a need for people who are creative and can think out of the box and can come up with different creative ideas and creations.
These courses are teach new ways to think, learn, create and make.
The students learn versatile ways in collaborative atmosphere while making them proficient with both the traditional and innovative technologies.
Digital game development is also gaining popularity with the increasing popularity of smartphones.
It is also getting more and more famous as it is not only a form of recreation but also something which can assess their skills and talents.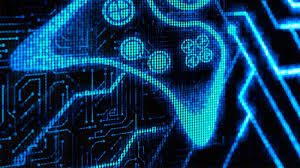 With the growing technological advancement in the creative field lot of people are trying their luck in this sector but the success level is not the same for everyone as it totally depends on their creativity, skills and aptitude.
Apart from creativity excellent communication skills and talent work in collaboration with other professionals is equally important.
This domain is ever growing and always in need of people who are more creative and can create new things.
These day most of the people are more and more inclined towards these jobs as there is a sense of satisfaction too which is hard to find in any other profession.
When the work of visual arts is being applauded worldwide nothing can match this satisfaction.
So if these things really make you think that it is made for you as this skills not only trains you for local market but international too then this is the place for you where you can see your dreams turn into reality.
These Visual arts courses are so well designed that it gives a great deal of knowledge along with expertise too to get into this field and go wild your imagination.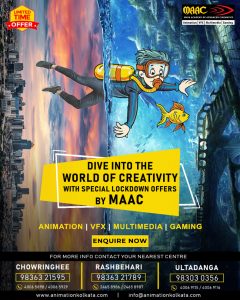 MAAC is the only place which offers the course International Program In Visual Arts & Design IPVAD which is a comprehensive program which makes the students excel in this field with their knowledge and creativity.
It enables them with the different Computer graphics and visual arts as well as the aesthetic creativity which helps them to get the best of everything that they need to know and create accordingly.
To Know more Call us @9836321595