Hello Readers, here we are to tell you about a very unique and lovely stop motion short film named Lost and Found.
As we all know that Stop-Motion Animation is a cinematic process in which static objects appears to be moving.
In Stop Motion artists physically manipulate the objects in small increments between each frame so that they can exhibit continuous motion in the play mode.
Dolls with adjustable joints and clay figures are mostly used in stop-motion techniques.
With the advent of modern stop-motion software many young talented independent filmmakers are indulging themselves in making Stop Motion films.
Created by very talented filmmakers, Lost and Found impressed the audience by its heart touching story.
Efforts Behind The Lost and Found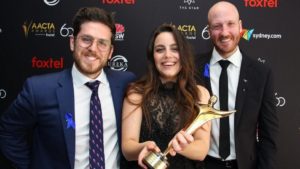 Completed at Wabi Sabi Studios and pixel/Melbourne; the seven-minute stop motion short film Lost and Found was recently nominated for Best Animated Short Film at the 91st Oscars which held in January 2019.
Directed by Andrew Goldsmith and Bradley Slabe; short film Lost and Found is about tragic love story between a fox and a knitted dinosaur.
Produced by Lucy Hayes; this short film won many awards at different film festivals.
Lost and Found was first premiered at the Berlin International Film Festival.
It won awards at Sydney Film Festival, Austin Film Festival, AACTA (Australian Academy of Cinema and Television Arts) Festival and Screen Producers Australia awards Festival.
This dialogue free film is written by Bradley Slabe.
Gerald Thompson is the director of photography and Samuel Lewis did the animation.
Editing is done by Andrew Goldsmith and John Gavin.
Different artists with specialization contributed in this film.
The credit list of this film has VFX artist, Compositors, Rotoscope artist, colourist, character armaturist and character crochet artist.
Lost and Found is about a sweet relationship between two crocheted animal toys.
Story of Love and Sacrifice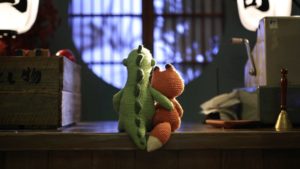 This film is about a foxy fox and knitted dinosaur staying in a Japanese restaurant.
The film opens with few still photographs of these two knitted animals in their happy moments.
A camera phone displays pictures of love and friendship of crochet fox and dinosaur playing and enjoying each other's company.
Every shot of this film was planned and programmed with custom stop-motion rig.
The dinosaur wakes up and saw his beloved foxy standing on the edge of barrel and throwing pebbles into the water.
Both of them exchanges flying kisses but suddenly foxy falls into the barrel when a gush of water from a bamboo pipe falls upon her tail.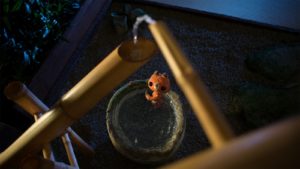 Foxy tries hard to come out of the barrel but fails.
On the other hand the shocked Crochet dinosaur jumps out of the box and runs to help foxy.
Unfortunately dinosaur's wool gets trapped into a nail and knitting starts opening and the cotton comes out of it.
As the dinosaur moves forward to save foxy all the knitted wools unwinds and cottons falls here and there.
Seeing dinosaur in helpless condition foxy closes the sliding door in between them by throwing pebbles.
o that dinosaur no longer can come and unwind himself.
As a last chance dinosaur breaks the glass door and unwinds himself fully or finishes himself.
Foxy comes out of the stone barrel with the help of one of the end part of dinosaur's wool.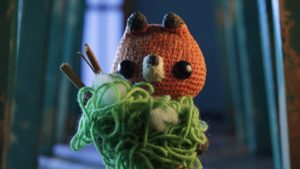 During the end with deep sad broken heart foxy tries to knit the dinosaur again but she fails and tries again.
This film has touchy music to covey the story and emotions.
Emotions and feelings were very well conveyed through the gestures, eyes and expressions.
Sound of water, door closing, pebbles, glass breaking, bamboo pipe are very clear and mixed well with the background music.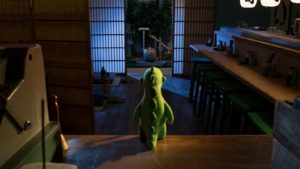 The set is Japanese restaurant, so it has Japanese lamps, table, chairs, mats, wooden sliding door and all other accessories.
This short film is highly inspired by the work of Hayao Miyazaki and Wes Anderson.
Artists used hand crafted puppets for animation.
As the team had no experience in animating wool and water effect in stop motion, so they had to learn the technique.
Water is hand-animated by lead animator Samuel Lewis.
Bubble wrap, hair gel are used as suitable water substitute, it allowed waves and splashes to remain rigid long for better capture of the frames.
Camera techniques like zoom-in and zoom-out are used.
Stop Motion Is About Team-Work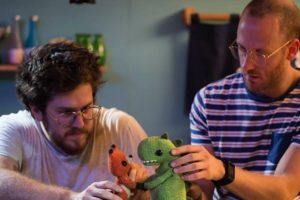 Director Andrew Goldsmith has created many award-winning films and television contents before the making of Lost and Found.
He has years of experience in animation and visual effects; he has directed many shorts and music videos also.
Bradley Slabe is a gold AWGIE (Australian Writers' Guild for Excellence)-winning screenwriter and director, his critically acclaimed work is Kitty is Not a Cat.
It took them four years for Lost and Found from the draft to final cut.
The script was complete in 2014 which was then adapted to story board and they received funding a year later.
Andrew Goldsmith and Bradley Slabe said in an interview that the recognition that this little film is getting has completely exceeded their expectations.
Both the directors appreciated the crew of this film for the support as stop motion is hugely collaborative.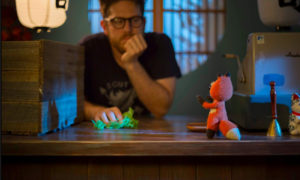 Directors said stop-motion is a very slow laborious process that requires thorough planning and patience.
They thanked animator Samuel Lewis to handle each and every frame with utmost care and attention.
They also thanked super talented crochet artist Julie Ramsden, they asked her to repair the crochet animal again after destroying it many times.
To avoid the budget issue they reduced the runtime and made it in cost effective way.
Andrew Goldsmith and his team wanted to bring the theme of the courage to love, the sacrifice to save it and the strength to let go into this film.
Lost and Found is about sacrifice and hence it fits perfectly into the sushi bar that has all necessary obstacles to create conflict.
The short film Lost and Found is currently available online.
Various animation techniques are winning heart of millions of audiences today, join our MAAC Kolkata to find more.