Hello Readers in this blog we will talk about a publishing group called Animation World Network.
AWN or Animation World Network is animation related publishing group.
It offers animation related news in the internet.
The website of Animation World Network offers news, articles and links for professional animators and animation fans.
AWN publishes digital magazines such as 'Animation World' and 'VFX World'.
Magazine 'Animation World' focuses mainly on Computer-generated Imagery whereas VFX World focuses on visual effects.
Animation World Network was inaugurated in 1996 and is the most popular publishing group on the internet site.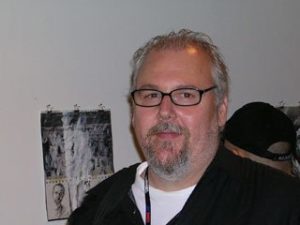 The person named Dan Sarto is the Co-Founder and the Publisher of AWN.
Animation World Network offers online directories, career resources and happenings for animations.
AWN is the most searched web site for the animators.

Animation World Network delivers daily news on animation, visual effects, animation festivals, seminars, conference etc.
One can go to the AWN page and search events by name, date or location.
Upcoming theatrical releases can be viewed by release date, production, country of origin and distribution.
Animation World Network provides interesting weekly online newsletters.
AWN also provides discussions where animation students, teachers and aspirants share ideas and unique artwork.
AWN.com is the respected source for animation news on the internet.
AWN's portals are visited by more than 300,000 unique readers from 120 countries.
Animation World Network was started with a vision to connect world's animation community through a portal website filled with refreshing animation related information.
Aspiring animators can find education and career related data under 'Student Corner' section.
Animation World Network has 'Career Connection' section which displays the job vacancy, description about the job, required qualification etc.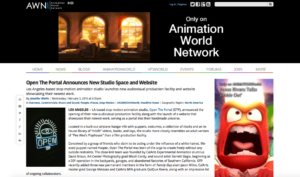 Animation World Network has Home page at first then it has Blog page along with Animation World and VFX World page.
Animation World Magazine, VFX World Magazine and the Animation Flash e-mail newsletter are the main publication under AWN.com.
Animation World magazine contains thorough information about animation industry.
One can search for job at the Job section by name, company, location and date.
It is free to users and companies that want to include only basic information in the directories.
For enhanced entries in the directories companies has to pay AWN.
There is option to pay for advertising banners on the web pages.
Advertisements in the magazines and newsletters pages are paid on service.
Animation World Network also has online store and newsstand.
The main page of Animation World Network can seem to be jumbled as there is too many information on the screen.
The main page of AWN has an organised portal-style featuring an advertising banner across the top, a navigation bar, Images and categories.
One can move around the page to know what is available on the page.
User can use navigation bar to change sections and the body of the page to see the current articles from the news, blogs and event.
Numerous artists, educators, learners and admirers visit this site each month.
Educators, broadcasters and students stay in touch with AWN to get facts, figures and coverage.
Animation World Network is the most useful web site for animation and visual effects.
It provides wide range of interesting and helpful information in all aspects of animation.
It covers news about animated films, distribution, studio activities, CGI, animation technologies and complete coverage of recent events in all sector of animation.
In modern day life nobody has time to search the internet to find information.
Animation World Network provides a uniform environment to bring all together all available information about the international world of animation.
AWN's information is expertly linked, displayed and easily accessible to anyone.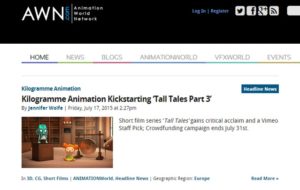 AWN News
This site offers Animation World Network Headline News.
One can find the thorough current news about world of animation in this page.
It gives information about which animation film is going to release when, trailer about new animation film, animation film released in Netflix, Festivals, Documentaries and many other.
AWN Blog
Here one can get information about seminars, festivals and screenings, conference and many more.
Animation World Magazine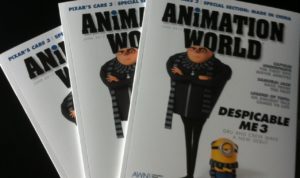 Animation World Magazine is the only electronic publication dedicated to the industry of international animation community.
Animation World Network publishes new articles at every week on animation community.
VFX World Magazine publishes articles about diverse fields of visual effects, 3D animation and computer graphics.
VFX world magazine provides detail information about this dynamic industry through an entertaining and informative tutorials and imagery.
Career Connection
Career Connections section offers resources for both job seekers and recruiters.
It offers details about the recruiting company, criteria, qualification etc.
Employers and recruiters can access various screening and rate the job posting advertisements.
Recent Reviews
AWN has recent review section which offers reviews on current animated movies.
Currently it has published reviews on 'Mary Poppins Returns' and other animated movies.
Another review on Never-Ending Man: Hayao Miyazaki is published which is about one of the greatest living Japanese animation directors.
AWN Events
This site contains list of latest events related to animation world and visual effect world.
At the end of the Home page one can find Navigation buttons on Contact Us, Privacy Policy, Terms of Service and Media Kit.
Home Page also shares links about other sites such as awntv.com, Animation World Network Television etc.
AWN offers information to independent animators, studios, broadcasters, cartoon admirer, hardware manufacturers and consumers.
AWN Forums
This forum allows animation and visual effects professionals to connect with each other on a variety of topics.
People can feedback on the latest work or can help each other on current project.
This forum allows novices and professionals to connect, share, teach and learn.
Forum helps to exchange animation techniques, trends and many more creative things.
AWN Jobs
This site is for Employers and Job seekers.
Here one can post a job or search a job.
All job types related to animation is available here.
One can search job by Category, Country or State.
AWN More
This section has icons such as interviews, reviews, galleries, animation industry database, AWNtv and how to succeed in animation.
Animation Industry Database (AIDB) helps to find animation and VFX related companies located throughout the world.
Animation enthusiasts can know more about the above Animation World Network by joining our MAAC Kolkata.