Today in this blog we will discuss about why IMAX Screen is better than a Regular Screen.
IMAX cinema projection standard was developed by late 1960s and early 1970s in Canada.
Unlike standard projectors, the film runs horizontally, therefore the image width is greater than the width of the film.
Due to the flourish of the entertainment industry there are various types of standard theatres in the entertainment zones and industry.
IMAX compared to other regular theatres proved to be more efficient and advantageous.
In the year 1929, Fox Film Corporation introduced Fox Grandeur, the first 70mm film format.
During 1950s the possibility of 35 mm film to provide wider projected images was explored in the processes of CinemaScope (1953), VistaVision and multi-projector systems like Cinerama (1952).
As it was proved that a single, large-screen image had more impact than multiple smaller ones, Multi-screen changed its name to IMAX.
IMAX is more entertaining and enjoying from all aspects
By the late 2017, around 1,302 IMAX theatre systems were installed in 1,203 commercial multiplexes, 13 commercial destinations and 86 institutional settings in 75 countries.
IMAX Screen Vs Regular Screen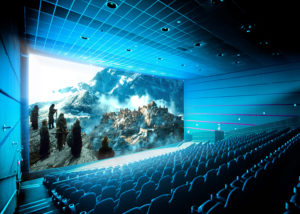 IMAX Screen and Regular Screen differ hugely in their screen size.
IMAX is six times larger than compared to regular theatre screen.
Canadian filmmaker Graeme Ferguson, Canadian filmmaker Roman Kroitor, businessman Robert Kerr and William C. Shaw developed the first IMAX cinema projection standards.
IMAX Screen works on advanced technologies and they are expensive too compare to regular screen.
IMAX theatres are popular for their best picture and sound quality.
The IMAX theatres provide real visual and audio effects.
IMAX theatres flourished from the year 2000.
Initially IMAX used to display only nature films, but now there are varieties of visual movies that can be viewed in IMAX theatres.
Movie Tiger Child, directed by Donald Brittain was the first IMAX film demonstrated at Expo '70 in Osaka, Japan.
IMAX Theatre has a large circular dome and flat screen, due to which the real effects of the movies can be enjoyed by the feeling, as if the viewer is in the movie.
IMAX theatres work on the linear polarization technologies and use the advanced cameras.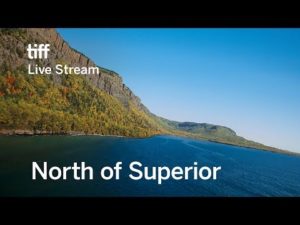 The permanent IMAX installation was first built at the Cinesphere theatre at Ontario Place in Toronto; it showed the film 'North of Superior' in 1971.
The Cinesphere theatre was renovated in 2017 with IMAX 70 mm and IMAX with laser.
The pictures are so enlarged on IMAX screens that the visual is separated from the left and right eye point of view.
The IMAX screen usually spreads from wall to wall, unlike traditional screens that are mounted in the centre of the room.
By 2008, IMAX spread their brand into traditional theatres with the introduction of Digital IMAX, a lower-cost system which uses two 2K digital projectors to project on a 1.90:1 aspect ratio screen.
This lower-cost system helped IMAX to grow from 299 screens worldwide at the end of 2007 to over 1,000 screens by the end of 2015.
IMAX cinema process increased the image resolution by using larger film frame; a frame of IMAX format film has three times the theoretical horizontal resolution of a frame of 35mm.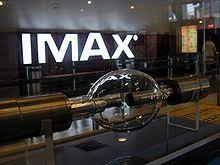 IMAX projector uses 15 Kilo Watt Xenon short-arc lamp.
IMAX has special Audio Engineers who specify in creating speakers with a more powerful output in addition to crystal quality sound.
IMAX has increased resolution with enhanced sound effects which do not cause any problems to the eyes and ears while enjoying the movie.
Standard IMAX screen is 22m×16.1m (72 ft ×53 ft). The largest IMAX screen is in Darling Harbour, Sydney, Australia (117.2 ft×97.0 ft).
Recently there are 697 IMAX theatres in 52 countries.
Launched in 2008, Digital Cinema IMAX projection system designed to use with shorter 1.90:1 aspect ratio screens.
It includes a proprietary IMAX Image Enhancer that modifies the output of the digital media server based on feedback from cameras and microphones in the auditorium, and maintains alignment with sub-pixel accuracy.
Digital cinema IMAX system uses two 2k projectors that can present either 2D or 3D content in Digital cinema initiative (DCI) or IMAX Digital Format.
IMAX is working on a new 4K laser projection system based on patents licensed from Eastman Kodak.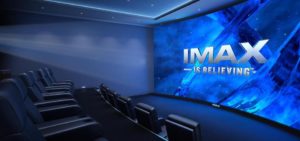 The Traditional theatres are the Regular theatres which are used since the earlier times.
Regular theatres have implemented the modern entertainment techniques in the theatres.
Regular Theatres have straight and plain screens which are viewed by sitting at the frontal position.
The picture quality is not that good as they are able to incorporate only a limited range of pixel and resolution.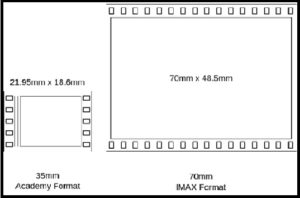 The film format of Regular theatre are 35mm or 70m but IMAX film formats are 15/70 mm; this means each frame is 70 mm high and 15 perforations per frame.
These Regular types of theatres are available in all cities and even in the rural and developing areas.
Use of IMAX in Hollywood Productions
Studio like Walt Disney Pictures became the first to release theatrical films in IMAX process.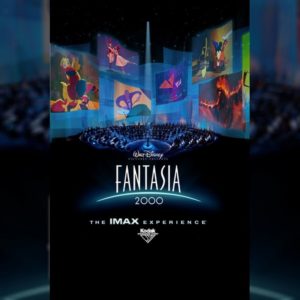 Film Fastasia 2000 was the studio's first IMAX release and the first theatrical feature presented in IMAX theatres.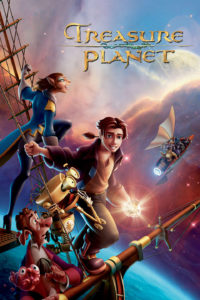 Film Treasure Planet was the first theatrical film released in regular and IMAX theatres simultaneously.
3D animated film Polar Express was the most successful film released in IMAX theatres, generating a quarter of the film's gross of $302 million from fewer than 100 IMAX Screens.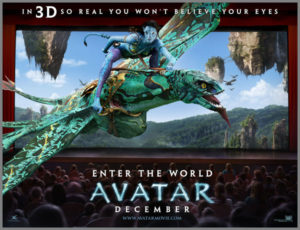 Films like Avatar, Gravity and Amazing Spider-Man were presented in IMAX 3D.
In the year 1996 IMAX was awarded Oscar Award for scientific and Technical Achievement by the Academy of Motion Picture Arts and Science.
The award praised IMAX's innovation for creating and developing a method of filming, exhibiting large-format and wide-angle motion pictures.
Short Documentary Transitions (1986) was the first full-colour IMAX 3D film produced by Expo 86 in Vancouver.
Though IMAX theatres are expensive but they give better viewing experience to the audiences.
IMAX 3D projections have taken the movie viewing experience to a amazing level.
Come be a part of such massive projects by learning animation techniques only with Maac Kolkata.