Hello readers, today we will take you to the Colourful and Mesmerising World of Goopi Gawaiya Bagha Bajaiya an animated film directed by Shilpa Ranada.
Based on story of Upendra Kishore Roychowdhury, the film is inspired from Goopy Gyne Bagha Byne directed by the great maestro Satyajit Ray.
Made with the budget of Rupees 2 Crore Goopi Gawaiya Bagha Bajaiya is scheduled to be released on March 2019.
It is the story of two clumsy yet lovable musicians who meet ghosts in the forest, obtain three boons, avoid wars, marry beautiful princess and help the common people to live happily.
This film is a tactile and colourful experience.
Colourful, Comical and Classical Adventure of Goopi Gawaiya Bagha Bajaiya.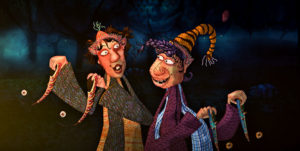 Indian Animated films not adapted from mythology and folklore is short in number.
Even Indian Animated films directed by women are shorter in number too.
Thus Shilpa Ranada's Goopi Gawaiya Bagha Bajaiya is special.
Produced by Children's Film Society of India in association with Karadi Tales, it is a Hindi-Language Film.
The screenplay is written by Soumitra Ranade and Rohit Gohlowt and the film is based on the original story rather than Satyajit Ray's Movie.
Goopi Gawaiya Bagha Bajaiya is structured as a musical journey.
Music group Three Brothers and A Violin has composed the music for the film.
In the film rhythmic dialogue, eye-popping colour scheme and light classical music are amazing.
Animation of this film is inspired from puppet theatre of India.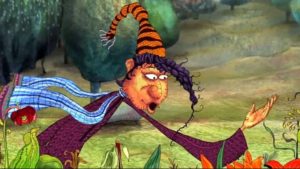 Each and every character of the film wears colourful costumes, the clouds are the shade of roses and the rooster is bursting with every shade of the rainbow.
As Shilpa Ranada explained "I was interested in things around me – carpets, bed sheets, furniture-and I wanted to put it all in the film. So I dressed up the characters with the things I found around me. This gives the film an Indian ethos and aesthetic-nothing is borrowed from anywhere."
The film is made to be experience on the big screen as lots of details has been put in terms of images and sound.
Director Shilpa Ranade, a professor at the Indian Institute of Technology's Design Centre in Mumbai has seen Satyajit Ray's movie as a young film buff.
She relied on the original Upendra Kishore Roychowdhury's story which provided her a good structure and also allowed her to tell her own story.
Production Company Paperboat Animation Studios added stunning animation from script to screen.
The title track by Narayan Parashuram fits perfectly with the film on the whole.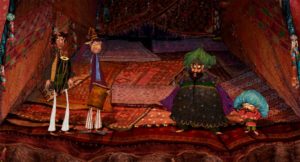 The protagonist Goopi loves to sing and Bagha loves to drum.
'Bhor-bhayee' or 'Dawn is breaking' is the song that Goopi practices lot of time to master it with the film.
Goopi Gawaiya Bagha Bajaiya wear traditional attire Kurta, Pyjama and scarf around their neck.
Manish Bhavan gave the voice for Bagha, Rajeev Raj for Goopi and Shailendra Pande for Ghost King.
Goopi Gawaiya Bagha Bajaiya banished from their respective villages, meet in the jungle where they get three boons from a friendly forest spirit and find themselves in the kingdom of Shundi.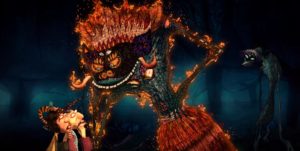 From the ghost king, Goopi Gawaiya Bagha Bajaiya gets a pair slipper each which takes them to anywhere or anyplace wherever they wish to go.
Both the musicians Goopi Gawaiya Bagha Bajaiya help Shundi's kingdom from the attack of neighbouring kingdom Halla and end up marrying the daughters of the rulers.
For the movement of the characters Ranade took inspiration from puppet theatre.
As director Shilpa Ranade explained "I trained with a puppeteer for a bit. I understood a few things, which I could then borrow. After all, animation is an applied form and is borrowed from many traditions. I thought I could use some of the aesthetics and movements of puppetry in the film. That is why it looks staccato and the characters feel like cut-outs".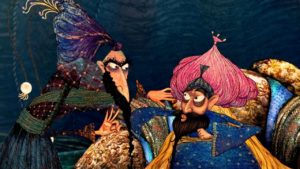 Character like King of Shundi is a very comical figure, who is keeps farting.
King of Halla, who is a long lost brother of the King of Shundi, after being poisoned with magic potion becomes evil and prepares to attack on Shundi.
The foolish but brave Goopi and Bagha with their talent of music win the heart of cruel King of Halla kingdom.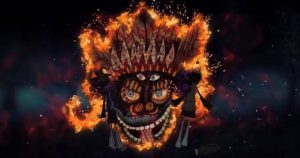 The scary but comical figure is the Ghost King, who has eyes and fire all over his body.
It team of artists took time to create the right figure of the ghost king.
Through this film Paperboat Animation Studio explored the innovation.
Animation Film Goopi Gawaiya Bagha Bajaiya has that unique voice that will transcend geographies, languages and cultures.
With running time 79 minutes, audience all over the world will definitely love this film.
Karadi Tales is a22 year old company involved in creating contemporary content based on the 3000 year old storytelling tradition in India, in the form of audio-books, picture books, television episodes and now this feature film.
Indian poet and lyricist Gulzar is an integral part of this Karadi Tales Journey.
Scholastic Corporation has produced a Hindi version Goopi Gyne Bagha Byne by Gulzar where the poet has added his own touches to the story and director Ranade was inspired by that version.
According to Ranade, rapid movements which are typical of Hollywood animation do not always work for Indian animation films and the idea behind the reality is more important to be created.
Goopi Gawaiya Bagha Bajaiya has already released in Toronto in 2013 September and won the ASIFA Award for the best animated feature film.
Jury Award for best Art Work at International Children's Film Festival Hyderabad, nomination for best film Asia Pacific Screen Award Brisbane, Orbit Live Industry award and WIFTS award, Los Angeles.
Indian animation Industry is growing and it is interesting to see regional yet universal concepts reaching out to a wider audience with full-length animated feature films made in India.
So, readers if you want to be the part of India's growing Animation Industry then join our MAAC Kolkata Centres which provides numerous courses on Animation and Visual Effects.