In recent times, online streaming services have rapidly gained popularity, so as watching animation favorite animation film too, replacing cable and set top box based television as the preferred medium to watch series or movies at home in many households.
Improving internet speeds and HD video have contributed much to this trend, along with the immense presence of online original series, which are exclusive to the streaming site concerned.
Netflix has emerged as one of the strongest and most popular of these online streaming services, and it has plenty to offer in terms of animated movies.
While "Animated movie" is a term that encompasses a wide variety of genres and content, here we've chosen some of the films we consider, both from an art and entertainment perspective and they're all available on Netflix.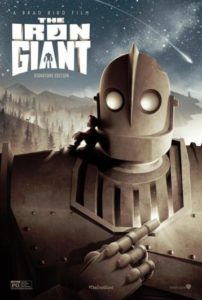 Directed by: Brad Bird
Produced by: Warner Bros. Feature Animation
Cast: Eli Marienthal, Christopher McDonald, Jennifer Aniston, Harry Connick, Jr., John Mahoney, and Vin Diesel
The 1990s were a decade of interesting, and often intense cultural and popular forces.
From the powerful messages and aggressive music of Rage against the Machine or Tool to the theme of awakening.
Conscious thought explored in The Matrix, it was a fantastic time for art with a purpose, and nowhere is this better expressed than in the 1999 animated film The Iron Giant.
Which combines traditional and computer generated animation.
The film's titular character is a massive robot that consumes metal and is docile and friendly by nature, but instantly reacts to the presence of harmful weapons by destroying them.
A firm anti-weapon message, delivered clearly with believable, well written characters, it has several notable moments of character bonding and development, along with showcasing the Giant's ability to choose for him what he is to be.
Despite the social commentary, it ends up being a surprisingly emotional and personal story that is both compelling and entertaining.
2. Corpse Bride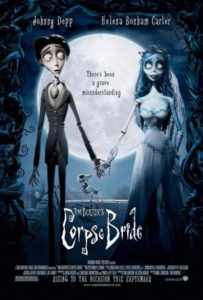 Directed by: Tim Burton and Mike Johnson
Starring: Johnny Depp, Helena Bonham Carter
Corpse Bride is a 2005 stop motion film.
With its unusual plot and aesthetic, it makes for vastly different viewing from most family friendly animated features.
Despite the ominous sounding name, the film is both charming and largely positive in its tone.
Dealing with a young man's accidental almost-marriage with the ghost of a woman, it boasts a unique style along with fitting musical passages.
The protagonist, Victor, is caught between his living fiancé Victoria, and the undead Emily, whom he meets purely by chance.
 It is a classic tale of putting old regrets to rest, only given a new twist.
3. Coraline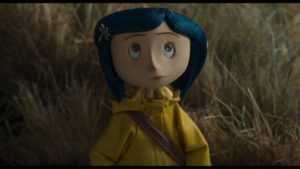 Director: Henry Selick
Writers: Henry Selick, Neil Gaiman
Cast: Dakota Fanning, Teri Hatcher, John Hodgman, Jennifer Saunders, Dawn French, Keith David, Robert Bailey Jr., Ian McShane
What do you get when you combine the writing talents of one of this generation's greatest fantasy writer with stop motion animation house LAIKA's unique skills?
You get a tale that's equal parts spooky, twisted, inspiring, and a reflection of real life. Coraline is, at its heart, a growing-up story, told through the lens of Neil Gaiman's dark fantasy elements.
Coraline is a young girl, who finds a way to go to a parallel world with button eyed versions of her neighbors and family, but under the surface, all is not right with her alternate world, and soon she discovers secrets that will lead her to make choices.
With mature storytelling and quirky visuals, this movie is a must watch for those who want both style and substance.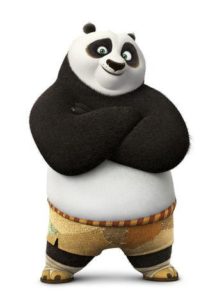 Directors: Mark Osborne, John Stevenson
Writers: Jonathan Aibel, Glenn Berger, Ethan Reiff, Cyrus Voris
Cast: Jack Black, Ian McShane, Angelina Jolie, Dustin Hoffman, Jackie Chan, Seth Rogen, Lucy Liu, David Cross, Randall Duk Kim, James Hong, Dan Fogler, Michael Clarke Duncan
We highly doubt that we need to introduce you to this film, but just in case, it's about a panda named Po who wants to be a Kung Fu practitioner and a hero.
He's spent all his life idolizing martial artists, and one day, he gets his chance when he's chosen to be the Dragon Warrior.
The path to martial arts greatness isn't easy though, especially for someone who's never trained a day in his life.
But not everyone's path is the same, and this fun film does a great job of subverting the typical "improve yourself" mantra, and instead giving a message of "turn your weaknesses into strengths".
With its smooth models and animation, great visuals and skilled cast, Kung Fu Panda is a fan favorites, and rightfully so. If we haven't convinced you to watch (or rewatch) this film yet, we'll point out that it has one of the greatest one liners in film history:
"I'm not a big, fat panda. I'm the big, fat panda."
5. Moana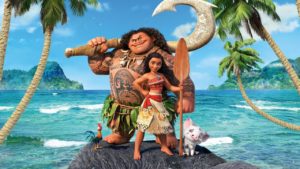 Director: Ron Clements, John Musker
Writer: Jared Bush
Cast: Auli'i Cravalho, Dwayne Johnson, Rachel House, Temuera Morrison, Jemaine Clement, Nicole Scherzinger, Alan Tudyk
Walt Disney Animation studio's 2016 effort is a computer Animated adventure fantasy.
The film follows titular character Moana in her efforts to retrieve the heart of her island's goddess.
Along the way, she must meet the demigod Maui who will help her in her journey.
It is a coming of age story, showcasing the titular character's growth and transformation into a mature and confident individual with all the production value and technical finesse that has come to be associated with Disney's films.
With an impressive performance from the cast as well, this is a film that should be fun to watch with the entire family.