Hello friends! Among the innumerable scopes of Animation industry, today we will be discussing about the use of 3D animation in the Aviation industry to train pilots. India is the fastest growing aviation market. Animation is used in many ways to train the pilots. With the help of animation the trainers learn how the aircraft work. With the animated videos they understand all the working of the machinery parts and the engineering of the plane during the training.
The major part of the animation is used in the flight simulators. Flight simulator is a device that artificially recreates the aircraft flight and its environment to train pilots. It's not a real plane but a set of sophisticated computer systems. Modern aircrafts are too expensive, they require sophisticated engine, accurate navigation systems, reliable communication system, elaborate safety system, etc. which makes the production cost very high. Therefore it's not a better idea to train the new pilots in such aircrafts. It can be operated by the new trainees without damaging the real plane. The would-be pilots do not have good experience in handling the plane so there might be chance of crashing and damaging the aircraft, resulting in the loss of lives.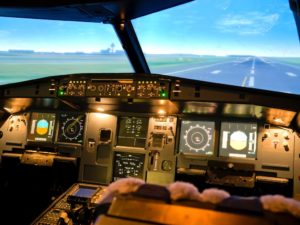 The pilots depend on what they see through cockpit windows. This is where computer graphics and animation complements the real cockpit environment to create illusion of flying. To make the thing possible, a whole 3D environment is created, starting from the runway, the airport and other planes, the landscape, water, mountains, clouds, etc. The virtual worlds are based upon actual international airports which are constructed from plans, maps, photographs and site visits. Now, these are displayed to the pilot on the cockpit with the help of three elements:  a group of projector, a back projection screen and a panoramic spherical mirror. All these elements create a virtual reality for the pilot. They can comfortably interact with it like the real-time.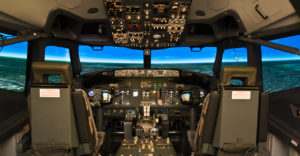 Join MAAC Chowringhee, MAAC Kankurgachi and MAAC Rashbehari, the best animation institute today and be a part of the world of opportunities.